Shih Tzu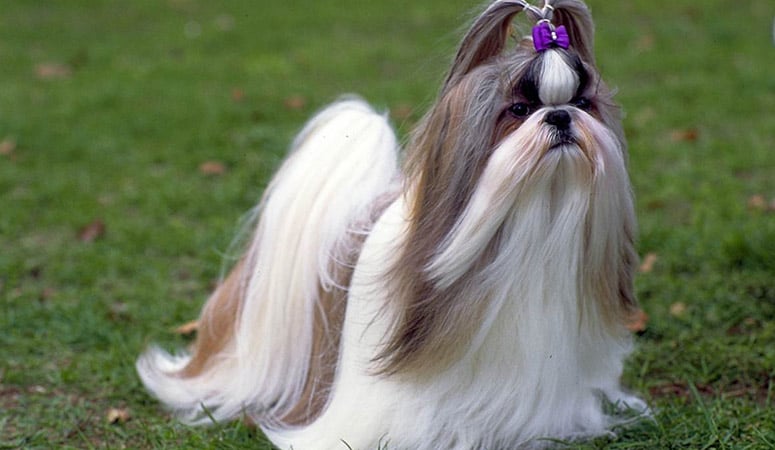 Developed in Tibet, the Shih Tzu was is one of the oldest dog breeds. He has a double long dense coat, and the hair is fairly straight. There is nothing fierce about this dog breed although the name "Shih Tzu" means little lion. The look of Shih Tzu is always warm, sweet, and loving, which expresses their friendliness and trust.
| | |
| --- | --- |
| Other Names | Chinese Lion Dog, Chrysanthemum Dog |
| Color | Variations include black, blue, brindle, gold, liver, red, and silver, and white bi-colored |
| Height | Males: 8-11 inches. Females: 8-11 inches. |
| Weight | Males: 9-18 pounds. Females: 9-18 pounds. |
| Life Span | 10-18 years |
| Personality | Affectionate, Playful, Outgoing |
| Exercise | Regular Exercise |
| Origin | |
| | |
| --- | --- |
| Popularity | #20 |
| Groom Needs | Daily |
| Kids Friendly | Yes |
| Dog Friendly | Yes |
| Watch Dog | |
| Family Dog | |
| Litter Size | 2-9 |
Introduction
The Shih Tzu is a beautiful, little toy dog recognized by its fine, soft, and silky coat, seldom wavy, that comes in various shades of color. The coat color varies a lot with a black, gold, liver or white here and there. Shih Tzu usually has a long coat that tends to reach the ground, making it prone to getting entangled with dirt. But unlike other breeds, the Shih Tzu does not shed its fur easily, so bathing and brushing can be done more frequently. This dog is a beauty to behold when nicely groomed and well-fed.
A typical Shih Tzu would give up running around the backyard chasing rats for a more relaxing activity like accompanying you from room to room within the house. They are compact, and lively dogs weighing no more than 17 pounds and stand at roughly 9 or 10 inches high from paw to shoulder.
The small head is completed by a short muzzle and bold dark brown eyes that shine with allure, affection, and even mischief. Surprisingly, they often outlast the larger and seemingly sturdier dog breeds. A Shih Tzu lives up to 13-17 years on the average.
History
The Shih Tzu is widely believed to be of Chinese descent. Although its origin dates back to ancient Tibet around the earliest part of the Common Era. The ancestors of the Shih Tzu were a Tibetan breed with a name that literally reads as Lion Dogs. They were so prized by the Tibetans, perhaps as something of a sacrilegious worth, that only distinguished elites were allowed to own the so-called Lion Dogs.
The Lion Dogs were later developed after they found their way to China. Chinese emperors received this breed as presents from the Tibetans. Soon, the Chinese people grew to love this breed of dogs. They were later developed into finer breeds by crossing with the Pekingese breed.
This hybrid, later known as Shih Tzu, was cherished by their Chinese breeders for the remarkable qualities it possessed. Consequently, the Chinese didn't export these dogs to other countries for centuries. It wasn't until the turn of the 20th century that Shih Tzu began to gain popularity in other parts of the world. The first Shih Tzu in the UK came in 1930 and subsequently, other countries began to import them. The popularity of Shih Tzu dogs in Europe was acquired slowly over time. In the US, the Shih Tzu breed was recognized only after World War II.