English Toy Spaniel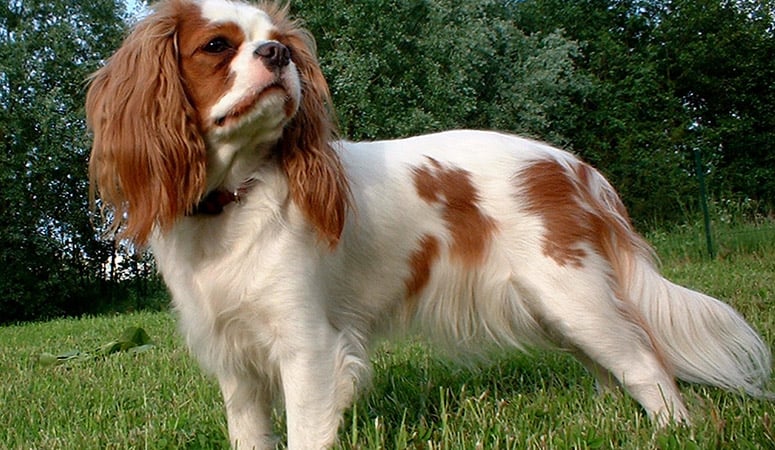 Bred to be the companion of kings, the English Toy Spaniel feels happiest when spend time taking slow strolls or snuggling with their favorite people. They have quiet and peaceful demeanor, which makes them wonderful support dogs. They are affectionate at home and exuberant and curious at play with their beloved people.
| | |
| --- | --- |
| Other Names | King Charles Spaniel |
| Color | Black & Tan, Black White & Tan, Red, Red & White |
| Height | Males: 9-11 inches. Females: 9-11 inches. |
| Weight | Males: 8-14 pounds. Females: 8-14 pounds. |
| Life Span | 10-12 years |
| Personality | Gentle, Playful, Intelligent |
| Exercise | Regular Exercise |
| Origin | |
| | |
| --- | --- |
| Popularity | #139 |
| Groom Needs | 2-3 Times a Week Brushing |
| Kids Friendly | Yes |
| Dog Friendly | Yes |
| Watch Dog | |
| Family Dog | Yes |
| Litter Size | 5 pups |
English Toy Spaniel Video
Introduction
One little dog that really steals peoples' hearts is the English toy spaniel who is so cuddly and happy. He might look similar to his cousin, the Cavalier King Charles Spaniel, but the two breeds are quite distinct. The English toy spaniel just wants to follow you around wherever you go, and if you stop walking, he will just flop down right there on your feet! He loves to be adored, asking for much companionship, so no alone time for this dog. They are energetic little dogs, but don't require huge amounts of exercise – just a daily walk or two will do him well. He gets on well with children but doesn't like any roughhousing from them or other pets. He stands around 10 inches at the shoulders and weighs around 14 pounds. With either straight hair or slightly wavy, his hair is soft, glossy, and silky in white with red or chestnut marks. He might bark at strangers around and even bite someone who makes him scared but that's about all to his watchdog abilities.
Living with English Toy Spaniel
History
The English toy spaniel originates in England – he goes back already to the 15th century. Experts of the English toy spaniel say the breed was likely to come from Japan or China.
In England, Queen Elizabeth's physician referred to the English toy spaniel as "Spaniel Gentle" or the "Comforter". That's just what this little dog epitomizes.
In the 1800s, breeders wanted to revamp the King Charles spaniel. They wanted to cross it with Asian toy breeds like the Japanese Chin. These changes were what gave rise to the English toy spaniel in the United States. They were so popular that they overtook the popularity of the older style King Charles Spaniels.
As like many other dogs, the English toy spaniel numbers started dwindling around World War II but were rescued from near extinction by lovers of the breed.
Outside of the USA, the English toy spaniel is known as the King Charles spaniel, but in the UK, the King Charles spaniel and the Cavalier King Charles Spaniel are known as "the two royal Spaniels."
Evidence shows that Mary I, Queen of Scotland took the first toy spaniels with her from France to Scotland in the 16th century. They proved popular with the wealthy, serving as companion dogs.
King Charles II, in the 17th Century, adored these dogs; that's why the breed became known as the King Charles spaniel.
He was registered at the American Kennel Club in 1886.