Toy Fox Terrier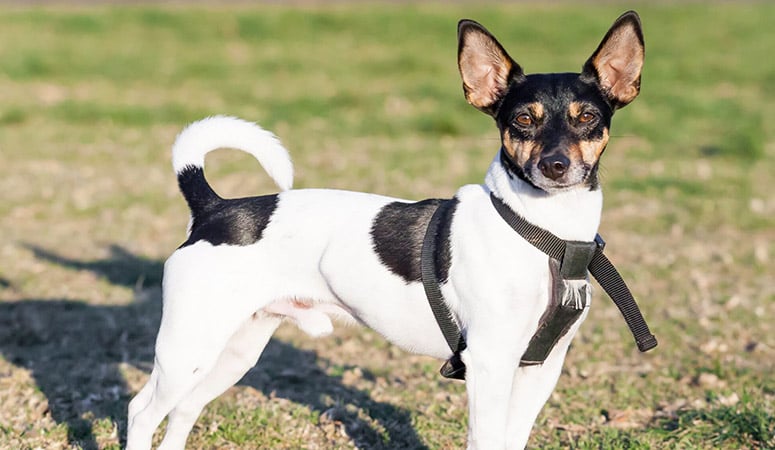 With surprising strength and the stamina to frolic, the Toy Fox Terrier enjoys spending time snuggled on the laps of their people and demands a good deal of activity and play from their owners. Known as "truly a toy and a terrier", they have big eyes and ears, sleek, muscular frame, comical natures and endless energy, which make them popular as companion dogs and even circus entertainers.
| | |
| --- | --- |
| Other Names | American Toy Terrier, AmerToy, Toy Fox Terrier |
| Color | White & Black, White & Tan, White Black & Tan, White, Chocolate & Tan |
| Height | Males: 8-12 inches. Females: 8-12 inches. |
| Weight | Males: 4-8 pounds. Females: 4-8 pounds. |
| Life Span | 13-15 years |
| Personality | Friendly, Alert, Intelligent |
| Exercise | Needs Lots of Activities |
| Origin | |
| | |
| --- | --- |
| Popularity | #107 |
| Groom Needs | Weekly Brushing |
| Kids Friendly | No |
| Dog Friendly | Yes with supervision |
| Watch Dog | |
| Family Dog | |
| Litter Size | 2-6 puppies |
Introduction
What you get in the Toy Fox Terrier is a bold and spunky friend, intensely impulsive and focused. Bring out a ball and he will be delighted and end up getting in plenty of exercises playing with you and the ball. Apart from that, he is highly entertaining, bright-eyed, and comical no end, remaining like that throughout his entire life. He needs a garden that is well fenced because he loves exploring, and that means on the other side of the fence too. He will dig, climb, and try to get through to the other side! As a watchdog, he has a sharp and suspicious bark, so you will always know when there are strangers around – he is tough and will not become easily intimated. His coat is sleek and satiny, easy to take care of. It comes in different colors such as tricolor, white and tan, white and black, white, tan, and chocolate. He is not really recommended for young children as all their quick movements and loud noises they make don't appeal to him – he might bite back in defense. He stands around 11 inches at the shoulders and weighs around 7 pounds.
Living with Toy Fox Terrier
History
The Toy Fox Terrier was developed in the USA – this is a breed that is truly "All American". While bred in America, his ancestral roots can be traced to England's smooth fox terrier who was bred to help the farmers catch rodents – and that's the job the Toy Fox Terrier was also created for – to exterminate farm rats and other vermin.
The Toy Fox Terrier was crossed with the Smooth Fox Terrier and a couple of other toy breeds such as the Manchester Terrier and Chihuahua, to arrive at this teeny little cutie pie, The Toy Fox Terrier.
As time moved on, these little dogs proved to be highly intelligent and trainable and they attracted the attention of many a traveling circus, where they would perform tricks with clowns and sometimes even walk on tightropes and ride on horses. As these types of shows fell out of favor, the Toy Fox Terrier continued to grow in popularity. People loved them and took them into their homes to become beloved family pets.
The United Kennel Club crowned the Toy Fox Terrier as a proud member in 1936. But it took a very long time still before the American Kennel Club recognized the breed. It was only in 2003 that the Toy Fox Terriers became officially registered into the club.