Pug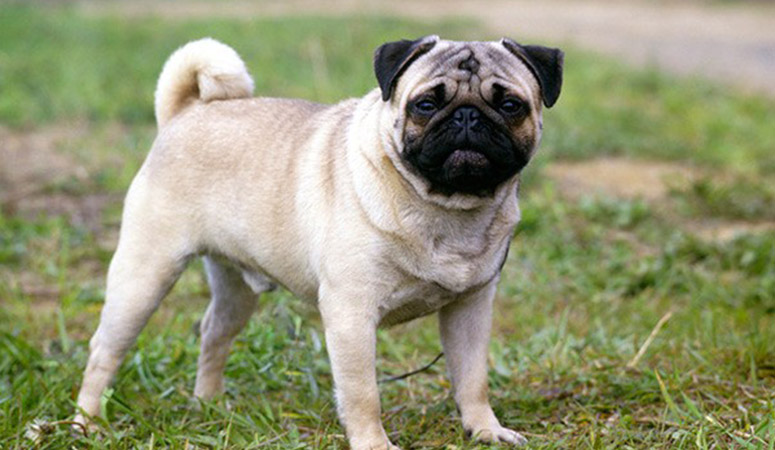 Square-proportioned, the small but solid Pug is a small dog in a little space. Pug was once the playful companion of Chinese emperors and later the mascot of Holland's royal House of Orange, but today is a popular dog breed all over the world. Their gait is strong and lively, but the hindquarters roll slightly, and because they have a good sense of humor and like to show off, they are called the clowns of the canine world.
| | |
| --- | --- |
| Other Names | Carlin, Doguillo, Mops |
| Color | Black, Fawn |
| Height | Males: 10-14 inches. Females: 10-14 inches. |
| Weight | Males: 14-18 pounds. Females: 14-18 pounds. |
| Life Span | 13-15 years |
| Personality | Charming, Mischievous, Loving |
| Exercise | Regular Exercise |
| Origin | |
| | |
| --- | --- |
| Popularity | #31 |
| Groom Needs | Weekly |
| Kids Friendly | Yes with supervision |
| Dog Friendly | Yes with supervision |
| Watch Dog | |
| Family Dog | Yes |
| Litter Size | 4-6 |
Introduction
Pugs are members of the toy breed of dogs. They are solid in their build, standing about 11 inches at the shoulders and weighing in at about 18 pounds. They are very cute; being amongst the largest of the toy breeds; full of mischief and delight, loving everyone; keeping their wits about them all the time. This makes them very good watchdogs too. A pug might snort and snore a lot, but that is because of his flat face. Look at that cute vertical wrinkle on his forehead – people say it looks like the Chinese character meaning 'Prince' – it's known as the "prince mark." Careful of his eyes though; they protrude quite a bit, making them prone to trauma. He has a little tail that curls tightly up over his hip. His coat can be anything ranging from fawn to apricot, to black and silver, and his soft little ears feel just like velvet. They are excellent companion dogs.
History
The pug often gets associated with the country, Holland, because way back already in the 1500s they arrived in Europe on Dutch trading ships. But in actual fact, they originate from China two thousand years ago. The Chinese emperors loved the look of these flat-faced dogs.
In Holland, the Pug became the official dog of the House of Orange. A pug saved the life of William, the Prince of Orange by giving a warning; perhaps barking so much at the Spaniards who were approaching. When William of Orange later went to England with his wife, to take over the throne from James II, he took his pugs with him.
When pugs arrived in Europe, they were a real favorite in the royal households. The pug spread throughout Europe and was called Carlin in France, Dogullo in Spain, Mops in Germany, and Caganlino in Italy.
They were standardized as a breed in England. When Britain overran the Chinese Imperial Place in 1861, some pugs were brought back to England, their names were Moss and Lamb, producing a pup called Click. He is credited with shaping the modern pugs that we know today.
The famous artist, William Hogarth also loved pugs and portrayed them in his famous paintings in 1785.
They were introduced to the United States after the Civil War and recognized by the American Kennel Club in 1885.