Silky Terrier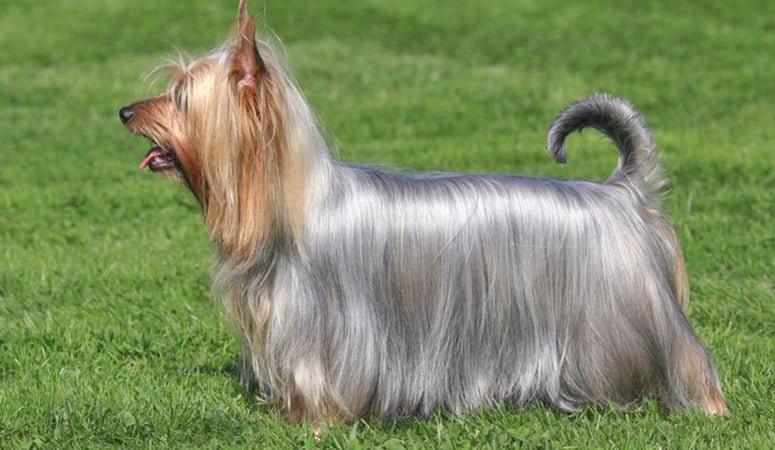 Known as the Australian Silky Terrier in its country of origin, the Silky Terrier is a small breed of dog of the terrier dog type, and the breed is called the Silky Terrier in North America. They have silky and glossy coat that is straight and single, following the body outline rather than falling to the floor.
| | |
| --- | --- |
| Other Names | Australian Silky Terrier, Silky Toy Terrier, Sydney Silky |
| Color | Black, Black and Tan, Blue, Gray, Silver, Tricolor |
| Height | Males: 9-10 inches. Females: 8-10 inches. |
| Weight | Males: 8-10 pounds. Females: 8-10 pounds. |
| Life Span | 13-15 years |
| Personality | Friendly, Quick, Keenly Alert |
| Exercise | Regular Exercise |
| Origin | |
| | |
| --- | --- |
| Popularity | #109 |
| Groom Needs | 2-3 Times a Week |
| Kids Friendly | Yes with supervision |
| Dog Friendly | Yes with supervision |
| Watch Dog | |
| Family Dog | |
| Litter Size | 3-5 |
Introduction
That's why they are called Silky Terriers because that's exactly what they are, silky, soft, and super affectionate and alert. And very cute too, only around 10 inches at the shoulders and weighing in at about 11 pounds. They have little feet that look similar to a cat. Their silky long hair kind of parts in the middle of their backs in gorgeous colors; black to blue to cream, to fawn, to grey, and silverfish – it needs brushing every day and trimming regularly as well so it doesn't grow to the ground and get in his way, or get in their eyes, for example. He hates being left alone and it is such an anxious time for him that he will even have urination accidents. This little dog needs company all the time, so don't get one if you are not prepared for that. He has lots of energy and stamina and needs attention with his owner – he loves fun and games outside, and daily walks are all important to him. A Silky Terrier actually prefers the company of adult humans to young children and even other pets. He can get quite abrasive with other dogs too, and if in a fight with a bigger dog, he does not back down easily.
Living with Silky Terrier
History
No one really knows the exact origin of the Silky Terrier, but most agree the breed originated in Australia in the latter part of the 19th century.
They are a mix of the small, yet sturdy, rough-coated Australian Terrier and the Yorkshire Terrier.
Although they were developed mainly as pets and companions, they also proved their worth as ratters and snake hunters.
Fans introduced the first Silky Terriers to America in the 1930s, and servicemen stationed in Australia in World War II also brought these furry companions back to the United States. They got widespread attention and interest in 1954 when a photographer at a dog show saw Redway Blue Boy, a Silky Terrier puppy. The photographer asked the owner to bring Redway Blue Boy to the studio where he appeared on the cover of This Week magazine, stealing America's heart and making them very popular.
In March 1955, the first meeting of the "Sydney Silky Terrier Club of America" was held in California, but later, the name changed to the "Silky Terrier Club of America". This conformed to the American Kennel Club's name for the breed.
On May 1, 1959, Silkys' were accepted as AKC's 113th breed and the silky terrier was officially recognized by the American Kennel Club (AKC) in 1959.