Pekingese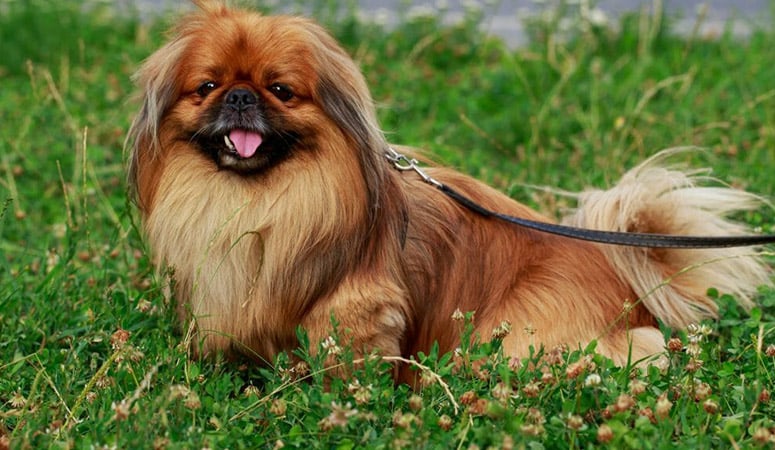 Here comes a Pekingese with a regal disposition and elegant gesture. His long coat can bring not only warmth but noble appearance. Ancient Chinese emperor own them in palace, as Pekes can be affectionate and have deep connectiona with their owners, quiet most of the time.
| | |
| --- | --- |
| Other Names | Lion Dog, Peek, Peke, Sleeve Dog, Sun Dog |
| Color | Black, Black and Tan, Brown, Gray, Red, White |
| Height | Males: 6-12 inches. Females: 6-12 inches. |
| Weight | Males: 7-14 pounds. Females: 6-14 pounds. |
| Life Span | 12-14 years |
| Personality | Affectionate, Loyal, Regal in Manner |
| Exercise | Normally Calm |
| Origin | |
| | |
| --- | --- |
| Popularity | #83 |
| Groom Needs | 2-3 Times a Week Brushing/Seasonal Shedding |
| Kids Friendly | No |
| Dog Friendly | Yes with supervision |
| Watch Dog | |
| Family Dog | |
| Litter Size | 3-5 puppies |
Introduction
The fur around the neck and shoulder of a Pekingese is usually longer than elsewhere on its body. This is, perhaps, a plausible reason to attach to the Chinese mythology which claims that this breed of dogs was bred from lions. The Pekes, as they are fondly called, are compact dogs, their low-set bodies being well-muscled. They come in a variety of coat colors, but gold, red and sable varieties are more common.
A standard Pekingese is a small-sized dog, capable of standing at a shoulder height of between 6 and 9 inches. They weigh about 13-14 pounds, regardless the gender. Pekingese dogs are very loyal and have a lovable nature. Gentle and elegant, perhaps an adaptation of their royal ancestry. They have an average lifespan of 11-14 years.
History
The Pekingese was named for its supposed origin from the Chinese province of Peking, which is currently known as Beijing. Its history dates back to centuries beyond the Common Era, and we'll possibly never know about their pedigree completely. Some believe that the earliest records of Pekingese's existence can be linked to the 8th century C.E. Ancient Chinese myth claims that the Peke was a lion breed before Buddha bred it down to dog size. About that, we aren't certain, although what's clear is that the Pekingese breed had certainly been bred down from a larger dog but by the hands of Chinese nobility.
From early times, the Pekingese was a royal breed, not acceptable as a companion to the common people. In fact, it was considered a criminal offense to even try to steal a Peke dog. Such acts were punishable by death. The Pekingese, like its cousins –the Pug and the Shih Tzu– are considered the oldest Chinese breed, and they were bred to be flat-faced, perhaps to noble preference.
It wasn't until the 1800s that the Pekingese came under the public spotlight, as initially they were relegated to palace courtyards. There was a British Invasion of Peking in 1860, which was to be known as the Second Opium War. In the rising tensions during the war, the Chinese royals sought a way to keep their sacred Pekingese dogs from getting into the hands of the marauders. In that bid, they ordered the killing of all dogs in the Chinese Imperial Palace. History tells us that the Emperor deserted his palace after that, and when the British troops arrived to loot and burn down the palace, they found his aunt and her five Pekingese dogs. She had committed suicide before they arrived.
The British later took these dogs to England, and they were redistributed to royals as gifts. Queen Victoria received a Pekingese at that time. The Pekingese breed arrived in America in the 1890s and was registered by the American Kennel Club in 1906.