Japanese Chin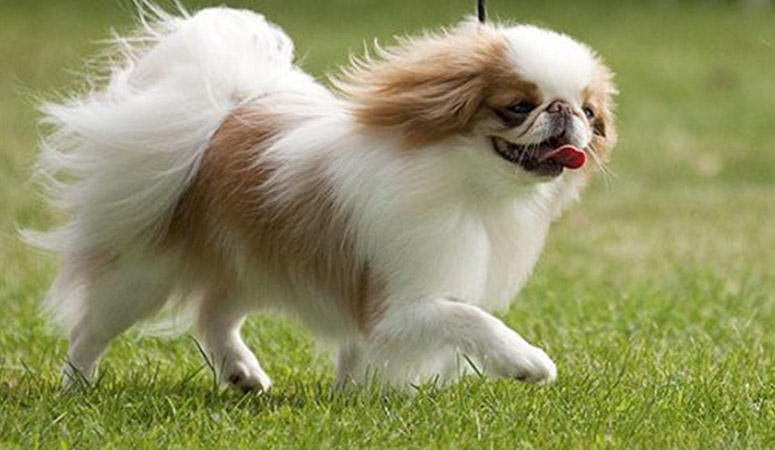 Known as a Japanese Spaniel, the Japanese Chin is a joy of a toy breed with a silky coat, square-proportioned small size and a bright inquisitive expression. The breed has been charming people from as far back as 700 AD and were long the favored companions of Japanese nobility. Though usually quiet, Chin are alert and will bark at visitors and unusual noises.
| | |
| --- | --- |
| Other Names | Chin, Japanese Spaniel |
| Color | Black & White, Lemon & White, Sable & White, White & Black |
| Height | Males: 8-12 inches. Females: 8-11 inches. |
| Weight | Males: 4-15 pounds. Females: 4-15 pounds. |
| Life Span | 10-12 years |
| Personality | Charming, Noble, Loving |
| Exercise | Regular Exercise |
| Origin | |
| | |
| --- | --- |
| Popularity | #108 |
| Groom Needs | Weekly Brushing |
| Kids Friendly | No |
| Dog Friendly | Yes |
| Watch Dog | |
| Family Dog | |
| Litter Size | 1 to 3 puppies |
Introduction
The Japanese Chin Dog is small, playful, proud, and a whole lot less yappy than some of the other toy breeds to which he belongs. He loves to play around at home and doesn't need a whole lot of exercises; just make sure your yard is well fenced. He comes from a line of spaniels and will more than likely want to dart off and chase a bird or a butterfly down the street! He is a great companion, enjoys cuddling on laps and snuggling with you at home. Still, on the other side, he is an agile climber and you will find him like a cat, graceful and light on his little feet. He stands at around 11 inches at the shoulders and weighs in at around 11 pounds. He can quite literally leap from your arms and damage himself, so watch out for this nimble little fellow. Senior citizens love this pet as he offers attention and interaction, and they love to give it back. He's not really for small children; he gets easily overwhelmed and can't take it when kids rough-handle him or tease him. His lovely feathered coat can be black, white, or red, requiring grooming regularly and occasional trimming.
Living with Japanese Chin
History
It is believed that the Japanese Chin Dog originated from China. But it was found in both the Japanese and Chinese royal courts, greatly favored for its elegant, dainty looks, gentleness and playfulness.
There are two classes of Japanese Chin, ones that are over 7 pounds and those that are under.
There are many stories of how the Chin came to be in Japan. It is said that Zen Buddhist instructors brought this dog to Japan after 520 A.D. Others say a Korean prince in 732 A.D. brought them to Japan. Then others believe that a Chinese ruler gave two dogs to an empress from Japan thousands of years ago. Whatever you believe, it was the Japanese Imperial family that loved these dogs, keeping them as lapdogs, or just as ornaments around the place.
The dogs arrived in Europe around 1853 when Commodore Perry presented Queen Victoria with a pair after visiting Japan. After that, many Chins were brought to be sold in Europe and America.
When future King Edward VII of Great Britain married Alexandra in 1863, she loved the Chin dearly, helping them gain popularity in Great Britain and America.
The AKC recognized the breed in 1888.
It is quite popular in the USA, being registered at the American Kennel Club in 1888.