Irish Wolfhound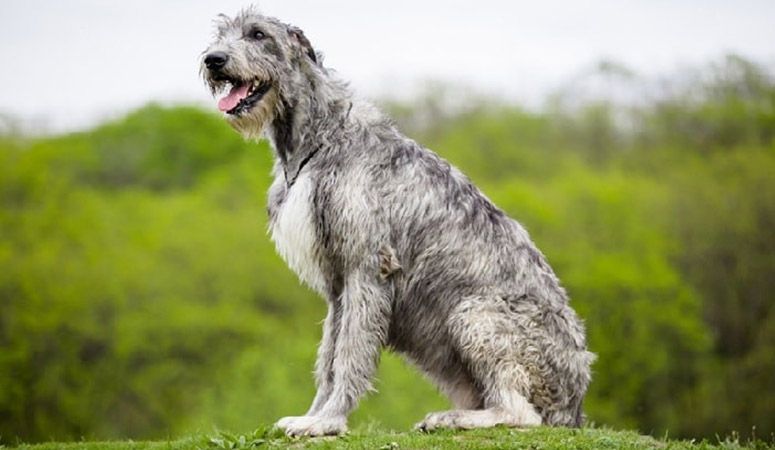 Originally used in war to drag men off horses and chariots, the Irish Wolfhound is dignified, calm and kindly, also the tallest of all AKC breeds. With the character of fearless, they hunted large game such as deer, boar, and wolves. Today, they compete in obedience, tracking, and lure coursing, which make them agreeable family companions.
| | |
| --- | --- |
| Other Names | Cu Faoil |
| Color | White, Black, Blue, Brindle, Cream, Gray, Gray & Brindle, Silver, Wheaten, Wheaten & Brindle, Red, Red & Brindle, Red Wheaten, |
| Height | Males: 31-32 inches. Females: 28-30 inches. |
| Weight | Males: 100-125 pounds. Females: 89-105 pounds. |
| Life Span | 6-8 years |
| Personality | Courageous, Dignified, Calm |
| Exercise | Regular Exercise |
| Origin | |
| | |
| --- | --- |
| Popularity | #76 |
| Groom Needs | Weekly Brushing |
| Kids Friendly | Yes with supervision |
| Dog Friendly | Yes with supervision |
| Watch Dog | |
| Family Dog | Yes |
| Litter Size | 4 to 8 puppies |
Introduction
Today's Irish wolfhound is a family companion who loves to compete in obedience and tracking trials. He is known as the Heartbreak Breed simply because you fall in love with him very deeply. He is one of the tallest dogs in the world, but other dogs will be heavier than him. He stands around 35 inches at the shoulders and weighs in at around 180 pounds. He loves his long walks which is very important to keep his big body maintained. That means he needs plenty of space to move around in and thrive. He is not the ideal watchdog because he doesn't bark a lot. He is brave, but not aggressive, therefore not a guard dog by nature. The Wolfhound's coat is rough and hard, coming in colors such as gray, brindle, red, black, white, or fawn. His coat needs to be brushed weekly to keep it healthy. Also remember, if you have kids, no dogs are roughhouse toys. He is no pony, no matter how small the child is. His body is not designed for strain like that or for pulling carts either.
Living with Irish Wolfhound
History
Yes, you guessed right, the Irish Wolfhound originates from Ireland.
He once upon a time was used during the wars to help to drag men off their chariots and their horses – that's how big he was! Apart from those duties, he also was used to hunt large game like wolves, and deer and boars.
Roman consul Aurelius wrote in 391 AD that "all Rome viewed with wonder" the seven Irish Wolfhounds that he received as a gift. They proved fearsome in battle, pursued Irish elk which were six feet at the shoulders. They were also fearless hunters of the wolf – from which they got their name. Before that though, he was just called Cu. That's a Gaelic name probably meaning hound, wolf-dog, or war dog.
A favorite tale about this amazing dog is that of the Prince of Wales, Llewellyn, in 1210. His hound, Gelert, accompanied Llewellyn on a hunting trip. His job was to guard Llewellyn's baby son while he was gone. On returning, he found the baby's crib overturned. Gelert was covered in blood. Furious, Llewellyn slew Gelert, only to hear the cry of his son near a wolf that Gelert had killed. Llewellyn, overcome with grief, mourned his dog forever, erecting a tomb in Gelert's honor. It can be seen in Caernarvon, Wales.
The first Irish Wolfhound was registered with the American Kennel Club in 1897.