Saluki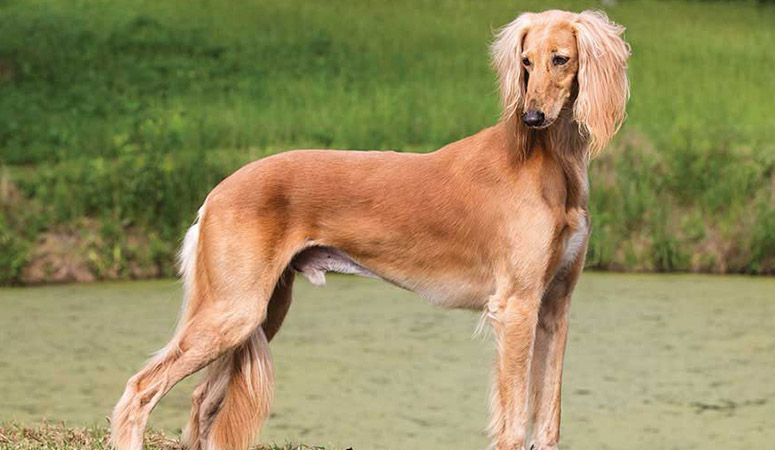 Combining the aspects of grace, great speed, and endurance coupled with strength, the Saluki is masterful hunters with keen eyesight. As one of the oldest breed in the world, Saluki was the hunting hound of kings for thousands of years. Though they are reserved rather than demonstrative in their affections, Salukis are loving and devoted to their family members.
| | |
| --- | --- |
| Other Names | Tazis, Persian Greyhounds |
| Color | Black, White, Cream, Chocolate, Golden, Red, Fawn, Red, Grizzle/Tan, Black/Tan, and Tri-color (White, Black and Tan) |
| Height | Males: 23-27 inches. Females: 23-24 inches. |
| Weight | Males: 45-65 pounds. Females: 35-45 pounds. |
| Life Span | 10-17 years |
| Personality | Gentle, Dignified, Independent-Minded |
| Exercise | Needs Lots of Activity |
| Origin | |
| | |
| --- | --- |
| Popularity | #125 |
| Groom Needs | Occasional Bath/Brush |
| Kids Friendly | Yes with supervision |
| Dog Friendly | Yes with supervision |
| Watch Dog | |
| Family Dog | Yes |
| Litter Size | 4 to 8 puppies |
Introduction
Their symmetrical and leggy appearance gives the impression of an animal cut out for athletic stunts. True to this, the Saluki breed has pulled off its own share of remarkable stunts in hunting prowess, even from prehistoric times as they are one of the oldest dog breeds to ever exist. Saluki was bred to hunt gazelles in sand dunes and rocky mountains, their elegance and grace permit agility, speed, and yet endurance. They come in smooth and feathery coat varieties. Coat colors include cream, red, fawn, white, bi-color (black and tan or grizzle and tan), and tri-color varieties of white, black, and tan. Modern-day Saluki dogs are bred as great pets and endearing companions to the family, although owning them comes with few challenges.
A standard Saluki appears tall and slim, standing up to 24-28 inches tall, measured at the shoulder, and likely to tip the weighing scales towards 45-65 pounds. The females run smaller. The Saluki is a proud member of the Hound Group and has an average lifespan of 11-17 years.
History
The Saluki is an ancient dog breed with a history that cuts across several continents. The ancestors of this breed are believed to have developed in the Fertile Crescent, the so-called home of agricultural civilization. The origin dates back to many centuries, judging by arts, paintings, potteries, and several isolated pieces of evidence that suggest the antique ancestry of this eccentric breed. Pottery designs that bore images of long and narrow-trunked dogs had been found in parts of Iran some 6000 years ago. These are believed to be the early Saluki dogs. Other such depictions exist in Syria, Egypt, and parts of the Middle East. However, it wasn't until the period of the Eighteenth dynasty of Egypt that the Saluki breed rose to prominence, even overshadowing the tesem dogs of ancient Egypt.
The tortuous ride of the Saluki breed on its way to recognition in Europe began in the 1840s when they arrived in England under the name "slughi shami", often interbred with the Sloughi breed, until rather recently that genetic evidence suggested they were actually separate genes. In 1895, the breeding line of the Saluki was laid down by Florence Amherst, the daughter of the 1st Baron Amherst of Hackney. It was a dog she had chanced upon on her tour around the Nile. Although she grappled tenaciously with the possibilities of bringing this breed of dogs to popularity in Europe, her efforts yielded little results until she was helped by Brigadier General Frederick Lance and his wife, who had just returned from Palestine with a similar dog. Together, they pushed for the recognition of the Saluki breed and, in 1923, the Saluki or Gazelle Hound Club was established. This club gained recognition by the Kennel Club. In subsequent years, the breed continued to grow in prominence and spreading into different parts of the world. It is now a well-recognized breed in America.