Rhodesian Ridgeback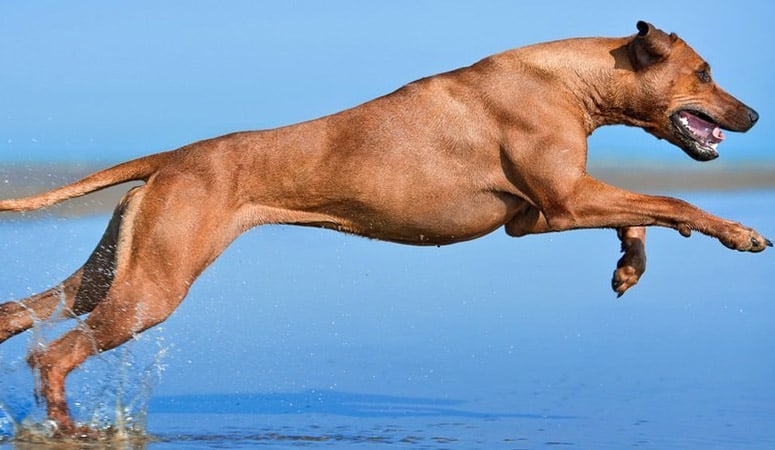 The Rhodesian Ridgebacks are powerful and fast athletes. As hound breed from Africa, Ridgebacks have strong drive to prey and excel in baying and tracking. They must be guarded and trained from the puppyhood, which will make them faithful friends of people and protective the ones they love and trust.
| | |
| --- | --- |
| Other Names | African Lion Dog, African Lion Hound |
| Color | Light Wheaten, Red Wheaten, Wheaten |
| Height | Males: 25-27 inches. Females: 24-26 inches. |
| Weight | Males: 75-85 pounds. Females: 65-75 pounds. |
| Life Span | 10~12 years |
| Personality | Affectionate, Dignified, Even-Tempered |
| Exercise | Regular Exercise |
| Origin | |
| | |
| --- | --- |
| Popularity | #42 |
| Groom Needs | Weekly Brushing |
| Kids Friendly | Yes |
| Dog Friendly | Yes with supervision |
| Watch Dog | |
| Family Dog | Yes |
| Litter Size | 8.9 pups |
Rhodesian Ridgeback Video
Introduction
This tough dog is a natural-born hunter. The Rhodesian ridgeback is a Southern African dog, a product of a few breeds; the native ridged Khoikhoi dog and dogs brought to Africa by European settlers. These include Mastiffs, Great Danes, Bloodhounds, and Greyhounds. They are mischievous dogs with enough energy and willpower to clear a low fence or a wall. People also called them "Ridgies". Have a look on their backs; there is a ridge of hair that runs along their spine, almost in the opposite direction to the rest of their coat of short hair. Even though it is a very distinctive feature of the Ridgeback, not all Ridgies have it. They love their food and can over-eat if you give them too much food. They are great with kids, maybe a bit too rumbustious with smaller kids – nevertheless, known to be very protective amongst its family members. The Ridgeback is quiet and gentle – he doesn't bark much. They only really use their bark as a rumble or a growl when there is danger around. So if you do own a Ridgeback and you hear it growling, you must know it is for something serious. Keep an eye on him when out walking or at the dog parks, because it can be a bit aggressive towards strangers and other dogs in unfamiliar territory. They range in color from pale flax to deep auburn; standing around 27 inches at the shoulder and weighing in at around 70 pounds.
Living with Rhodesian Ridgeback
History
In 1652 when Europeans arrived at the Cape, they brought dogs with them, but the dogs didn't cope well with the local diseases, plus there was interbreeding with the indigenous hunting dogs. This is what laid the foundation for the Rhodesian ridgeback. The dog is a special creation of Southern Africa. It has resulted from crossing the dog between the native ridged Khoikhoi dog as well as European breeds that the Dutch colonists brought with them. The infusion of native Khoi blood gave the future generations a resiliency against local pests such as the tsetse fly, as well as to outwit deadly predators.
By the 1860s, European settlers were breeding the indigenous dogs with Great Danes, Bloodhounds, Greyhounds, and Terriers, resulting in the Boer hunting dog, a relative of the modern Ridgeback.
In 1922, a meeting was convened to write the first Rhodesian ridgeback standard – big game hunting was fading in South Africa, and the Rhodesian ridgeback was on the brink of extinction.
The Rhodesian ridgeback came to the United States in the 1950s and was admitted into the American Kennel Club in 1955 as part of the Hound Group.