Scottish Deerhound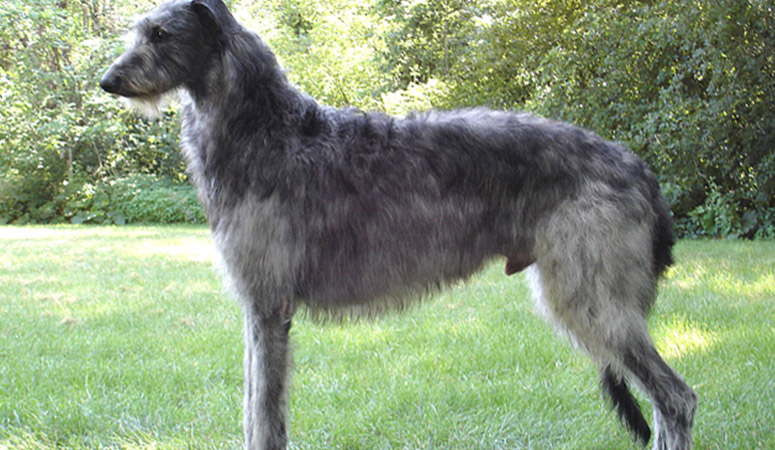 As one of the hound breeds, Scottish Deerhounds still have hound instincts. But the Deerhounds was historically bred to stalk wild deers, they are not ferocious. Active and experienced owners will bring them outdoor walking and running, as this breed enjoy it very much.
| | |
| --- | --- |
| Other Names | Deerhound, Lebrel Escoces, Schottischer Hirschhund |
| Color | Blue, brindle, fawn, gray, red, yellow |
| Height | Males: 30-32 inches. Females: 27-30 inches. |
| Weight | Males: 85-110 pounds. Females: 75-95 pounds. |
| Life Span | 8-11 years |
| Personality | Gentle, Dignified, Polite |
| Exercise | Regular Exercise |
| Origin | |
| | |
| --- | --- |
| Popularity | #149 |
| Groom Needs | Occasional Bath/Brush and Seasonal Shedding |
| Kids Friendly | Yes with supervision |
| Dog Friendly | Yes |
| Watch Dog | |
| Family Dog | |
| Litter Size | 4–15 puppies |
Introduction
The Scottish Deerhound, a magnificent looking dog, has a romantic past and a noble bearing. Walter Scott, the owner of a deerhound called Maida described this breed as "the most perfect creature of Heaven." This dog can be described as affectionate to all, good with children and other pets. He loves nothing more than to run or have long walks with his human owners and then afterward happy to snooze in a sunny spot. He has an elegant and polite air, but he is not aloof. He is loyal and courageous, but never aggressive. He does not make the best watchdog. He's too amiable to be a good watchdog. This dog doesn't want to be left alone for hours on end, and long hours in a crate can damage his joints. If you have the endurance and strength to meet his needs, he will make a loyal and loving companion. He stands around 32 inches at the shoulder and weighs around 110 pounds. The typical Deerhound's coat is dark blue-gray, or dark gray, light gray. They shed throughout the year and you will need to brush his coat with a wire brush about twice a week to remove dead hair, stimulate his circulation, and distribute his natural skin oils.
Living with Scottish Deerhound
History
The Scottish deerhound originates in Scotland. His original purpose was to bring down the Scottish roe deer years back, already in the 16th century. This deer would be twice the size of the dog.
Over the centuries, they've been known as Irish wolfdogs, Scottish greyhounds, rough greyhounds, and Highland deerhounds.
It is said that a nobleman condemned to death could purchase his life with a gift of deerhounds. No-one beneath the rank of an earl could lay claim to a deerhound; after all, this was the 'Royal Dog of Scotland'.
It came close to extinction many times by the wars and other things, and by 1769 the breed was in dire straits. In 1820, two men Archibald and Duncan McNeill tried to restore the breed and the breed eventually made its way to America as well.
Can you imagine! Trudie Styler has plenty of these dogs at her Dukesarum Kennel and often she will take them on walks, at seven to eight at a time!
The regimental mascot for the Irish Guards, Domhnall retired from his duties in September 2019, having been praised for his amazing personality during intense ceremonial duties, giving 7 years of loyal service. Thank you Army Mascot Domhnall for your amazing service!
The first Scottish deerhound registered by the American Kennel Club was Bonnie Robin in 1886.