Chinese Crested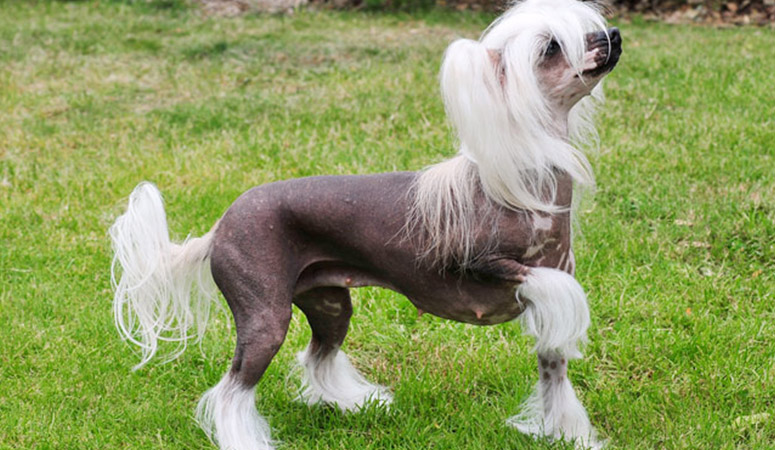 Lively and alert, the Chinese Crested was first taken outside of their native continent by ancient Chinese traders. They have spotted pink skin, spiky "crested" hairdo, furry socks and feathery tail, which may mislead you to other breed. With fine-boned elegance and graceful movement, this breed is an affectionate companion.
| | |
| --- | --- |
| Other Names | Chinese Crested Dogs, Crested, Puff |
| Color | Apricot, Black, Black White & Tan, Blue, Chocolate, Cream, Palomino, Pink & Chocolate, Pink & Slate, Slate, White |
| Height | Males: 11-13 inches. Females: 9-12 inches. |
| Weight | Males: 5-13 pounds. Females: 5-13 pounds. |
| Life Span | 13-18 years |
| Personality | Affectionate, Alert, Lively |
| Exercise | Regular Exercise |
| Origin | |
| | |
| --- | --- |
| Popularity | #80 |
| Groom Needs | Occasional Bath/Brush |
| Kids Friendly | Yes with supervision |
| Dog Friendly | Yes with supervision |
| Watch Dog | |
| Family Dog | |
| Litter Size | 2 to 6 puppies |
Introduction
You are not going to find a more wonderful companion to spend hours with you on the couch then the Chinese Crested dog. They are laid back with almost no desire to be active and outside like other regular dogs. They can be quite athletic when they get going, and will climb and dig to escape confinement if separated from their owners – his separation anxiety can lead to barking and other destructive habits. Even though they are very social, they don't accept strangers very easily. He is around 13 inches at the shoulders and weighs about 12 pounds. He can be found in two variants, the Hairless with the silky hair on the head and the Powderpuff variant – this one has a full coat. Powderpuff coats come in colors such as mahogany, blue, lavender, or copper. The skin tones of the Hairless are pink and black. The Chinese Crested is elegant and graceful, often winning Ugly Dog Contests! Some think the Hairless variety needs sunblock and moisturizing lotion on his skin to protect it, but remember, he is not a human and that can just cause problems. His skin has a better chance of staying healthy if nothing is put on his skin. The Chinese Crested doesn't sweat through his skin, and he has the same body temperature as any other breed. The Hairless Crested is tolerant of heat but he is not tolerant of the cold. Being highly social, the Crested can suffer from separation anxiety and this can lead to barking and other destructive habits. Look at their feet – when compared to other breeds, the Chinese Crested has elongated feet. Some people call his longer foot "hare-like."
Living with Chinese Crested
History
Despite their name, Chinese Crested dogs don't really come from China. They evolved from African or Mexico (no one is certain which). The Chinese were responsible for reducing the size of the dog.
The Crested is believed to have accompanied Chinese sailors on the high seas as early as 1530, hunting for rats and vermin during and between times of plague. By the middle of the 19th century, the Crested began to appear in numerous European paintings.
Earlier names of the Chinese Crested include Chinese Hairless, the Chinese Edible Dog, the Chinese Ship Dog, and the Chinese Royal Hairless.
There was a stage performer called Gypsy Rose Lee. She loved them so much when her sister gave her one, calling it Fu Man Chu. Later, she became a breeder, advocating for the dogs. Today, many Chinese Crested dogs can trace their lineage back to Lee lines.
The first North America breed club here was founded in 1974.
In America, the Chinese Crested Club started in 1979, entering the AKC Stud Books in 1991.