Black and Tan Coonhound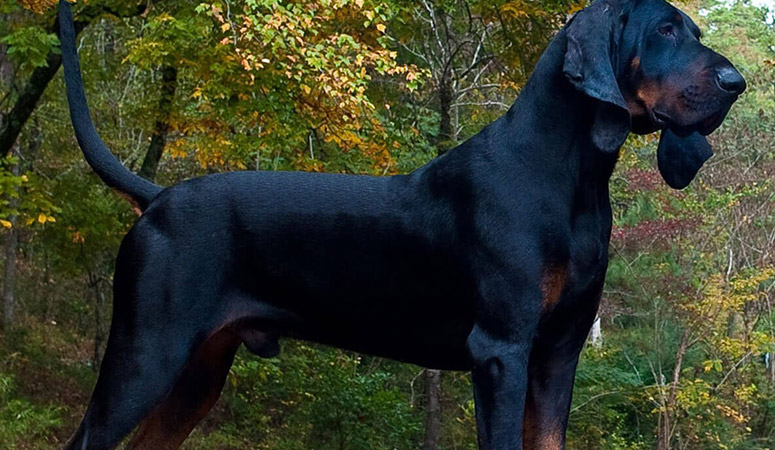 With moderate build, the Black and Tan Coonhounds is a real American original and has great strength, speed and agility. As a large, athletic hunting breed, he has a keen nose and an impressive howl, which also make them fantastic family companions. They work nights, but they might be too much hound for the lifestyle of every owner.
| | |
| --- | --- |
| Other Names | American Black And Tan Coonhound |
| Color | Black & Tan |
| Height | Males: 23-27 inches. Females: 21-26 inches. |
| Weight | Males: 50-75 pounds. Females: 40-65 pounds. |
| Life Span | 10-12 years |
| Personality | Easy-Going, Bright, Brave |
| Exercise | Regular Exercise |
| Origin | |
| | |
| --- | --- |
| Popularity | #141 |
| Groom Needs | Weekly Brushing |
| Kids Friendly | Yes |
| Dog Friendly | Yes |
| Watch Dog | |
| Family Dog | Yes |
| Litter Size | 7-8 puppies |
Black and Tan Coonhound Video
Introduction
The Black and Tan Coonhound is a lovely companion, and a happy dog that loves to show off in the show ring, and if at home, he will make a great playmate for the family. He enjoys brisk walking or running with his owner; and at night keeps you safe as a constant companion. He's got a deep throaty bark that will let you know someone is around. They've got strong hunting instincts and are used to open spaces. This means he needs room for exercising – the garden should be fenced, as he has a tendency to roam. He stands 27 inches at the shoulder and weighs around 100 pounds. He is noisy and will bay and howl if he finds something like a cat or other small animal in a tree that he wants to reach! Another characteristic of this dog that might not appeal to certain people is that he can slobber and drool a lot when hot. Obedience training from a pup is highly recommended for this dog, but don't count on him being perfectly compliant. They also shed hair quite heavily. His coat needs to be brushed around 2-3 times to distribute the oils and keep his skin in good condition.
Living with Black and Tan Coonhound
History
The Black and Tan Coonhound's bloodlines go back to the Talbot hound of a thousand years ago. He's a creation of the mountain people of the Ozarks and the Smokies.
Even though the direct ancestor of the Black and Tan Coonhound is the English foxhound, the Coonhound breed itself is a uniquely American creation, developed in the mountains of the southern United States in the 1700s.
He was bred to hunt raccoons and possums and proved to be the perfect companion for colonial settlers who created him to be a hunter.
Did you know that the first president of America once, George Washington, was responsible for playing a big role in the development of Black and Tans, making the breed prominent during this term?
Another historical figure who loved Black and Tans was Thomas Jefferson, the third United States president, and like Washington, had his own pack of black and Tan Coonhounds.
If you remember the movie, The Duke, in 1999, it featured a Black and Tan Coonhound called Hubert, where the dog's loyal and loving nature was showcased.
The American Kennel Club recognized the breed in 1945. A grand name was given to the first Black and Tan Coonhound registered – Grand Mere Big Rock Molly!