Basset Hound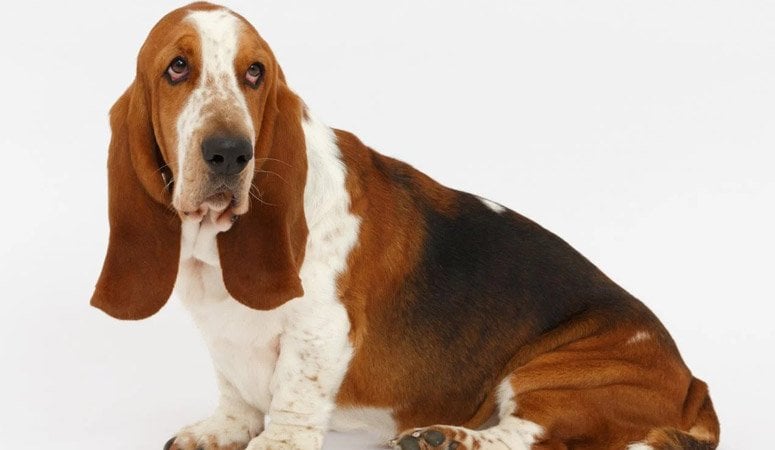 Recognizable with the floppy ears, low-slung silhouette, and hangdog expression, the sweet Basset Hound was bred for hunting small game such as rabbits. His long, heavy body and short legs make them easy to chase on foot and give them an edge in dense cover. They are easy-going and patient which are good family companions and friendly to kids.
| | |
| --- | --- |
| Other Names | Basset |
| Color | Black and Tan, Brown, Gray, Red, Tricolor, White |
| Height | Males: 14-17 inches. Females: 10-14 inches. |
| Weight | Males: 40-70 pounds. Females: 33-50 pounds. |
| Life Span | 12-13 years |
| Personality | Charming, Patient, Low-Key |
| Exercise | Couch Potato |
| Origin | |
| | |
| --- | --- |
| Popularity | #37 |
| Groom Needs | 2-3 Times a Week |
| Kids Friendly | Yes |
| Dog Friendly | Yes |
| Watch Dog | |
| Family Dog | |
| Litter Size | 6-8 |
Introduction
Basset originates from France, and the French word Bas means "low". Even though they are low on the ground, they are actually heavy, muscular dogs. They weigh from around 50-65 pounds and measure around 14 inches at the shoulder. They have short hard-textured smooth coats which is quite easy to take care of, coming in the classic tri-colors of black, white, and tan. They have other colors too. But apparently, the blue or gray is not popular as it means the Basset has genetic problems. He has a lot of loose skin on his face which is quite wrinkled over his brow. A lot of people think it makes the basset have a sad look for which he is quite famous and loved! His long ears often drag on the ground, picking up scents, which means they need to be checked and cleaned each week so as to prevent ear infections. Have you looked at his huge paws? His front feet turn outward slightly so that they balance with the width of the shoulders. He has a friendly disposition, but might become destructive and start howling if left alone for long. They are hearty eaters so their owners have to watch that they don't become obese – this will give them back and leg problems, so regular exercise is essential.
History
It is thought that the Basset descended from the St. Hubert Hound – the ancestor of the present-day Bloodhound. Apparently a mutation in the St. Hubert strain created the dwarfed hound or short-legged dog. However, the first record mentioned of a basset was in a book about hunting, called La Venerie, written by Jacques du Fouilloux in 1585. The illustrations show that the early French Basset Hounds resembled the present-day Basset Artésien Normand, a dog breed today known in France.
The dogs were very popular with the French aristocracy. After the French Revolution though, they became hunting dogs of the commoners who couldn't afford horses so they followed the dogs on foot.
Bassets made their way to Britain by the mid-19th century. Lord Galway imported a pair to England in 1866 that produced a litter of 5 pups.
In 1874, Sir Everett Millais imported a Basset Hound from France. It was called Model where it was promoted in England and joined a breeding program. Millais is considered to be the "father of the breed" in England.
In 1882, the Kennel Club in England was formed and the breed was accepted in 1884.
It is though the Basset came to America in colonial times and the American Kennel Club (AKC) registered the dog in 1885. Number 28 at the AKC has surely crept into the hearts of the Americans!