American English Coonhound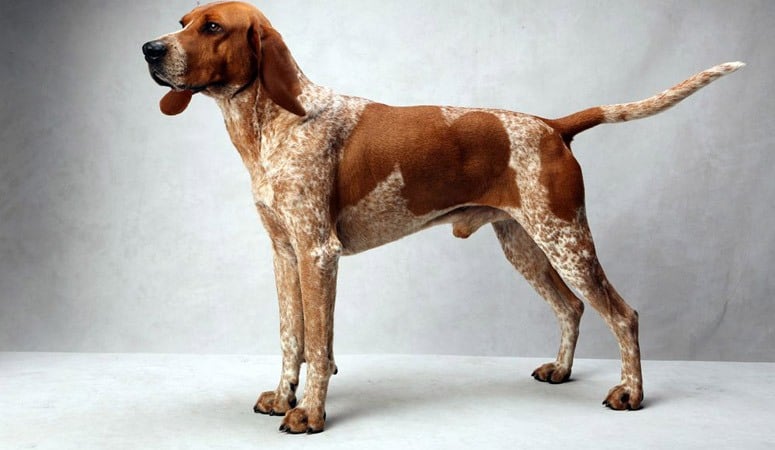 As the descendent of the English Foxhounds, American English Coonhounds are well-known hunting dog breed with great endurance and speed. They have soft droopy ears, long low set and squared-off muzzles. As social dogs, they possess intelligence and kindness.
| | |
| --- | --- |
| Other Names | American Coonhound, American English Coonhound, Redtick Coonhound |
| Color | Red& White Ticked, Blue& White Ticked, Tricolor& Ticking, Red&White, Black&White |
| Height | Males: 22-27 inches. Females: 20-25 inches. |
| Weight | Males: 50-70 pounds. Females: 50-70 pounds. |
| Life Span | 11-12 years |
| Personality | Sweet, Mellow, Sociable |
| Exercise | Needs a lot of exercise |
| Origin | |
| | |
| --- | --- |
| Popularity | #175 |
| Groom Needs | Occasional Bath/Brush |
| Kids Friendly | Yes with supervision |
| Dog Friendly | Yes |
| Watch Dog | Yes |
| Family Dog | |
| Litter Size | 4-8 |
American English Coonhound Video
Introduction
Like most coonhounds, if not all, the American English Coonhound is generally sociable and friendly, although it has been described as being stubborn on different occasions. They require early training as puppies, especially in getting them acquainted with other little pets around the house. This is important because, while American English Coonhounds can make great family pets themselves, they have a keen sense for quarry and hunting other animals. They are friendly with children and exhibit a high sense of loyalty to their family. American English Coonhounds also require ample exercise time. They come in a short, medium coat which, unlike most other coonhounds, is accepted in different color varieties ranging from bluetick and redtick to tricolor varieties with tickings. Redticks are the most common.
A male dog of this breed should be 24-26 inches tall, measured at the shoulder, while a female stands around 23-25 inches, being quite smaller than the male. Full-grown American English Coonhounds normally weigh about 40-65 pounds. They are typical members of the Hound Group. Their lifespan is 10-12 years.
Living with American English Coonhound
History
Almost all Coonhounds, except the Plott Hound, had descended from English Foxhounds which were imported into America in the 17th and 18th centuries. The English Foxhounds first met with a difficult task to adapt to the terrain in America, while also adapting to the mode of hunting which consisted in quarries that clambered up trees for safety, in contrast to the badgers and foxes of England which would rather run underground. Hence, breeders like John W. Walker and George Washington are upheld for the early development of the American versions of these hound dogs, which could tree and hunt raccoons. This began the meek history of coonhounds in America. The American English Coonhound is recognized by several kennel clubs as the English Coonhound, others as the Redtick Coonhound, nevertheless, it was developed in the Southern United States.
The United Kennel Club of America was the first kennel club to grant recognition to the American English Coonhound. It was initially registered as the English Fox and Coonhound in 1905, although later in the 1940s, the separation was done into different breeds. The Treeing Walker Coonhound was the first to get separated in 1945, shortly after which the Bluetick Coonhound followed. The American Kennel Club (AKC) accepted the American English Coonhound into its Foundation Stock Service in 1995, and later into the Miscellaneous Class in 2010. The following year, it gained official recognition by the AKC. In 2012, the American English Coonhound debuted in the Westminster Kennel Club Dog Show. It is an easily recognizable breed in the United States.