Yorkshire Terrier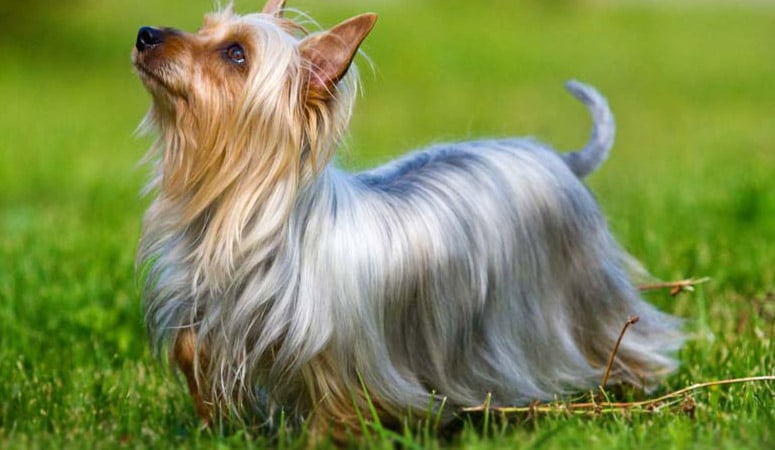 The Yorkshire Terrier is an energetic small dog breed who is known for his brave and determined nature. Their long, silky hair, elegant looks, and suitability to apartment living make them become the most popular toy dog breed in the United States. They are often called "tomboy toys" as they like being in the thick of any activity.
| | |
| --- | --- |
| Other Names | Broken-HaiRed Scotch Terrier, Yorkie |
| Color | Black & Gold, Black & Tan, Blue & Gold, Blue & Tan |
| Height | MALES: 6-7 INCHES. FEMALES: 6-7 INCHES. |
| Weight | MALES: 4-7 POUNDS. FEMALES: 4-7 POUNDS. |
| Life Span | 11-15 years |
| Personality | Affectionate, Sprightly, Tomboyish |
| Exercise | Regular Exercise |
| Origin | |
| | |
| --- | --- |
| Popularity | #12 |
| Groom Needs | Specialty/Professional |
| Kids Friendly | Yes with supervision |
| Dog Friendly | Yes with supervision |
| Watch Dog | |
| Family Dog | |
| Litter Size | 4-5 |
Introduction
A Yorkshire Terrier may be a beautiful and admired breed of house-dogs now, but a good number of us won't forget that they started out chasing and dispatching rats in mills and mines in the olden days. One of the smallest dog breeds there is, Yorkshire Terriers presents with a tiny package of roughly 7 inches shoulder height and between 4 and 7 pounds weight, both males and females alike.
Nicknamed Yorkies, Yorkshire Terriers are popular as companion dogs and have proven quite their mettle as watchdogs over the years. It struts daintily almost completely shrouded in a glossy and silky coat that can be described as a cocktail between hues from gray and black to fawn and tan. Older varieties also come in a steel blue coat, often trailing on the floor when they padded about.
Despite appearing delicately small and dainty, this breed still possesses every feature of a terrier. Playful and exuberant, there's no dull moment around them. Find them a companion and a Yorkie would lead a rambunctious life. A Yorkshire Terrier is likely to live up to 14 years on average.
Living with Yorkshire Terrier
History
The small toy-type Yorkies we now know and keep as pets used to be larger than they are now. They were once mine dogs which helped to tidy up some of the dirty jobs like catching rats around. The origin of the Yorkshire can be traced back to mid-19th century England. Although the Yorkshire county of Northern England has been associated with its origin and name, it wasn't particularly the place of origin of this breed of dogs but rather the development of Yorkies improved tremendously after they were brought to Yorkshire.
The Yorkshire Terriers are widely considered descendants of the Water-side Terriers with a long blue coat, adorned with flecks of tan or fawn. Prior to the Yorkshire Terriers, ratting breeds consisted of the Clydesdale Terriers and Paisley mainly. In fact, there are claims that Yorkshire Terriers didn't exist before the arrival of Scottish immigrants into England in the 19th century. Some of them settled in the regions of Yorkshire and Lancashire, working at the mills, and breeding their terrier dogs. It's from these terrier dogs that Yorkshire Terriers are believed to have found root. After which they hit the show ring for the first time in 1861(though know at the time as the Broken-haired Scotch Terrier).
The American Kennel Club registered its first Yorkshire Terrier in 1885, although they had been recognized as a breed in North America before that time.