Skye Terrier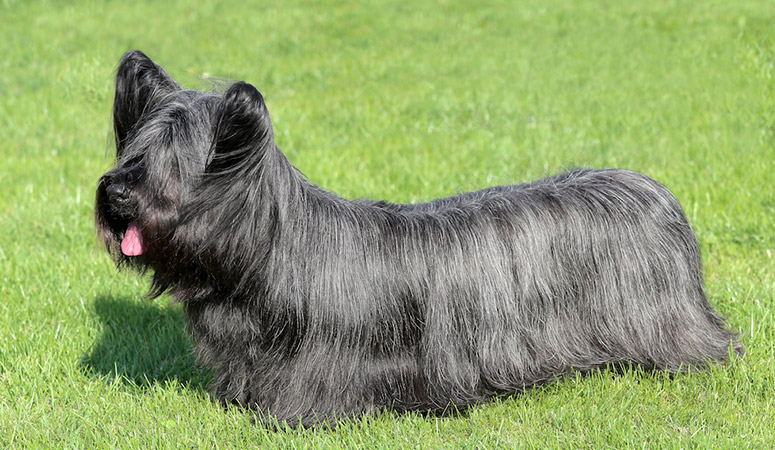 The hardy, long, low, and level Skye Terrier is a stylish and elegant dog, and it is "one of the most endangered native dog breeds in the United Kingdom". They were developed to hunt and kill badger, otter, and fox, and now they are appreciated as versatile companion dogs.
| | |
| --- | --- |
| Other Names | None |
| Color | Black, Blue, Cream, Fawn, Gray, Platinum, Silver |
| Height | Males: 9-10 inches. Females: 7-10 inches. |
| Weight | Males: 18-40 pounds. Females: 18-40 pounds. |
| Life Span | 12-14 years |
| Personality | Courageous, Good-Tempered, Canny |
| Exercise | Regular Exercise |
| Origin | |
| | |
| --- | --- |
| Popularity | #187 |
| Groom Needs | Daily |
| Kids Friendly | Yes with supervision |
| Dog Friendly | Yes with supervision |
| Watch Dog | |
| Family Dog | |
| Litter Size | 5-9 |
Introduction
The Skye Terrier doesn't require much exercise, making it a good apartment dog. It is an intelligent dog, normally friendly around its family but recognizes strangers and keeps aloof from them. Skye Terriers are agile and elegant, in their sturdy bones are vast stores of strength. It stands with its head held up high and its tail relaxed, then when it moves it does so with grace. The double coat is made up of a soft wooly undercoat, covered by a lavish long topcoat. Skye Terriers come in colors of blue, fawn, black, platinum, gray, silver, and cream.
Being small dogs, the size difference between male and female Skye Terriers isn't significant. Male dogs stand around 9-10 inches at the shoulder, slightly taller than the females. They weigh 35-45 pounds in general. Skye Terriers have a life expectancy of 11-14 years.
History
The Skye Terrier is of British origin, developed in the Skye Islands of northwestern Scotland. They were used to hunt badgers, otters, and foxes, also known for their tenacity in pursuit of their quarry. For many years, several different breeds were known by the name of the Skye Terrier, until subsequent separations took place over the years. Perhaps, this explains why the Skye Terrier breed has an obscure history. From the 16th century, the Skye Terrier had gained favor with the British Royals, being kept in majestic kennels. Queen Victoria was said to have acquired her first Skye Terrier in the 1840s and was known to have bred Skye Terriers in her large royal kennel. It was only a matter of time before the breed became a household affair in all of the United Kingdom.
The most popular Skye Terrier is Greyfriars Bobby, which was probably the reason for the popularity of the breed and its importation to the United States. The dog was loyal to John Gray, his master, who was a night watchman of the 1850s. Until John Gray's death in 1858, Bobby had been a devoted companion dog, even followed the procession to his master's funeral, and refused to leave the graveside till his own death.
By the 1860s, the Skye Terrier had joined the dog show circuit, especially as a strong competitor at the Birmingham dog shows. The breed club for the Skye Terrier was later formed in 1876 and, by 1887, it was officially recognized by the American Kennel Club (AKC). Since their days of fame in the 19th century, the Skye Terrier slowly receded into obscurity and is now considered one of the endangered native dog breeds of the United Kingdom by the Kennel Club.
Helpful Information
Breed Club: SKYE TERRIER CLUB OF AMERICA
Breed Club Link: http://www.stca.us/
Breed Club Rescue: Skye Terrier Club of America Rescue Committee
Breed Club Rescue Link: http://stca.us/rescue/