Irish Terrier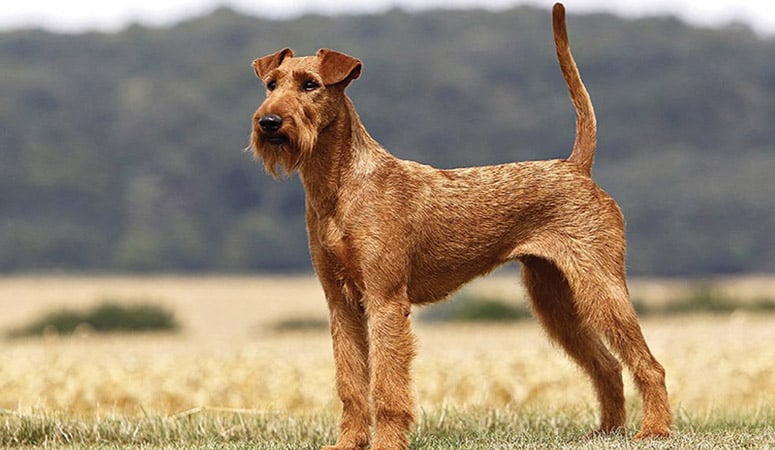 The Irish Terrier has a graceful, racy outline, with a moderately long body. Combined speed, endurance, agility, and power, the IT is an all-round terrier that excels in a great variety of jobs, such as a human companion, watchdog, and advanced training, and they are very loyal to their family.
| | |
| --- | --- |
| Other Names | Irish Red Terrier |
| Color | Red, Red Wheaten, Wheaten |
| Height | Males: 18-19 inches. Females: 18-19 inches. |
| Weight | Males: 26-28 pounds. Females: 24-26 pounds. |
| Life Span | 13-15 years |
| Personality | Bold, Dashing, Tenderhearted |
| Exercise | Regular Exercise |
| Origin | |
| | |
| --- | --- |
| Popularity | #119 |
| Groom Needs | Occasional |
| Kids Friendly | Yes |
| Dog Friendly | No |
| Watch Dog | |
| Family Dog | |
| Litter Size | 4-6 |
Introduction
Considered one of the oldest terriers to exist, the Irish Terrier is a breed of sophisticated and active dogs, swifter on the chase when compared to the Fox Terrier although lacking in substance. Irish Terriers are bred in solid colors of wheaten, red wheaten, or dark red, usually with a patch of white around the chest. Dark red varieties are more common, and their dense and wiry coat helps to protect the dog from the elements of harsh weather.
Dashing and bold Irish Terriers are medium-sized dogs, standing at a full height of 17- 20 inches from shoulder to paw. A well-fed member of the breed would likely weigh around 25-27 pounds, with females generally being a few points lighter than the males. Irish Terriers live to an impressive 12-15 years of service on the average.
Living with Irish Terrier
History
As the name suggests, the Irish Terrier (IT) was developed in Ireland some hundred years ago. They are believed to be one of the oldest terrier breeds in history and have existed long before they were first exhibited at a dog show in 1873. Consequently, the specific origin of this breed is yet to be determined with certainty. Some believe that the breed had originated in Ireland from the black and tan terrier dog types, much like the Irish Soft-haired Wheaten Terrier which shares a similar national heritage. However, there are assumptions that the Irish Terrier could be a descendant of the Irish Wolfhound
Being highly adaptable creatures, the Irish Terriers hastily assumed a variety of functions in the farms, home, and in the wild. They had exceptional ratting ability no doubt, excellent at exterminating vermin, but these small dogs earned their feeds mainly as versatile dogs up from the earliest part of the 18th century. Irish Terriers served as watchdogs, guard dogs, companion dogs, etc.
It was at a Dublin dog show in 1873 that the Irish Terrier was first separated into a class of its own. Before then, it was classified underdog groups that weighed below or above 9 pounds. Subsequently, members of the breed were collected from different parts of Ireland. By 1879, a breed club was formed in Dublin. The breed went on to be the first terrier dog breed from Ireland to be recognized by the Kennel Club. The American Kennel Club (AKC) recognized this breed in 1885. They are more popular in their home country than in other parts of the world.