Soft Coated Wheaten Terrier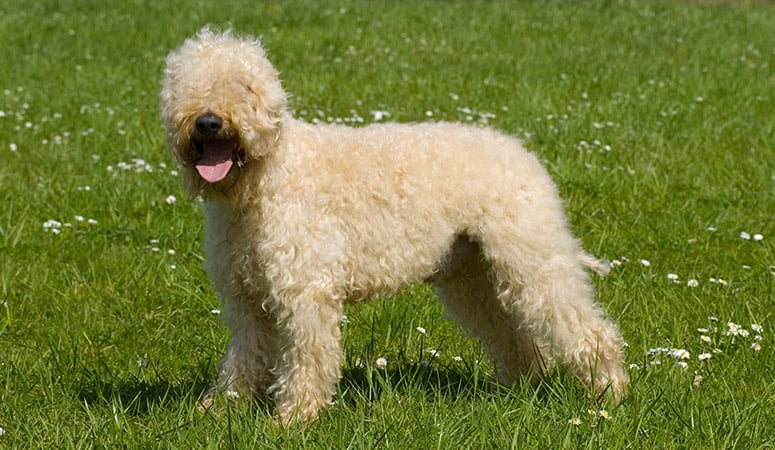 The Soft Coated Wheaten Terrier was developed in Ireland for the purpose of farm and hunting dog. Their long, silky, and gentle wavy coat distinguishes them from all other terriers. And they are alert and happy dogs who combine with grace and strength. As their friendly and affectionate nature, Wheatens enjoy spending time with anyone willing to pet them.
| | |
| --- | --- |
| Other Names | Irish Soft Coated Wheaten Terrier, Irish Soft-Coated Wheaten Terrier, Soft-Coated Wheaten Terrier, Wheaten, Wheaten Terrier |
| Color | Wheaten |
| Height | Males: 18-20 inches. Females: 17-18 inches. |
| Weight | Males: 35-45 pounds. Females: 30-40 pounds. |
| Life Span | 12-14 years |
| Personality | Friendly, Happy, Deeply Devoted |
| Exercise | Energetic |
| Origin | |
| | |
| --- | --- |
| Popularity | #54 |
| Groom Needs | 2-3 Times a Week |
| Kids Friendly | Yes with supervision |
| Dog Friendly | Yes with supervision |
| Watch Dog | |
| Family Dog | |
| Litter Size | 6-8 |
Soft Coated Wheaten Terrier Video
Introduction
Friendly and playful, the wheaten terrier has origins from Ireland. They are known to relate well with children and other dogs. Wheaten puppies have coat colors of red, brown, mahogany, or white. As they mature, the reddish-brown coat gradually changes to an almost white, then to a wheaten-colored coat at full maturity. It takes 3 years for the adult coat to mature and the coat is likely to contain black, white, or dark brown hairs in addition to the lighter wheaten-colored hair. There are two coat types associated with wheatens, however, a wheaten comes in just one of the two colors and not both. There is the Irish-coat type which is silkier and wavier than the American coat type, also known as the Heavy coat type, and is the second coat type associated with the breed.
A male Soft-coated Wheaten Terrier stands somewhere between 18 and 19 inches at the shoulder and has a weight of 35-40 pounds (16-18 kg). A female Soft-coated Wheaten Terrier stands between 17 to 18 inches at the shoulder and has a weight of 30-35 pounds (13-16 kg).
They have an average lifespan of 12-15 years. Soft-coated Wheaten Terriers are energetic dogs and would require patience and consistent positive training to learn new tricks as harsh and impatience often result in fear and/or aggression. They are accustomed to cool weather rather than hot weather where they can easily become overheated. Wheatens, though not aggressive, usually bark at strangers and are protective of the families they belong to. They are seen as great watchdogs but poor guard dogs by many owners.
Living with Soft Coated Wheaten Terrier
History
Wheatens have been bred in Ireland as farm dogs for over two hundred years. They served in watching, guarding, and herding livestock, as well as hunting and killing vermin. They are closely related to the Kerry Blue Terrier and the Irish Terrier, thus share a common ancestry with them. "Poor Man's Wolfhound" is the common name ascribed to the Soft-coated Wheaten Terrier in Ireland, as they were not owned by the gentry. To avoid taxes, their tails were docked and kept to a specific size. Despite the breed was raised in Ireland for so long, it was only in 1937 that the Irish Kennel Club recognized the Wheatens. The breed was also recognized in Britain by the British Kennel Club in 1943.
In the 1940s, the first Wheatens were exported to Lydia Vogel in the United States of America and it was exported into Australia by Anubis Kennels in the 1970s. The American Kennel Club recognized the breed in 1973.