Smooth Fox Terrier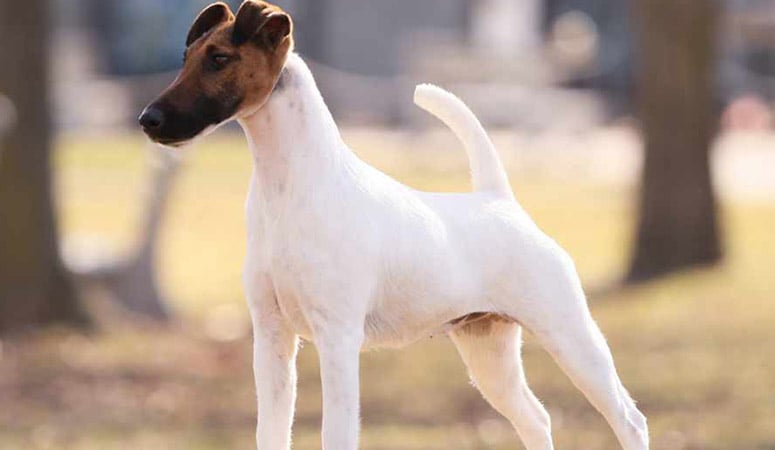 Swift and energetic, the Smooth Fox Terrier is originally developed for Britain's traditional foxhunts, and called the "gentleman of the terrier world." They are close cousins with Wire Fox Terriers who were bred for the same purpose. SFTs are very suited to the active family as they need consistent training and exercise.
| | |
| --- | --- |
| Other Names | Fox Terrier |
| Color | White, White & Black, White & Tan, White Black & Tan, White Tan & Black |
| Height | Males: 15-16 inches. Females: 15-16 inches. |
| Weight | Males: 16-18 pounds. Females: 15-17 pounds. |
| Life Span | 12-15 years |
| Personality | Friendly, Independent, Amusing |
| Exercise | Energetic |
| Origin | |
| | |
| --- | --- |
| Popularity | #122 |
| Groom Needs | Weekly |
| Kids Friendly | Yes |
| Dog Friendly | Yes with supervision |
| Watch Dog | |
| Family Dog | |
| Litter Size | 4-6 |
Introduction
A true member of the Terrier Group, the Foxie (as it is fondly called) is an amiable and amusing dog regarded by many as the gentleman amongst all terriers. As their name suggests, Smooth Fox Terriers were popular foxhunts in olden days England. Their backs are reduced in length, with remarkable symmetry. Smooth Fox Terriers are highly energetic, with a tendency to drift into an independent attitude. Without proper exposure and, they grow to bark very often.
They are small- to medium-sized dogs — a standard Foxie stands 15-16 inches from shoulder to paw. The females run quite smaller than the males, hence weighing around 15-17 pounds where a male tips the scales towards 19 pounds. They are lively and enjoyable companions and have an average lifespan of 11-15 years.
Living with Smooth Fox Terrier
History
Long ago in England, foxhunting was a popular sport. It was a common sight to find a hunter packing two dogs — usually a terrier and a hound- to the hunt. While the terriers helped in routing the fox and bolting it out of its lair, the hound would chase it down till it had subdued the fox. Smooth Fox Terriers were one of such terrier dogs of old. In fact, Smooth Fox Terriers were the first fox terrier dog type to be recognized by the Kennel Club.
The history of the Smooth Fox Terrier is, for the most part, undocumented and it wasn't until the 18th century that the breed became popular in England. There used to be a notion that the Smooth Fox Terrier and the Wire Fox Terrier were varieties of the same breed, but recently experts have affirmed that these two breeds are not related at all. While the Smooth Fox Terrier is thought to have originated from the Smooth Black and Tan Terrier with strains of the Bull Terrier and Beagle included, the Wire Fox Terrier is probably a descendant of the Rough Black and Tan Terrier.
The two breeds (Smooth Fox Terrier and Wire Fox Terrier) had been regarded as varieties of the same breed and were often interbred, until the middle of the 1980s, when they were separated into two distinct breeds by the American Kennel Club. The Smooth Fox Terrier originated in England, then its popularity grew and spread abroad. The breed was recognized by the American Kennel Club in 1885, and today, it is a well-recognized breed in many parts of the world.