Tibetan Mastiff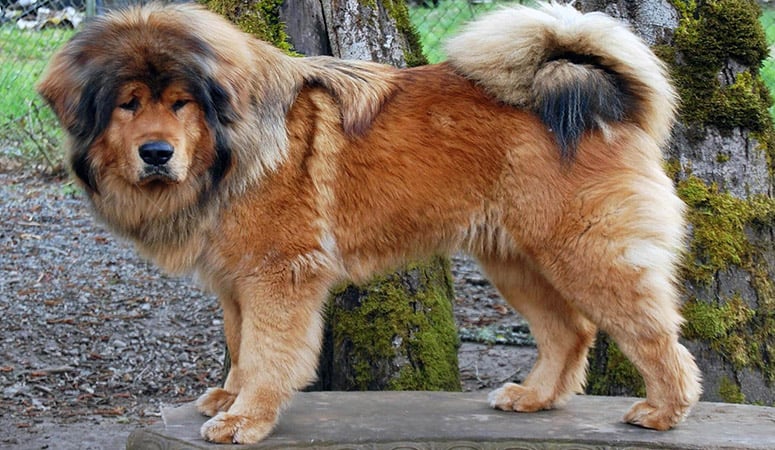 The Tibetan Mastiff combines agility and strength with powerful and athletic build. This breed has an impressive appearance with solemn but kindly expression. They are independent, calm, reserved, and watchful, which makes them step between their people and danger when they sense a threat. The dogs are devoted, and fiercely protective of their families.
| | |
| --- | --- |
| Other Names | Do-Khyi |
| Color | Black, Black & Tan, Blue Gray, Blue Gray & Tan, Brown, Brown & Tan, Red Gold, Red Gold |
| Height | Males: 26-30 inches. Females: 24-28 inches. |
| Weight | Males: 100-160 pounds. Females: 75-120 pounds. |
| Life Span | 6 to 12 puppies |
| Personality | Independent, Reserved, Intelligent |
| Exercise | Regular Exercise |
| Origin | |
| | |
| --- | --- |
| Popularity | #128 |
| Groom Needs | 2-3 Times a Week Brushing |
| Kids Friendly | Yes with supervision |
| Dog Friendly | Yes with supervision |
| Watch Dog | Yes |
| Family Dog | |
| Litter Size | 6 to 12 puppies |
Introduction
The Tibetan Mastiff is a mastiff-type dog breed of ancient Tibet and the Himalayas. They possess marked hardiness that is required to survive the harsh conditions prevalent in the flatlands land regions they originated from. Although they are well-socialized dogs, Tibetan Mastiffs thrive better in a fenced range with a fellow canine companion than as apartment dogs. These dogs come in a long double coat of wide color varieties, although cream is not acceptable by the standard. They tend to be obstinate and independent, hence it is pertinent to subject them to obedience training as early as possible.
A standard male stands 26-31 inches from shoulder to paw, while similar female measures about 24-28 inches. Full-grown Tibetan Mastiff males pack a massive 90-150 pound weight, where the females pull around 75-120 pounds at the weighing scales. They are intelligent watchdogs, often aloof to strangers. Classified as members of the Working Breed by the American Kennel Club (AKC), they have an average lifespan of 10-13 years.
Living with Tibetan Mastiff
History
The Tibetan Mastiff is a mastiff dog type, with origins in Tibet as a herd and guard dog on farms, and in homes. It also served the function of a watchdog in Tibetan monasteries. The Tibetan Mastiff is really an ancient breed, even thought to be the progenitors of all modern mastiffs. The Tibetan Mastiff was a prominent guard dog of the Himalayas and Tibetan flatlands in ancient times. Part of their Tibetan history centers on the myths that the Tibetan Mastiffs represent the souls of nuns and monks who could not reincarnate. So, they were prized, never sold but rather gifted for a good cause. Hence, it took centuries before the breed was exposed to other parts of the world.
In England, the Tibetan Mastiff began its journey to fame after King George V imported a pair of Tibetan Mastiffs in the early 1900s. The dogs rapidly found a place in British affairs and dog shows, starting with the Crystal Palace dog show in 1906. Afterward, the breed advanced into houses, but the waves of both Worlds Wars almost drove this breed out of existence in England. This was so extreme that the post-war era didn't see much of the Tibetan Mastiff until the 1980s when its breeders began to sprout new techniques to engage the existing registries and kennel clubs towards recognizing the breed. It was recognized by the American Kennel Club in 2006, after which its popularity reached a dramatic high, thus the Tibetan Mastiff debuted at the Westminster Kennel Club Dog Show in 2008.