Standard Schnauzer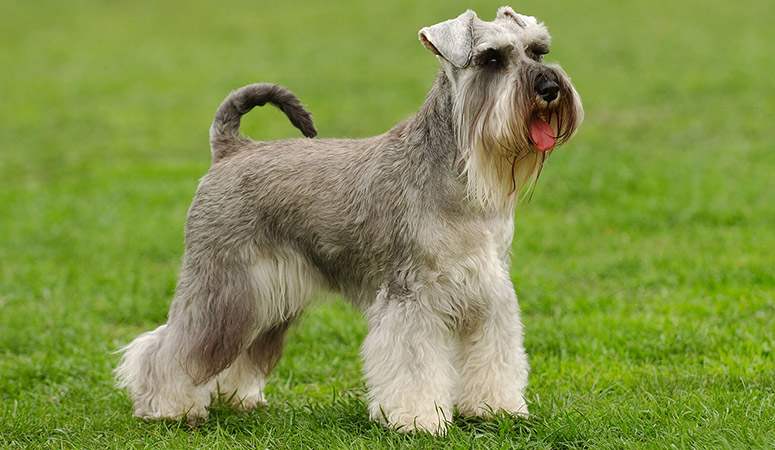 With bold eyebrows and whiskered chin, Standard Schnauzer is alert and hardworking, who originally worked as versatile farm dogs. They have medium size with a sporty look of canine classic. Willful and reliable, Miniature Schnauzers are harnessed for search and rescue, drug and bomb sniffing, and therapy work today.
| | |
| --- | --- |
| Other Names | Mittelschnauzer, Schnauzer |
| Color | Black, Pepper & Salt |
| Height | Males: 17-22 inches. Females: 17-22 inches. |
| Weight | Males: 28-44 pounds. Females: 28-44 pounds. |
| Life Span | 13-16 years |
| Personality | Fearless, Smart, Spirited |
| Exercise | Regular Exercise |
| Origin | |
| | |
| --- | --- |
| Popularity | #96 |
| Groom Needs | 2-3 Times a Week Brushing |
| Kids Friendly | Yes |
| Dog Friendly | Yes with supervision |
| Watch Dog | |
| Family Dog | |
| Litter Size | 4 to 8 pups |
Introduction
This is a breed of dogs that originated in Germany as far back as the 14th-15th century. It is known as the progenitor of the Miniature Schnauzer and the Giant Schnauzer. Its initial name was Wire Haired Pinscher and it was in the year 1879 that the name Schnauzer was adopted. The German name Schnauzer means "snout" in English. This is because of its bearded snout.
The coat of the Standard Schnauzer is stiff with wiry hair. The coat colors recognized by the American Kennel Club are black, gray, silver, salt, and pepper. But there are some dogs in this breed which have coat colors of pure white, particolored and chocolate. In the U.S, Schnauzers that have white coats or other patterns are seen as non-standard.
A male Standard Schnauzer weighs about 35-58 lb (16-26 kg) and stands 18-20 inches (46-51 cm) at the shoulders. A female Standard Schnauzer weighs 30-45 lb (14-20 kg) and stands at 17-19 inches (43-48 cm) at the shoulders. These dogs are known to be very loyal and possess guardian instincts, with many believed to protect their owners and family from strangers with a bark which is usually robust and deep. They have a high adaptability attribute and can adapt to any climatic condition. Once known in Germany, the country of their origin, as kinder watchers, they are very friendly with children. They can be very patient and tolerant if given proper training of socializing with different ages and temperaments of people at an early age. The Standard Schnauzer requires an owner with a fairly strong will who can be firm and consistent in training it and issuing commands. This is something that is common with many other working dogs like it.
Its life span on average is 13-16 years. Generally, the Standard Schnauzer is a very healthy breed. A survey done by the Standard Schnauzer Club of America in 2008 revealed that only about 1% of the Schnauzers surveyed had serious health problems. There are, however, two major health issues that are hereditary in the breed: Hip dysplasia and hereditary eye disease. Since both health issues can be tested for and identified, the Standard Schnauzer Club of America recommends that every breeding stock owned by kennels should be tested for any hip and eye problems before breeding and to breed only healthy animals.
Living with Standard Schnauzer
History
Schnauzer-type dogs were developed in the middle ages from herding and working breeds in Germany. It was known as a dog of the peasant farmers and it was only when dog shows began in the 19th century that German dog fanciers picked interest in it. It was recognized as a distinct purebred dog in 1850. It received its German standard in 1880 with the name "Wire-Haired German Pinscher" and, in 1895, the Pinscher-Schnauzer Club was founded and remains active. In 1925, the Wire-Haired Pinscher Club of America was founded. In 1926, the Standard Schnauzer was classified as a Terrier Group dog by the American Kennel Club which had initially classified it as a Working Dog, though this was reverted later on.