Samoyed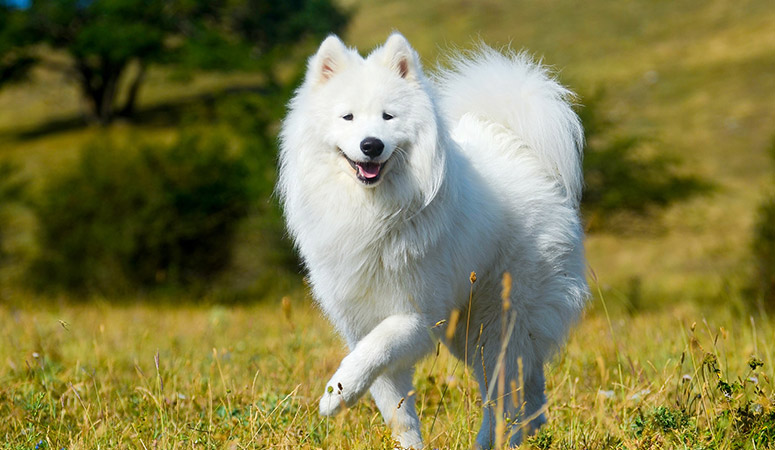 Robust but graceful, originally developed to hunt, haul sleds, and herd reindeer, the Samoyed is a precious companion for northwest Siberia's Samoyede people. As working dogs, Samoyed dogs can sometimes be strong-willed, but most importantly, they are still friendly, gentle, and loyal. Nicknamed the "Smiling Sammie," Samoyed dogs are friendly and affectionate, and love their family.
| | |
| --- | --- |
| Other Names | Bjelkier, SamoiedsKaia Sabaka, Samoyedskaya |
| Color | Biscuit, Cream, White, White & Biscuit |
| Height | Males: 21-23.5 inches. Females: 19-21 inches. |
| Weight | Males: 45-65 pounds. Females: 35-50 pounds. |
| Life Span | 12-14 years |
| Personality | Adaptable, Friendly, Gentle |
| Exercise | Energetic |
| Origin | |
| | |
| --- | --- |
| Popularity | #58 |
| Groom Needs | 2-3 Times a Week |
| Kids Friendly | Yes |
| Dog Friendly | Yes with supervision |
| Watch Dog | |
| Family Dog | |
| Litter Size | 4-6 |
Introduction
The Samoyed is a large-sized dog with a double coat of thick fur. It appears in a white coat that is resistant to cold, perhaps an adaptation to the Arctic conditions of their origin. Also called Sammies or Smileys, Samoyeds make good-natured companions to the family and have a way with the corners of their mouth that creates the semblance of a smile (but this expression rather serves in preventing icicles from falling on their face). They were bred as herd dogs, hunting dogs, and sled dogs, hence they are classified as working dogs by the American Kennel Club.
A standard male of this breed weighs between 45 and 65 pounds and is likely to stand at a height of 21-24 inches from paw to shoulder. The females run smaller than the males and would normally weigh around 35-55 pounds and stand at a shoulder height of roughly 20 inches. The Samoyed is gentle and amiable, and have an average lifespan of 11-14 years.
History
The Samoyede people of Siberia are believed to have pioneered the breeding of the Samoyed dog breed, long before the turn of the 19th century. The Samoyede tribe was famous for herding reindeers and it was only natural for them to keep dogs that would oversee this difficult job, as the landscape and climatic conditions of the region were harsh and unforgiving. A dog for such a job had to be of remarkable strength and intelligence, relentless and hardy.
The Samoyeds are believed to be descendants of the Nenets herding laika dogs, hence they belong to the Spitz group or northern dog group. The Samoyeds come in white coats, unlike their ancestors which have a variety of coat colors. The Samoyeds were active herd dogs, herding reindeers up and down the polar regions. They had added responsibilities as hunting dogs, watchdogs, sled dogs, and companion dogs to the family.
Some historians claim that families that owned Samoyeds in the past shared their bedrooms with their dogs, especially the friendly ones. Aggressive dogs were left out to brave the harsh weather of Siberia. Other reports have acknowledged the feats collared by this special breed of dogs, especially as regard expeditions by explorers in the North and South Poles. Many of these explorers take back these dogs to their home towns after the expedition. This is how the Samoyed dogs came to be in places like England and Norway. Hence, several modern-day Samoyeds have origins in these countries.