Rottweiler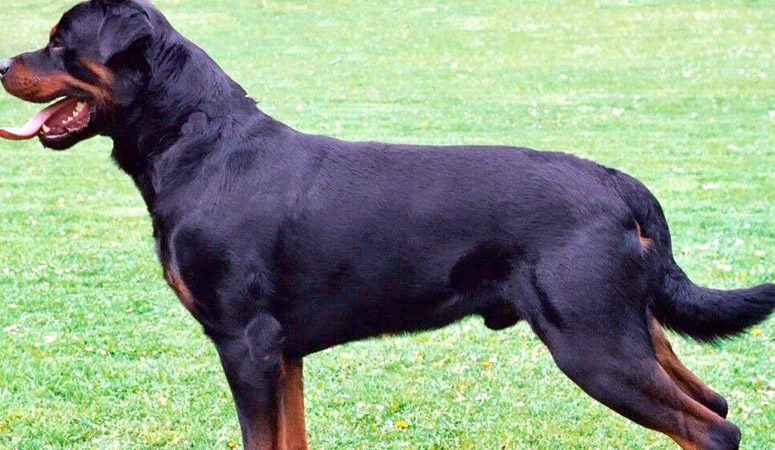 Rottweilers, commonly known as the Rotti, are loyal, intelligent, loving, calm, courageous, and confident guardian characterized by mesaticephalic skulls, oval or almond-shaped eyes, black wide noses, medium-sized triangular ears, well-muscled necks, robust bodies, and medium length tails. As one of the oldest herding dog breeds, it is said that Rottweilers are descended from Roman drover dogs, which are mastiff-type dogs used by the Romans to herd livestock to other countries. Nowadays, Rottweilers are often trained as search-and-rescue dogs and they have done great jobs in some of the world's most significant disasters including Oklahoma City bombing in 1995, September 11 attacks in 2001, Hurricane Katrina in 2005, and Haiti earthquake in 2010.
| | |
| --- | --- |
| Other Names | Rottweil MetzGerhund |
| Color | Black and tan or black and mahogany |
| Height | Males: 24-27 inches. Females: 22-25 inches. |
| Weight | Males: 95-110 pounds. Females: 90-105 pounds. |
| Life Span | 9-10 years |
| Personality | Even-tempered, Watchful, Extremely intelligent |
| Exercise | Regular Exercise |
| Origin | |
| | |
| --- | --- |
| Popularity | #8 |
| Groom Needs | Weekly Brushing, Seasonal Shedding |
| Kids Friendly | Yes with supervision |
| Dog Friendly | Yes with supervision |
| Watch Dog | Yes |
| Family Dog | |
| Litter Size | Average 8 to 12 |
Introduction
The Rottweiler is a distinct breed of domestic dogs that are widely believed to have originated in Germany as descendants of the Roman breed of mastiffs. With a short black coat flecked with tan or mahogany, a Rottweiler may appear terrifying and fierce even before you know the first thing about them. However, the truth about this breed is that they could be very playful around their family, fond of their favorite people, and yet aggressive and vicious towards outsiders. Until the mid-19th century, Rottweilers were used as herd dogs and also for pulling carts of livestock to the market for sale. Little wonder the Germans named them Rottweil Metzgerhund which meant "Butcher's Dogs".
They are a robust figure in flesh and muscle — an average male can stand to an impressive shoulder height of between 24 and 27 inches while a similar female would measure only about 2 or 3 inches below that. In their youth, Rottweilers can be powerfully thickset, weighing close to 110 pounds for males or 105 pounds for well-fed females. They can possibly live up to 9 years before they eventually die of old age.
History
Around the middle of the first century, during the Roman quest to conquer Europe, the legions traveled far into the Alps to settle in a region now known as Southern Germany. They brought their live cattle with them for food as there was no means to preserve or refrigerate meat at the time. Roman drover dogs of the mastiff breed kept wary eyes over the herd.
These drover dogs were still used for herding and trading of livestock, even many years after the Swabians came and drove the Romans out of the region. Soon, this breed of drover dogs was named after the town, Rottweil in Germany.
In the Middle Ages, the Rottweillers were used by itinerant butchers, especially for safeguarding their money purses which were hung around the dog's neck. Eventually, the breed was known as Rottweil Metzgerhund, literally Rottweil's Butcher's Dogs. It wasn't until the railroads took over the conveyance of livestock to the markets that the demand for Rottweillers began to diminish. But the demand for Rottweillers took an abrupt rise again in the heat of World Wars I and II as they were used as police dogs, or search and rescue dogs, and a host of other purposes.
On January 13, 1914, the first Rottweiller club in Germany, the Deutscher Rottweiler-Klub, was established and a number of other clubs began to spring up a couple of months after. By 1921, these clubs merged to form the Allgemeiner Deutscher Rottweiler Klub. The American Kennel Club first recognized the breed in 1931 before, subsequently, Rottweillers became quite popular and were displayed in many other parts of the world.