Siberian Husky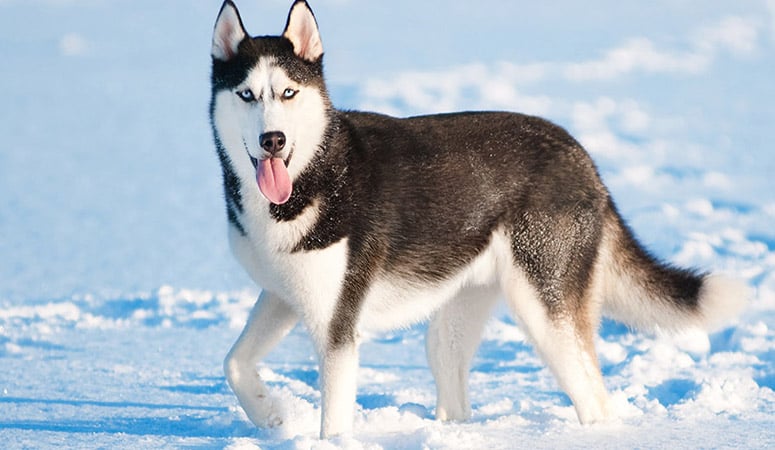 The Siberian Husky, a medium-sized working dog breed, has a beautiful, thick coat, is sledding, guarding, and companionship of Chukchi people. Their expressions are often sharp but friendly, interested, and sometimes naughty, and their blue or multi-colored eyes and eye-catching facial mask increase the charm of this Siberian breed.
| | |
| --- | --- |
| Other Names | Arctic Husky |
| Color | Agouti & White, Black, Black & White, Black Tan & White, Brown & White, Gray & White, White, Sable & White, Red & White |
| Height | Males: 20-24 inches. Females: 19-22 inches. |
| Weight | Males: 45-60 pounds. Females: 35-50 pounds. |
| Life Span | 12-14 years |
| Personality | Loyal, Mischievous, Outgoing |
| Exercise | Energetic |
| Origin | |
| | |
| --- | --- |
| Popularity | #15 |
| Groom Needs | Weekly |
| Kids Friendly | Yes with supervision |
| Dog Friendly | Yes |
| Watch Dog | |
| Family Dog | Yes |
| Litter Size | 4-8 |
Introduction
The Siberian Husky and the Alaskan Malamute are undeniably similar in appearance, they could easily be mistaken, one for the other. Both descendants of the original sled dogs of Arctic, the Siberian Husky is distinguishable by its smaller and lighter frame under the thickly furred coat. The coat can take on any color from black to white, or even red.
The tendency to break into a run, chasing little quarry is aided by their lightweight and powerful, yet graceful gait. A male Siberian Husky would tip the weighing scales at around 55 pounds while the female pulls a 45 pound-weight. Being medium-sized dogs, the Siberian Huskies reach a shoulder height of about 22 inches on the average. This breed of dogs can be friendly and yet mischievous. Though may serve as watchdogs, they do better as work-dogs, best for endurance work. A Siberian Husky has an average life expectancy of about 13 years.
Living with Siberian Husky
History
Sled dogs have been around since some 9,000 years ago. They provided a convenient means of transportation in the Arctic regions before the era of snow-mobiles. The Chukchi people of ancient Siberia, in Northeast Asia, were renowned for the breeding draft and sled dogs, and their popularity consisted in the fact that they bred the lighter and faster variety at the time when the hefty type was preferred in other regions of the world.
It wasn't long before the Chukchi sled dogs gained popularity as they were favored in their ability to perform endurance work and travel vast distances which were the growing need at the time, as there were no freight vehicles. These sled dogs were continually bred and a number of different hybrids are known. The Siberian Husky is the modern breed of these hybrids, although its origin can be linked to Russia.
Although the Siberian Husky had begun to gain prominence around the 19th century, it took another century for its recognition in the U.S, where it was first introduced through the Bering Strait.
The history of this Arctic dog breed wouldn't be complete without mention of the heroic services they had engaged in during emergency situations. To mention a prominent example; the story of the 'Great Race for Mercy' in 1925 during diphtheria endemic in Nome made heroes out of the Siberian Husky breed for their involvement in the over 600-mile serum run to Nome. Notable dog names on this mission were Balto and Togo.
Since they achieved fame as endurance work-dogs and sled dogs, Siberian Huskies have been used in many military operations and scientific expeditions in Antarctica. The Siberian Husky was so named in 1991 by the United Kennel Club which initially regarded it as the Arctic Husky.