Poodle (Standard)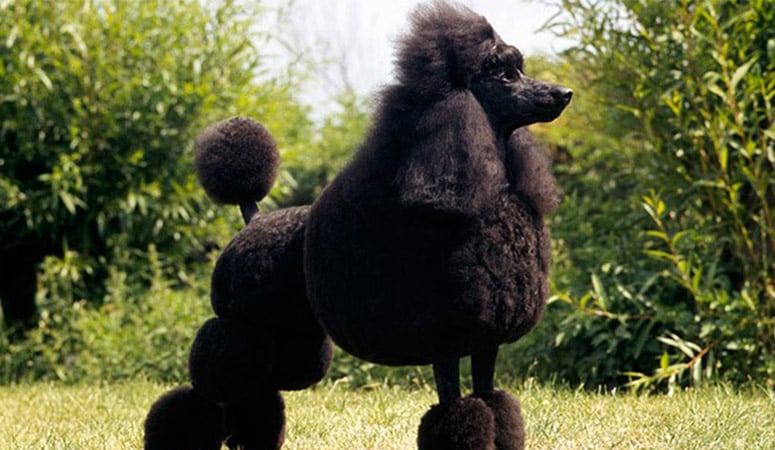 With a minimum 15 inches tall at the shoulder, standard poodles are well-proportioned dogs characterized by dolichocephalic skulls, flat cheekbone, oval or almond-shaped eyes, elegant necks, close-hanging ears, athletic bodies, docked tails, and compact feet with well-arches toes. As one of the aristocrats of dogdom, this dog breed is graceful, active, intelligent, noble, and good-natured.
| | |
| --- | --- |
| Other Names | Caniche, Pudel |
| Color | White, Black, Brown, Blue, Gray, Silver, Cafe au lait, Silver beige, Cream, Apricot, and Red |
| Height | Males: 17-25 inches. Females: 15-24 inches. |
| Weight | Males: 45-70 pounds. Females: 45-70 pounds. |
| Life Span | 10-18 years |
| Personality | Keen, Engaging, Good-natured |
| Exercise | Regular Exercise |
| Origin | |
| | |
| --- | --- |
| Popularity | #6 |
| Groom Needs | Professional grooming |
| Kids Friendly | Yes |
| Dog Friendly | Yes with supervision |
| Watch Dog | |
| Family Dog | |
| Litter Size | 2–12 |
Introduction
Standard poodles are good at socializing and could get along well with kids and other dog breeds. Being a hypoallergenic dog breed, standard poodles rarely shed and it is the perfect choice for people with allergies. Today's Poodles seem to really enjoy a good life of luxury and leisure; who doesn't love their frolicking ways? The three varieties, standard, miniature, and toy, all range from just under 15 inches to no more than 10 inches at the shoulder. The standard-sized poodle is probably the oldest. And they have coats of many colors! Everybody adores them for their eagerness, smartness, athletic and intelligent ways; well, they are ranked just second behind the Border Collie in intelligence. Poodles used to be bred to do real jobs like jumping into the water to fetch waterfowl for hunters. In Germany where they originate, they are called pudel or pudelin and in France, they are called Caniche – it means 'duck dog' or puddle in English, or 'to splash about'. Poodles love people and get lonely when they are not with their family; always looking out to participate in games, sports, and activities.
Living with Poodle (Standard)
History
This cute breed originated in Germany, but also developed into a distinct breed in France.
Many people say the poodle resulted from being crossed between a few European water dogs – other historians say the poodle's ancestors are the North African Barbet, a dog which was imported to the Iberian Peninsula. There are many theories, but whatever the case, the poodle is an ancient breed. There are illustrations of dogs looking like poodles that adorn the Roman and Egyptian artifacts and tombs from BC days.
Goya, the famed Spanish painter; loved to paint poodles, much-pampered favorites during the reign of King Louis XVI.
The English Kennel Club registered their first poodle back in 1874, and the US American Kennel Club registered their first poodle in 1885.
From 1950, the poodle had become the most popular breed, holding this status for over 20 years. Today they are ranked sixth with the American Kennel Club.
What about that special clipped look that poodles often sport? Apparently it was created by hunters to make it easier for the dogs to navigate through the water. The hair that was not cut protected their vital organs and joints whist in the cold water. Others say it stems from their performing days in circuses.
Crawley, a showman, and trainer had a troop of poodles called 'The Ball of Little Dogs' that performed before Queen Anne, delighting her no end. They danced and pranced, showing amazing training by keeping in time with the music which accompanied them. What an amazing dog, the Poodle!