Shiba Inu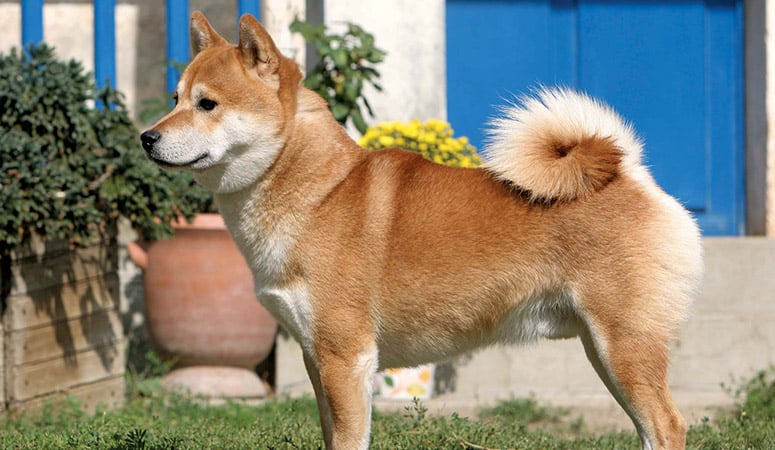 The Shiba Inu is a small-to-medium breed, originated in ancient Japan, used for hunting. It is alert and agile, and adaptable to mountainous terrain and hiking trails, considered as an official Japanese national treasure. The Shiba Inu is a popular companion dog in Japan and all over the world as their lively and good-natured personalities.
| | |
| --- | --- |
| Other Names | Japanese Shiba Inu, Japanese Small-Sized Dog, Shiba, Shiba Ken, Shiba, Shiba Ken |
| Color | Black & Tan, Cream, Red, Red Sesame |
| Height | Males: 14-17 inches. Females: 13-16 inches. |
| Weight | Males: 19-24 pounds. Females: 16-20 pounds. |
| Life Span | 13-16 years |
| Personality | Alert, Active, Attentive |
| Exercise | Regular Exercise |
| Origin | |
| | |
| --- | --- |
| Popularity | #45 |
| Groom Needs | Weekly |
| Kids Friendly | No |
| Dog Friendly | Yes with supervision |
| Watch Dog | |
| Family Dog | |
| Litter Size | 3 |
Introduction
This dog originates from Japan, a relatively small dog compared with other dogs from the same family. But he is known to have the look and heart of a lion! In Japan, they are recognized, officially, as a precious natural product. They were bred as hunting dogs in the mountainous regions of Japan, and today, they still are used for navigating through tough terrain. As a pet, he is an alert watchdog. It is bold and high-spirited in nature. He has reddish-brown fur, sometimes being mistaken for a fox. His relatives in Japan are the Akita Inu, Shikoku, Hokkaido, Kishu Ken, and Kai Ken. They weigh around 26 pounds and are about 16 inches at the shoulders. They don't really like getting dirty so they clean themselves when they get the chance to do it. They are unusual. They have what other dogs don't really have – it's called the "Shiba scream". They produce a high pitched noise when being mistreated or unhappy. Sometimes you hear it when they are very happy. They don't like being left alone, whether inside or outside. They aren't noisy dogs.
History
The modern Shiba Inu of today is a result of centuries of very selective breeding. His history began probably around 9000 years ago.
He is the national dog of Japan. Organizations like The Association for the Preservation of the Japanese Dog (NIPPO), made sure that this breed was preserved in a standard they deemed fit over the years.
They were originally used to hunt small game and being small, made them very successful hunters in the thick bushes.
The dog had a difficult time in his history from 1912-1926. During the great Meiji Restoration which started in 1868, a lot of western dog breeds were imported to Japan, mixing with the native dogs until no pureblood Shiba Inus' remained.
During World War II, the Shiba Inu nearly became extinct, but fortunately, three Shiba strains remained. They were merged into one and so the first Shiba Inu Standard was written in 1934 by the NIPPO association.
In 1936 the breed was recognized as the Natural Monument of Japan through the Cultural Properties Act, achieved mostly by NIPPO's efforts.
In 1959 the first Shiba was brought to the USA. The first-ever litter of the Shiba Inu was born in 1979.