Tibetan Spaniel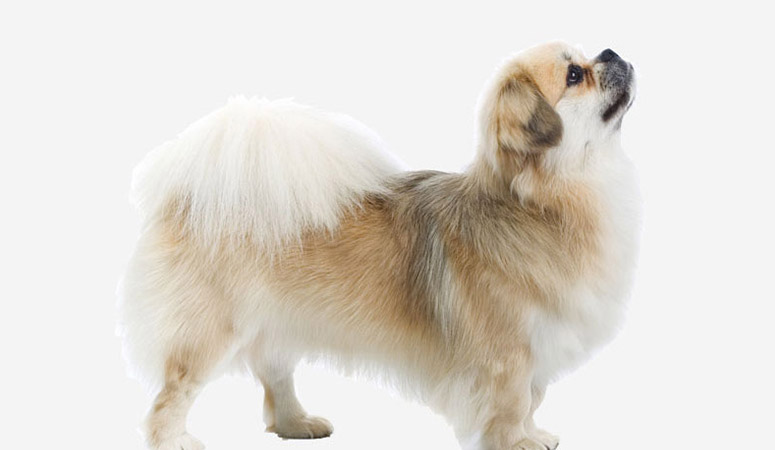 With muscular midsize, the Tibetan Spaniels are bred to do sentinel work on the walls of Tibetan monasteries. Also they love to hunt and swim with their dense and waterproof coat. This breed, as a hunter, combines the working traits of spaniels and retrievers. Although happy, eager, and charming with their adored human, they are a little stubborn when facing the strangers.
| | |
| --- | --- |
| Other Names | Simkhyi |
| Color | Black, Black & Tan, Cream, Gold, Red, Sable, Silver Sable, White |
| Height | Males: 9-11 inches. Females: 9-11 inches. |
| Weight | Males: 9-15 pounds. Females: 9-15 pounds. |
| Life Span | 12-15 years |
| Personality | Playful, Bright, Self-Confident |
| Exercise | Regular Exercise |
| Origin | |
| | |
| --- | --- |
| Popularity | #117 |
| Groom Needs | Weekly Brushing |
| Kids Friendly | Yes |
| Dog Friendly | Yes with supervision |
| Watch Dog | |
| Family Dog | |
| Litter Size | 3 to 6 puppies |
Introduction
The Tibetan Spaniels loves to perch on the back of the sofa and survey his surroundings. He doesn't bark much without reason but will alert you to anything suspicious going on around him. They adore their members of the family, and lots of people liken them to cats, being calm, dignified, and loving to be perched upon a high place. They are just too cuddly and affectionate for words, and love being snuggled up on the couch with their owners. Because they are small, they are best with kids over 6 years who have been taught to be careful and show respect around them. They are only about 10 inches at the shoulders and weigh only around 15 pounds. Their coats are silky and come in any colors. Their coats just require weekly brushing. The Tibetan Spaniel is sensitive and will shut down if you attempt to use harsh methods or a heavy hand on him. Provide plenty of socialization opportunities starting in early puppyhood. Introduce him to many different people, sounds, places, and other animals, etc. They might be little dogs, but don't carry your Tibbie pup around like it's a human baby. Let the puppy walk and explore things with his four little paws on the ground to help strengthen and gain confidence. He needs daily strolls around the neighborhood or some fun frolicking in the safety of an enclosed yard – he definitely thrives on lots of quality time with his human family – they will never do well when left alone for hours on end.
Living with Tibetan Spaniel
History
The lovely little Tibetan Spaniels were used by Buddhist monks in the Himalayan Mountains of Tibet as watchdogs. They would have to patrol the tops of monastery walls and bark when intruders were around. Then the monks and big Tibetan Mastiffs dogs would come out and investigate.
The Tibetan Spaniel is an ancient breed that has existed in Tibet for more than 2,000 years and their Buddhist monk owners loved and treasured their dogs, deeming them way too precious to sell. That meant they could only be gifted.
The first Tibetan Spaniels arrived in England in 1898, but they weren't bred in that country until much later. They arrived in the United States in the 1960s, and the Tibetan Spaniel Club of America was formed in 1971.
The breed received full recognition from the American Kennel Club in 1984, under the Non-Sporting Group. Although it has "spaniel" in its name, the breed name is actually a misnomer because the Tibetan Spaniel is not actually a spaniel. Spaniels are hunting dogs, and the Tibetan Spaniel is in the non-sporting group.
Helpful Information
Breed Club: TIBETAN SPANIEL CLUB OF AMERICA, INC.
Breed Club Link: https://www.tsca.ws/
Breed Club Rescue: The Tibetan Spaniel Club of America Rescue & Health Trust
Breed Club Rescue Link: https://tstrust.org/rescue/