Tibetan Terrier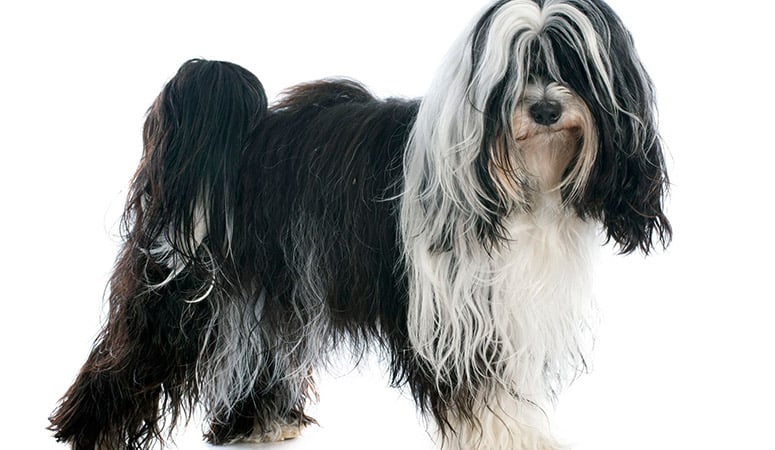 The Tibetan Terrier is an ancient watchdog with shaggy coat and medium size, known as "Holy Dog of Tibet". They are not really a terrier. Intelligent, sensitive and alert, they were watchdogs, but today the dogs have been developed into the Tibetan Terrier no longer herd, instead serving as companion dogs. This breed is affectionate and loving pets who are devoted to their families.
| | |
| --- | --- |
| Other Names | Dhoki Apso, Tsang Apso |
| Color | Black, Black & White, Black White & Gold, Brindle, Gold, Gold & White, Golden Brindle, Sable, White, White & Black, White & Gold |
| Height | Males: 14-17 inches. Females: 12-15 inches. |
| Weight | Males: 18-30 pounds. Females: 18-30 pounds. |
| Life Span | 15-16 years |
| Personality | Affectionate, Loyal, Sensitive |
| Exercise | Needs Lots of Activities |
| Origin | |
| | |
| --- | --- |
| Popularity | #101 |
| Groom Needs | 2-3 Times a Week Brushing |
| Kids Friendly | Yes |
| Dog Friendly | Yes with supervision |
| Watch Dog | |
| Family Dog | Yes |
| Litter Size | 5 to 8 puppies |
Introduction
A miniaturized Bearded Collie is what it may look like in its shaggy coat, with full fur and a medium-sized body. But unlike many other dog breeds, the Tibetan Terrier appears to be unique with their broad, flat feet which harbor some hair between the toes. The hair becomes helpful when they climb mountains or pad on snow. Tibetan Terriers have square features and a moderate head. They come in almost any color, although the chocolate and liver coat colors are not acceptable.
According to legend, the loyal, lovable and affectionate Tibetan Terrier, now domesticated by many, was once revered in Tibet, which earned them the nickname "Holy Dogs of Tibet". As medium-sized dogs, they weigh around 19-35 pounds at the scale, standing 13-17 inches from shoulder to paw. The females run quite smaller than the males. Tibetan Terriers have an average lifespan of 14-16 years.
Living with Tibetan Terrier
History
The Tibetan Terrier, as the name suggests, had originated from Tibet, although contrary to the name, it is not a terrier. It was erroneously given the English part of its name by European travelers who recognized a resemblance between the dog breed and several other terrier breeds of England. Tsang Apso is more popularly used to refer to the breed in their homeland, Tibet. With Apso, meaning shaggy or bearded dog, it was associated with the province of Tsang. Tibetan myths affirm that the breed had existed even before the Common Era, and the gene pool was never adulterated.
The Tibetan Terriers used to be utilitarian dogs, rendering services as watchdogs, herd dogs, companion dogs, and so on. They were even held in high estimation for the belief that they carried good luck charm, and as such, they were sacred and never sold. Tibetan Terriers were rather given as gifts by Buddhist monks to support a good cause. The first Tibetan Terrier in Europe was recorded in 1922 when Dr. A. R. H Greig, an English Physician, returned with a dog after performing a surgical operation in Tibet. It was a female puppy of the breed of Tibetan Terriers, although when in 1924, the first litter was produced they were registered as Lhasa Terriers. The breed was officially named Tibetan Terrier in 1930 by the Kennel Club of India.
In the United States, the Tibetan Terrier breed wasn't known until the mid-1950s when a doctor imported them. The breed gradually developed and was later recognized by the American Kennel Club in 1973.