Schipperke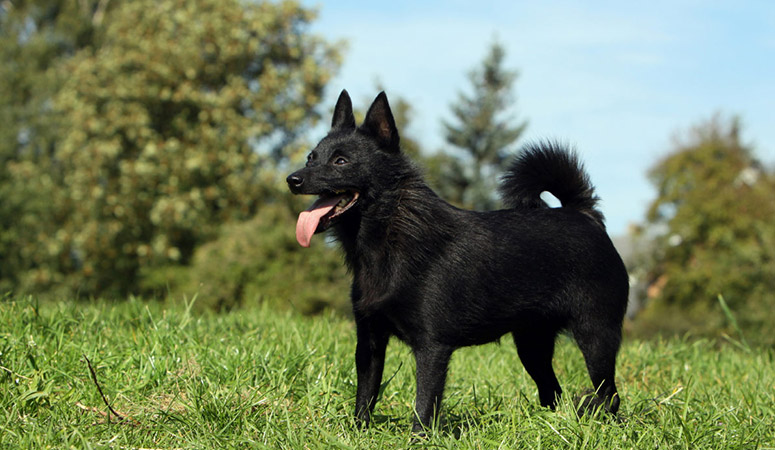 Known as Belgium's "little captain", the Schipperke has powerful jaws, necks, and forequarters—coupled with a stealthy, catlike hunting style, which make them ideal rat-catching machines. Although created as ratters and watchdogs, they are friendly and affectionate who enjoys spending time with family, whatever the activity, making them spirited companions of family.
| | |
| --- | --- |
| Other Names | Little Boat Captain, Little Shepherd, Moorke, Schipperke, Spitzke |
| Color | Black |
| Height | Males: 11-13 inches. Females: 10-12 inches. |
| Weight | Males: 12-19 pounds. Females: 12-19 pounds. |
| Life Span | 12-14 years |
| Personality | Confident, Alert, Curious |
| Exercise | Needs Lots of Activities |
| Origin | |
| | |
| --- | --- |
| Popularity | #106 |
| Groom Needs | Weekly Brushing |
| Kids Friendly | Yes with supervision |
| Dog Friendly | Yes with supervision |
| Watch Dog | |
| Family Dog | Yes |
| Litter Size | 2-7 puppies |
Introduction
The little Schipperke is just a bundle of joy, too adorable with bright alert eyes and a very curious personality. He is often nicknamed LBD, for the little black devil. They are small, measuring up to about 13 inches at the shoulders and weighing around 16 pounds. They've got a fox-like head with small feet and no tail. By about 8 months old, they have reached their full size. He has a medium-length outer coat and a thick undercoat; generally solid black in color. Just once a week of brushing is all that is required. They make good companions, but they do need activities to keep them very busy, to avoid them barking excessively, digging, and chewing. They make good watchdogs, but can bark and bark; it's just their size that prevents them from being good guard dogs. You cannot rough-treat these dogs, and if you tease or startle them, they can snap back. They are ideal for people who want a dog that does not require a large yard – nevertheless, he still needs to be exercised with walks and games – he doesn't like being left to his own devices. He loves to be the kingpin, not liking to share his space with other pets in the house.
History
He originates from Belgium. The official book of the Schipperke says that Mr. Victor Fally, who was a founder of the Belgium Schipperke Club, wrote a story of a tailless dog that appeared in the chronicles of Monk Wenceslas in the 15th century already.
He was developed to be a small watchdog; often seen guarding the boats that plied the canals between Antwerp and Brussels. He was very popular, this cutie pie, particularly on the barges, that's why the sailors called him the schipperke, which means "little captain" in Flemish. They are also called "canal boat dogs" because they were popular with the trades-people as well.
It was in the late 1800s that the Schipperke was given a breed standard.
Remember Lucille Ball and Desi Arnaz – they adored the Schipperke and called their beloved one Ginger, and she accompanied the famous actress wherever she went.
Eventually, the Schipperke was imported to the United States in 1888. Miss Isabel Ormiston became very interested in this breed through her Belgium friends. In 1924, she visited Belgium and studied the breed, selecting her first breeding stock. Nearly all the Schipperkes today can trace their ancestry to her stock. She also founded the Schipperke Club of America.
The Schipperke was recognized by the AKC in 1904.