Norfolk Terrier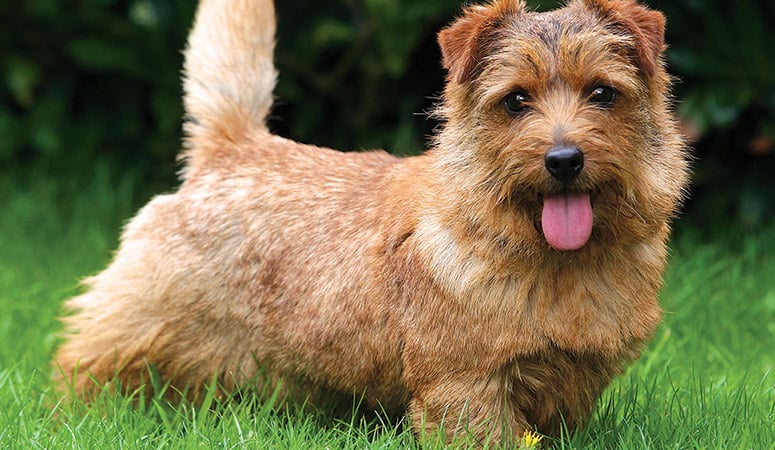 Rugged and cute, Norfolk Terriers are borderline toy dogs with big dog personalities. Despite their toyish qualities, this breed is a small alert dog who historically protected home and farm from rodents, working alone or in a pack, and they are loyal companions with the heart of a working terrier.
| | |
| --- | --- |
| Other Names | Norfolks |
| Color | Black & Tan, Grizzle, Red, Red Wheaten, Brown, Wheaten |
| Height | Males: 9-11 inches. Females: 8-11 inches. |
| Weight | Males: 11-12 pounds. Females: 10-11 pounds. |
| Life Span | 12-16 years |
| Personality | Fearless, Alert, Fun-Loving |
| Exercise | Regular Exercise |
| Origin | |
| | |
| --- | --- |
| Popularity | #131 |
| Groom Needs | Weekly |
| Kids Friendly | Yes |
| Dog Friendly | Yes with supervision |
| Watch Dog | |
| Family Dog | |
| Litter Size | 1-3 |
Introduction
They are one of the smallest terriers to have originated from Britain. Norfolk Terriers, like their cousins (Norwich Terriers), are highly sociable animals that thrive better with human contact. They enjoy working in packs, are fearless, and may prove difficult at times. They come in a hard and wiry coat, which is weather-resistant. The coat color presents in different shades of wheaten, red, grizzle, or black and tan. They are small but compact, well-proportioned, and balanced. As adoptable dogs, they were originally bred as terriers with the perfect attributes for a remarkable one. However, nowadays, Norfolk Terriers make amiable companions and domestic dogs.
A standard size is likely to measure up to 9-11 inches at the shoulder, being small-sized dogs. Regardless the gender, a Norfolk Terrier should weigh no more than 11-13 pounds. They are confident and alert. On average, they live to around 11-16 years.
Living with Norfolk Terrier
History
Norfolk and Norwich Terriers were regarded much as varieties of the same dog breed (under the name Norwich Terrier) all through history till 1964. The Norwich Terrier was recognized in two varieties, namely, the drop-eared type and the prick-eared type. The ancestor of this breed is believed to be a small terrier dog named "Rags", which was bred by a Norwich breeder in the 1880s. Rags gave rise to litters and soon these progenies began to lay the foundation of modern Norwich Terriers. Descendants of this dog were later sold to an Irish breeder, Frank Jones, after which they were called the Jones Terriers around that time. Jones exported a couple of these dogs to the United States before World War I.
Until the 1930s, Norwich Terriers were bred in drop-eared and prick-eared varieties, and some breeders cropped the ears of the dogs until it was deemed illegal by the authorities. It was in the 1930s that intense efforts were made to distinguish the two varieties into distinct breeds. In 1932, the Norwich Terrier was officially recognized by the Kennel Club of England, and the first breed standard was written. However, the American Kennel Club registered the breed as the Norwich Terrier in 1936, a period when breed fanciers clamored for the separation of the drop-eared variety from the prick-eared. These mild agitations continued for some time, until 1964 when the Kennel Club separated them, classifying the drop-eared variety as the Norfolk Terrier, while the prick-eared variety retained the name Norwich Terrier.
The American Kennel Club (AKC) and the Canadian Kennel Club followed suit in 1979. The Norfolk Terrier was recognized by the United Kennel Club in 1979.