Leonberger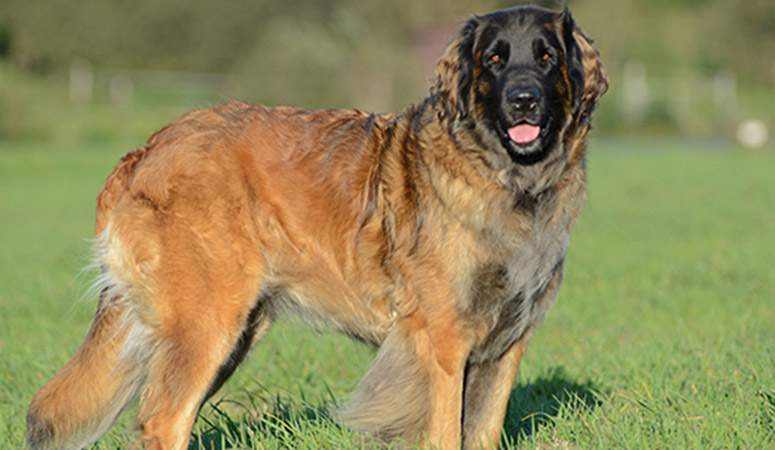 Originated from Germany, the Leonberger is a giant, muscular working dog that has a gentle nature and calm patience. They are very suitable for the original purpose of the family dogs, farm dogs, and draft dogs. And plenty of early socialization would help Leonberger to be loyal and trainable.
| | |
| --- | --- |
| Other Names | |
| Color | Red, Reddish Brown, Sandy, Yellow |
| Height | Males: 28-32 inches. Females: 25-29 inches. |
| Weight | Males: 80-150 pounds. Females: 80-150 pounds. |
| Life Span | 9 years |
| Personality | Friendly, Gentle, Playful |
| Exercise | Regular Exercise |
| Origin | |
| | |
| --- | --- |
| Popularity | #95 |
| Groom Needs | Daily |
| Kids Friendly | Yes |
| Dog Friendly | Yes with supervision |
| Watch Dog | |
| Family Dog | |
| Litter Size | 6-10 |
Introduction
The Leonberger is a breed of dogs that gets its name from Leonberg, a city in Baden-Wurttemberg, Germany. It is in the working group for dog shows and is a giant of a dog.
The Leonberger has a double coat which is water-resistant. The outer coat is long and profuse. It is also relatively straight, flat, and lies close to the dog's body. A mature, male Leonberger has a pronounced mane. The undercoat which is climate permitting is soft and dense. There is a great variety of coat colors that are acceptable when it comes to the Leonberger dog; this includes all combinations of lion-yellow, red, red-brown, and sand. Its nose leather, lips, and footpads should always be black. A little white on its chest or toes is permitted and colors that are not allowed are brown with brown nose leather, black, and tan, black, white or silver, and the eyes without any brown.
The Leonberger is large and muscular. Its head possesses a black mask. Its chest is made to fit its demanding work, it is broad and deep, just about right for the kind of work it does.
A male Leonberger weighs around 120-170 lbs and stands between 28 and 31 inches at the shoulders. A female Leonberger weighs 100-135 lbs and stands at 26-30 inches at the shoulder. The Leonberger is known as a family dog with desirable characteristics that are both important and distinguishing. The Leonberger dog is a self-assured dog that is well socialized. It is obedient and submissive to members of its family, it is friendly with children and non-aggressive when it comes across, passers-by. It is known to be playful, loyal, and intelligent. They are easily adaptable to a variety of circumstances and adjust well to the introduction of other dogs. It is important to expose it to early socialization and training because it is a giant dog.
Its life span is 8-9 years. These dogs are generally healthy. Hip dysplasia which is a common health problem among several large breeds is controlled by breeders of the Leonberger. The Leonberger is screened by its breeders and any dog showing signs of dysplasia is left out of the gene pool. This has effectively reduced the incidence of hip dysplasia in the breed by 10%.
History
The Leonberger has its origin from Leonberg in Germany. Heinrich Essig, a dog breeder and seller (also the mayor of the town of Leonberg in Baden- Wurttemberg, Germany), claimed that he had created the Leonberger breed through the crossing of a female Landseer Newfoundland with a male from the Great St. Bernard Hospice and Monastery. This was in 1830. The dog was bred with the idea of making it appear like the lion on the coat-of-arms of Leonberg. The modern look of the Leonberger breed was developed in the late 20th century by the reintroduction of some breeds, such as the Newfoundland. On January 1st, 2010, the American Kennel Club gave recognition to the Leonberger as a member of the Working Group.