Golden Retriever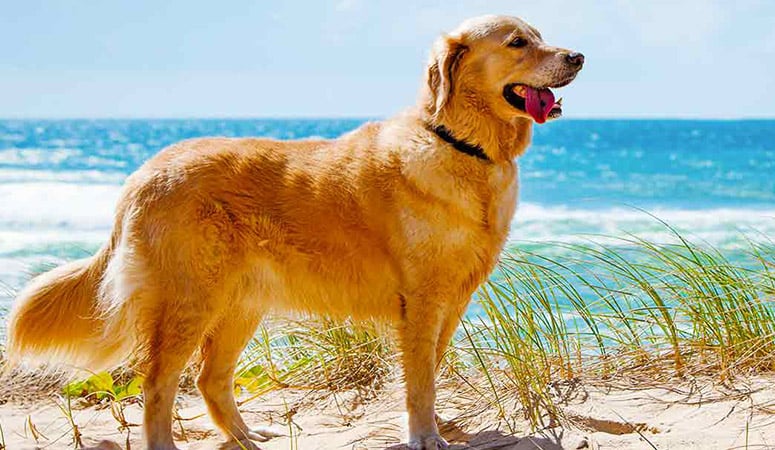 The Golden Retriever is one of America's most popular dog breeds. The breed can be trained as a hunting dog or being as a guide dog to help the blind, also, they can participate in a search and rescue activity. The Golden Retriever attracts people to feed it as a family pet with its enthusiasm, friendliness and loyalty.
| | |
| --- | --- |
| Other Names | Golden Flat Coat |
| Color | Dark Golden, Golden, Light Golden |
| Height | Males: 22-24 inches. Females: 20-23 inches. |
| Weight | Males: 65-75 pounds. Females: 55-70 pounds. |
| Life Span | 10-12 years |
| Personality | Friendly, Intelligent, Devoted |
| Exercise | Needs Lots of Activity |
| Origin | |
| | |
| --- | --- |
| Popularity | #3 |
| Groom Needs | Weekly |
| Kids Friendly | Yes |
| Dog Friendly | Yes |
| Watch Dog | |
| Family Dog | Yes |
| Litter Size | 4-12 |
Introduction
Do you want to own a dog that will form a good family pet? If yes, then you need to know about Golden Retriever. It is one of the most common dog breeds in the US and there are several reasons for its popularity. For instance, they are naturally intelligent, calm, active, friendly, and fun-loving dogs. They are known to be competitive in agility as well as other performance events. Unlike some other dog breeds that you may already know, Golden Retrievers are easy to train due to their higher intelligence levels and athleticism – no harsh training methods. You will love the fact that these dogs form good companions with other dog breeds, cats as well as most livestock. On average, the Golden Retriever dog breed lasts for approximately 11 to 12 years. To live with this dog breed in your home for this long, you will need to include him in your daily routine. They are active and will help you with some daily chores such as retrieving paper, taking part in dog sports, or waking up family members. You should not breed this dog if you are not ready to have him with you underfoot almost all the time. Golden Retriever is referred to as a family dog in the sense that it loves spending most of the time indoor with its human companion and as such you should not leave him lonely in the backyard.
Living with Golden Retriever
History
Golden Retriever dog breed was allegedly bred in Scotland in the mid-nineteenth century. During these moments, wildfowl hunting used to be a common game among the loyal Scottish elites; however, the retriever breeds were insufficient for retrieving a downed game. It was necessary to retrieve a downed game from land and/or water since the hunting grounds were somewhat pocketed with rivers as well as marshy ponds.
As a result, the healthiest water spaniels were picked and crossed with the retrievers and this lead to the establishment of a breed otherwise referred to as the Golden retriever in the current world. This dog breed was developed in the neighborhoods of Glen Affric, Scotland at the estate of 1st Baron Tweedmouth. Several sources indicate that Golden Retrievers may have descended from a Russian tracker dog (which is currently extinct). Improvements in guns in the 18th century lead to the downing of more fowls and at a greater distance. Soon, fowl were hard to find and this called for a need to have a specialist retriever. Crossbreeding begun in search of such a breed.
The first cross involved Nous (yellow-colored retriever) and a Belle/tweed water spaniel (now extinct). Belle was said to be calm and loyal – a character that is still evident in today's Golden Retrievers. The descendants were then crossed with Wav/ Flat-coated retrievers, a red setter, and a Tweed Water Spaniel. The first breed was known to possess special hunting skills. The Don of Gerwyn was one of the most famous descendants of Tweedmouth dogs and he won a trophy in 1904 at the International Gundog League. In 1911, The Kennel Club that's based in England announced officially that it had recognized the Golden Retriever dog breed as a distinct one. In 1932, Golden Retriever dog breed gained recognition from the American Kennel Club and believe it or not, it's the most popular dog in the US as of now.