American Bulldog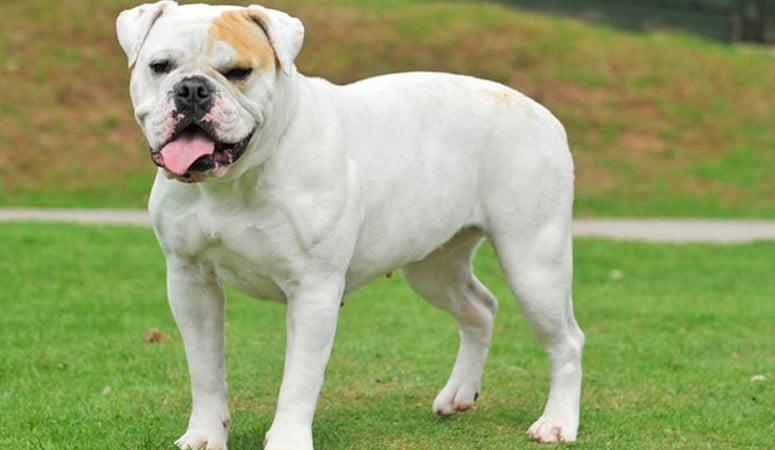 Descended from the Old English Bulldog, American Bulldog, as is generally accepted, can be a part of American culture and history, and may be used as one of an American cultural icon. Strong and tough as American Bulldogs are, this breed indeed pretty much like bulldog, not only in appearance, but they did real bulldog work.
| | |
| --- | --- |
| Other Names | Old Country Bulldog, Southern White White English Old Southern White Bulldog Hill Bulldog Country Bulldog English White Bulldog |
| Color | All white or white with patches of red or varying degrees of brown, brindle, or fawn. |
| Height | Males: 22-27 inches. Females: 20-25 inches. |
| Weight | Males: 75-125 pounds. Females: 60-100 pounds. |
| Life Span | 10–15 years |
| Personality | Loyal, Self-Confident |
| Exercise | Energetic |
| Origin | |
| | |
| --- | --- |
| Popularity | #194 |
| Groom Needs | Occasional Bath/Brush and Seasonal Shedding |
| Kids Friendly | Yes with supervision |
| Dog Friendly | Yes with supervision |
| Watch Dog | |
| Family Dog | |
| Litter Size | 7–16 puppies |
Introduction
The American Bulldog is a stocky, muscular dog, and is a great help on the farm, agile and actually designed to chase down stray cattle – can you believe that some have been known to jump over 6 feet into the air! He comes with great affection for his owners, and is super intelligent, which makes him a protective family dog. But these dogs aren't meant to be on their own protecting the house. No, they need plenty of exercise and human interaction from their pet parents. He stands around 28 inches at the shoulders and weighs around 120 pounds. They are happy dogs but need plenty of space to roam and be taken on plenty of walks. If their mental and physical needs aren't met they can become destructive and bored. These dogs can come in different colors, but traditionally they are white and have patches of red, brindle or black. Their coat is short and they shed moderately through the year. No extensive grooming is required. All in all when you have an American Bulldog joined your family, you get an affectionate, intelligent, and protective family dog. With kind, firm, and patient training and care, American Bulldogs can make loving family companions.
Living with American Bulldog
History
The American Bulldog originates from the United States of America and is a descendant of the English bulldog which was brought to North America by working-class immigrants. They wanted to use the dogs for farm work.
They used to be used in the barbaric sport of bull-baiting a long time ago, but these days they are good at being working farm dogs and wonderful family companions.
They nearly became extinct by the time World War II was over but fortunately, the breed was revived again.
The ancestor of this dog is the Old English Bulldog, which was brought to North America by working-class immigrants as early as the 17th century.
All modern American Bulldogs today can trace their roots to four bulldog strains; the Williamson, Scott, Bailey & Johnson, are all from the Alabama/Georgia area.
The breed was not known by its modern name until the 1980s. The breed name that we know so well, the American Bulldog, actually was known by a lot of different names before it became the standard American Bulldog.
The American Bulldog was recognized by the AKC in 1890. At one time they were ranked in the top ten most popular dogs. They continue to be highly popular today – that's a wonderful tribute to his solid credentials as a lovable companion.