Spinone Italiano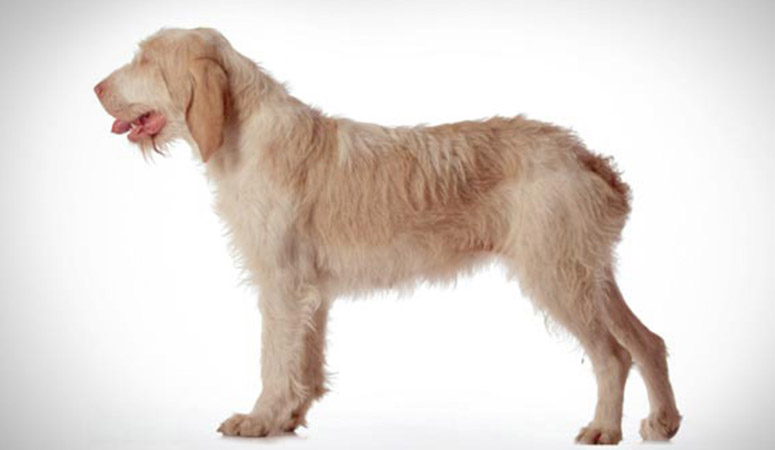 The Spinone Italiano is an Italian breed of hunting dog, traditionally used for tracking, pointing, and retrieving game. Athletic, loyal, and medium in size, Spinone Italiano is a great choice for a family who has an active lifestyle. As one of the ancient Italian lineages, the Spinone is well-known for its versatility.
| | |
| --- | --- |
| Other Names | Italian CoarseHaiRed Pointer, Italian SPinone, Italian Griffon, Italian Wire-HaiRed Pointing Dog |
| Color | Brown Roan, Orange Roan, White, White & Orange |
| Height | Males: 23-28 inches. Females: 22-25 inches. |
| Weight | Males: 70-86 pounds. Females: 62-75 pounds. |
| Life Span | 10-12 years |
| Personality | Sociable, Patient, Docile |
| Exercise | Energetic |
| Origin | |
| | |
| --- | --- |
| Popularity | #116 |
| Groom Needs | Weekly |
| Kids Friendly | Yes with supervision |
| Dog Friendly | Yes with supervision |
| Watch Dog | |
| Family Dog | |
| Litter Size | 4-8 |
Introduction
The Spinone Italiano, also known as the Italian Pointer, is calmer than some of the other pointer breeds. They're more unique too, having a scruffy look about them – but of course very charming too, with their large eyebrows and bushy beards. They stand around 27 inches at the shoulders and weigh about 90 pounds. Their coat is of medium length, and is wiry and dense, coming in three colors; brown and white, orange and white, or solid white. His coat needs to be brushed a few times each week. Look after his long beard importantly, because it can smell if it stays damp and collects bits of food in it – it needs paying attention to so that it does not get unruly and matted. When it comes to exercise, just a quick walk around the block won't cut it for this dog; he's going to get bored. They need plenty of time outdoors playing and frolicking and mental stimulation as well to prevent behavioral problems developing. He's a people-orientated dog, and not suited to any household where he is left on his own – he will develop separation anxiety. After all, who doesn't want to spend heaps of time with a dog that is playful, gentle, and a wonderful companion? He's not the best guard dog around but he is an alert barker when a stranger comes near. They've got a stubborn personality so are not the best choice for new dog owners.
Living with Spinone Italiano
History
The Spinone Italiano dog is believed to originate from Italy and believed to be of the oldest gun dogs ever in existence.
Officially, the breed wasn't known as the Spinone until the start of the 19th century. Before then, they were called "Spinoso", perhaps named after an Italian thorn bush, the spino. This bush was an ideal place for small game to hide, being impenetrable for larger animals. Only coarse-haired and thick-skinned animals could fight through the branches to retrieve game, and the Spinone proved ideal.
During World War II, the Spinone, like so many other dog breeds, nearly became extinct – the war caused this as well as the fact that the Italian hunters were using other dog breeds to hunt with. A National Club was formed to try and preserve the breed to build up their numbers again. Many breeders resorted to crossing the Spinone with other wire-haired breeds like the Wirehaired Pointing Griffon, the Boulet, and the German Wirehaired Pointer.
The Spinone was imported to North America in the 1930s, not receiving recognition from the AKC until 2000.
Did you know the plural for the Spinone Italiano is Spinoni Italiani?