Glen of Imaal Terrier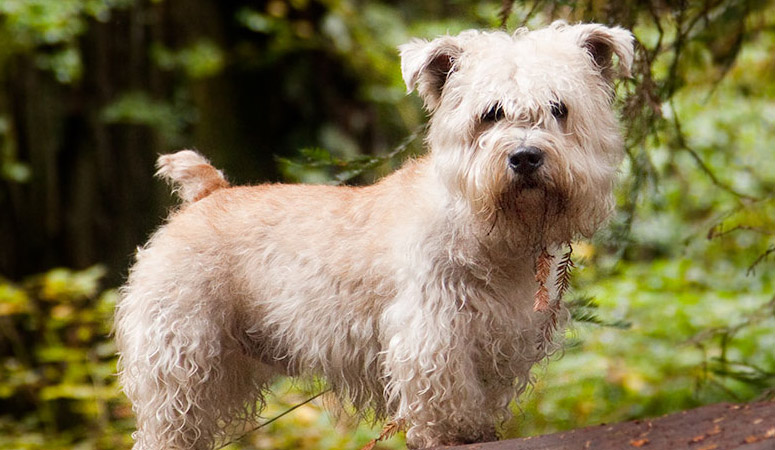 The Glen of Imaal Terrier is independent and strong with a medium-sized built. As skilled and cunning hunter, they were bred to hunt fox and badger, and to protect homes from rodents. Their well-muscled loin, rising topline, strong rear and short, bowed front legs can help them finish some hard work. Gentle and loyal to their people, they're also affectionate family dogs.
| | |
| --- | --- |
| Other Names | Irish Glenn of Imaal Terrier, Wicklow Terrier |
| Color | Blue Brindle, Wheaten |
| Height | Males: 12.5-14 inches, Females: 12.5-14 inches. |
| Weight | Males: 32-40 pounds, Females: 32-40 pounds. |
| Life Span | 10-15 years |
| Personality | Gentle, Spirited, Bold |
| Exercise | Regular Exercise |
| Origin | |
| | |
| --- | --- |
| Popularity | #168 |
| Groom Needs | 2-3 Times a Week Brushing |
| Kids Friendly | Yes with supervision |
| Dog Friendly | Yes with supervision |
| Watch Dog | |
| Family Dog | |
| Litter Size | 3-5 puppies |
Glen of Imaal Terrier Video
Introduction
The Glen of Imaal Terrier, fondly called the Glen, is the typical definition of a big dog with short legs. It is sturdily built, balanced, with a topline that approaches the tail, a broad head, and well-muscled shoulders. They are active and dogged, without being ill-tempered or easily provoked. They make good watchdogs, watch with their keen minds and attentiveness. A noteworthy hallmark of the breed is the unique posture of sitting on their hind region, called the Glen sit. Glens have a unique double coat, the top of which is wiry over a soft undercoat. They come in varying shades of wheaten or blue, or sometimes grizzle (a mixture of blue and wheaten).
Glens are medium-sized dogs, standing 12-14 inches at the withers, and weighing around 30-40 pounds, both sex varieties inclusive. They are classified under the Terrier Group by the AKC. Glen of Imaal Terriers live to 10-14 years on the average.
Living with Glen of Imaal Terrier
History
The Glen of Imaal Terrier is one of the four Irish terrier breeds. It is named for Glen of Imaal, in County Wicklow, where it originated. They are believed to have developed around the era of Queen Elizabeth I. There was hysteria in Ireland at the time, and the Queen had to hire Hessian and French mercenaries to quell the crisis. After the conflict had been resolved, the mercenaries settled in the region of Glen of Imaal, with their hound dogs which they had brought from their homeland. These dogs were later cross-bred to local terriers of the region, resulting in a distinct breed that came to be known as the Glen of Imaal Terrier.
The Glen of Imaal Terrier was bred to hunt rats, foxes, otters, and badgers. One remarkable feature of this breed is their natural tendency to advance into their quarry's lair without the usual barking that goes with other dogs. Glens are quiet, almost to a fault. In hunting championships, a sounding or barking Glen is usually disqualified.
The Glen of Imaal Terrier, being the rarest of all Irish terrier breeds, struggled with extinction for a good part of its history. Although rescued by early 20th century breeders, it still grapples to remain relevant in numbers to date. The Kennel Club of England declared it a vulnerable native breed. The Glen gained an Irish Kennel Club recognition in 1934 before other kennel clubs followed suit. Although records claim that the Glen of Imaal Terrier had entered the U.S since the 1930s, it only became quite popular in the 1980s. A breed club, the Glen of Imaal Terrier Club of America, was founded in 1986. The breed was officially recognized by the American Kennel Club (AKC) in 2004.
Helpful Information
Breed Club: GLEN OF IMAAL TERRIER CLUB OF AMERICA
Breed Club Link: http://www.glens.org/
Breed Club Rescue: