English Springer Spaniel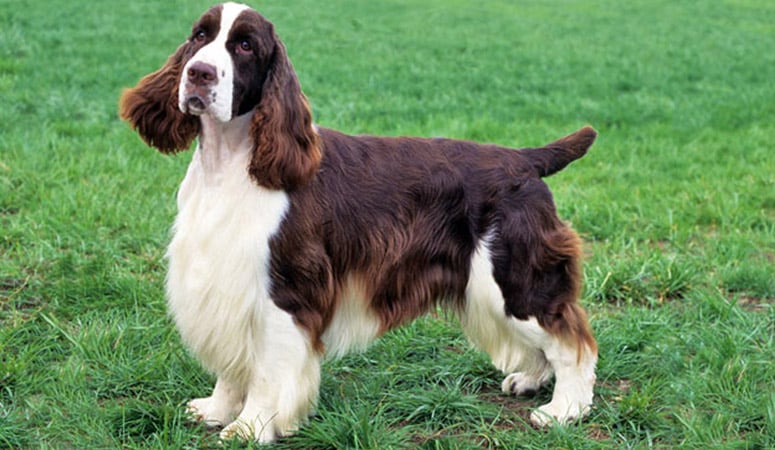 Athletic and versatile, with a sweet face and strong build, the English Springer Spaniel is a breed of gun dogs, traditionally used for flushing and retrieving game. They can take part in the tracking, obedience trials, agility and hunting tests, and more, which are great companions when hiking and camping.
| | |
| --- | --- |
| Other Names | Springer, Springer Spaniel, Springer Spaniel Ingles |
| Color | Black & White, Black White & Tan, Liver & White, Liver White & Tan, White & Black, White & Liver |
| Height | Males: 19-20 inches. Females: 19-20 inches. |
| Weight | Males: 40-50 pounds. Females: 35-45 pounds. |
| Life Span | 12-14 years |
| Personality | Friendly, Playful, Obedient |
| Exercise | Regular Exercise |
| Origin | |
| | |
| --- | --- |
| Popularity | #27 |
| Groom Needs | Weekly |
| Kids Friendly | Yes with supervision |
| Dog Friendly | Yes with supervision |
| Watch Dog | |
| Family Dog | |
| Litter Size | 5-6 |
English Springer Spaniel Video
Introduction
The English Springer Spaniels are lovable creatures with a tendency to be out-going and seeking the company of people. They are terrible when neglected and are always up for a game of running, swimming, or even catching birds. Their coat, which is usually a color of black or liver, often with white markings, differs among two classes of this dog breed — the field-bred and the show-bred varieties.
The field-bred Springer has a shorter, coarse coat compared to the show-bred variety which flaunts a longer coat, and more pendant ears. The English Springer Spaniels closely resemble their kins, the English Cocker Spaniels, in features only that the Springers appear quite larger, although medium-sized dogs themselves.
A standard Springer male weighs around 50 pounds on the scale, standing at a height of about 21 inches from shoulder to paw. A similar female weighs close to 45 pounds and reaches a shoulder height of about 19 inches. They are polite and friendly family companions, lasting up to about 13 years before they die.
Living with English Springer Spaniel
History
The English Springer Spaniel has an origin poised between England and Spain. It hails from a lineage of Spaniels, especially of English descent. The Spaniels of old, themselves originated from the popular bird dogs of Spain, the Epangeuls.
For many centuries, a Spaniel was regarded as any dog whose primary activity was to flush gamebirds into nets, as hunting dogs. It wasn't until the 19th century that the separation was made into three distinct breeds, namely the Cocker, the Springer, and the Field Spaniels, all of which could co-exist in the same litter. They all served as hunting dogs, although they had their specific roles; the Cocker was preferred for hunting little woodcocks while the Springers dealt with the gamebirds, a bigger task.
In the late 19th century, Spaniels were bred in large proportions in different parts of England and they were named after the region or county they developed in, hence names like Norfolk Spaniels were common then. Some were named after the owner, which was mostly a noble. The English Springer Spaniel is thought to have descended directly from the Norfolk Spaniels and Shropshire Spaniels.
Around the late 1880s, the Springer Spaniel was distinguished from the other Spaniels and the Spaniel Club developed a standard for the breeding of the dog. The English Springer Spaniel was officially recognized by the English Kennel Club in 1902, after which the American Kennel Club did so in 1910. Shortly after that, the reputation of this breed as flushing dogs extended across countries.