English Cocker Spaniel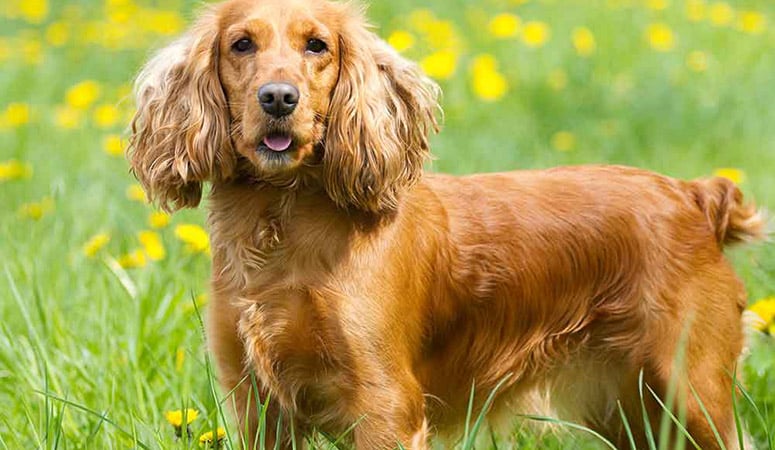 With medium size and a driving, powerful gait, The English Cocker Spaniel has been a hunting breed. They have long ears and usually please their owners and family. This breed is energetic whether at home or in the field and they enjoy the time that you spending together. As lovable companions, they need a lot of attentions and patience.
| | |
| --- | --- |
| Other Names | Cocker, Cocker Spaniel, Cocker Spaniel (English) |
| Color | Black, Black & Tan, Black & White,Black White & Tan,Liver, Liver & Tan, Blue Roan,Blue Roan & Tan,Red, Red Roan |
| Height | Males: 15-18 inches. Females: 15-17 inches. |
| Weight | Males: 26-35 pounds. Females: 24-33 pounds. |
| Life Span | 12-14 years |
| Personality | Energetic, Merry, Responsive |
| Exercise | Regular Exercise |
| Origin | |
| | |
| --- | --- |
| Popularity | #50 |
| Groom Needs | Occasional Shedding |
| Kids Friendly | Yes |
| Dog Friendly | Yes |
| Watch Dog | |
| Family Dog | Yes |
| Litter Size | 3–12 |
English Cocker Spaniel Video
Introduction
This is a breed of gun dogs; a type of hunting dog which helps hunters in finding games, especially birds, and retrieving them. Gun dogs are also known as bird dogs. The English Cocker Spaniel is known to be an active, good-natured dog. This breed is one of the many varieties of spaniels and is the root of the American Cocker Spaniel, which is its cousin. The English Cocker Spaniel comes in various types of markings. There is the self or solid type of markings, the particolored type, and the roan type of markings. The solid English Cocker Spaniels have little or no white and the particolored ones have patches or spots of color. Freckles of color on their noses and legs are common characteristics of particolored dogs and this is known as "ticking". The roan type is a version of ticking which is seen as extreme. Here, speckles with the same color as solid patches are seen on the white dog parts of a dog. Puppies that have the roan type are born white with colored patches and when they mature, these white patches become roan, just like the spots that can be seen on Dalmatians.
A male English cocker spaniel stands 16-17 inches at the shoulders and has a weight of 28-34 pounds. A female English cocker spaniel stands 15-16 inches at the shoulders and has a weight of 26-32 pounds.
It has a lifespan of 12-15 years. This breed of dogs is known to be kind, intelligent, compassionate, and alert. They also tend to make great family pets. They are quick to create a strong bond with an individual within the family it belongs in and this is most especially with the person who feeds it. They hate being alone and are extremely loyal to their owners.
Living with English Cocker Spaniel
History
At first in England, Spaniels were divided into land spaniels and water spaniels and differentiation began only in the mid 19th century. Around this time, land spaniels became more specialized and weight became a basis for divisions among types. Around 1840, Cockers and Springers came from the same litter and this was a common sight.
Other types of Cockers were recorded in the 1850s and 1860s. After the Spaniel Club was formed in 1885, the sport of conformation showing began among spaniels. The Springer and Cocker were placed in the same class until breed standards for each of the types were created by the Spaniel Club. Eight years later, the two types were separated by the Kennel Club.
The American Cocker Spaniel was developed in the 19th century from the English Cocker Spaniel, to retrieve birds like quails and woodcocks. It was in 1936 that the English Cocker Spaniel was seen as a separate breed. Before then, the two cocker spaniels, the American and the English, were shown together.