Coton de Tulear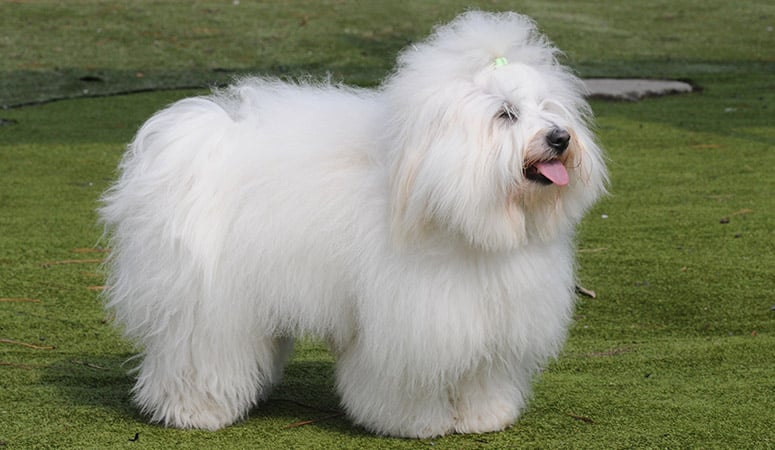 Originated from a group of small white dogs who swam across the Malagasy channel following a shipwreck, the Coton de Tulear is a small breed named for the city of Tulear. He has white and cotton-like coat, sometimes with gray, black, or tri-colored markings. As "Royal Dog of Madagascar" with sociable nature, affectionate charm and gentle temperament, they are favored by the Merina royal family of the Malagasy people.
| | |
| --- | --- |
| Other Names | Coton Du Tulear, Coton, Cotie |
| Color | White, Black & White |
| Height | Males: 10-11 inches. Females: 9-10 inches. |
| Weight | Males: 9-15 pounds. Females: 8-13 pounds. |
| Life Span | 15-19 years |
| Personality | Charming, Bright, Happy-Go-Lucky |
| Exercise | Regular Exercise |
| Origin | |
| | |
| --- | --- |
| Popularity | #81 |
| Groom Needs | Daily Brushing |
| Kids Friendly | Yes |
| Dog Friendly | Yes |
| Watch Dog | |
| Family Dog | |
| Litter Size | 4-6 puppies |
Introduction
Isn't he cute, this soft, cotton-like coated dog – in fact, Coton is French and it means "cotton"! They are very intelligent, observant, and adaptable. He is a happy little dog, happiest when spending their time with their owners. They come in colors such as white with light brown spots, black and white, or black, but as it gets older, the spots usually fade until the dog is pure white. His coat needs to be brushed at least 3-4 times a week. He was bred to be a companion dog. They form close bonds with their human owners. They don't do well when they are left alone, becoming unhappy and bored. They will compensate for this by barking and chewing destructively. He is peaceful and gentle with both humans and other animals, forming strong bonds. Socialization is important to build with this little cotton-ball because he can be timid, but he will respond to non-forceful training. He wilts when you are harsh with him. Unfortunately, Cotons are slow to house-train. If you are a first time owner of this dog, training can be a challenge because they have minds of their own. He is about 10 inches at the shoulders and weighs about 15 pounds
Living with Coton de Tulear
History
The Coton de Tulear origins aren't in France, but he originates from a seaport called Tulear at the tip of Madagascar.
The Bichon Frise and the Maltese are his ancestors. The story goes these dogs were kept as companions to sailors out at sea but when the ship sank the dogs swam to shore and bred with the native dogs. Eventually, the Coton de Tulear was produced. The Merina people of Madagascar kept Coton de Tulears as companions.
When France claimed rule over Madagascar in the 17th century they adopted the mixed breed of dogs as their own and ruled that no commoners could own the dogs.
In the not too distant past, there are DNA results from around the world that show the Coton de Tulear sitting genetically between the Portuguese Water Dog (PWD) and the Pumi breed.
When Madagascar received its independence in the 1900s, tourism increased and many Coton de Tulears were exported out of the country. By 1992 there weren't many Coton's left and Madagascar started limiting the dogs that could be exported.
The first Coton de Tulear arrived in America in 1974 and was accepted by the AKC in 2014.