Cocker Spaniel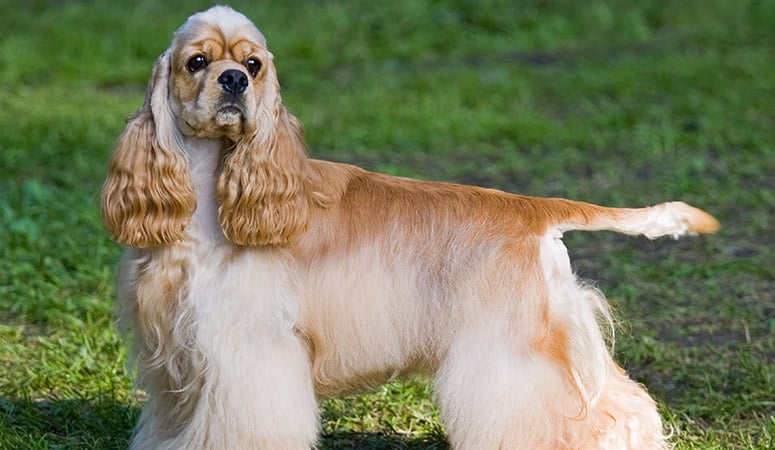 With a sweet temperament, Cocker Spaniel is cuddly and affectionate, fond of participating in activities together with family. As a beloved companion dog breed, they move quickly and a well-balanced body and great endurance, and they are easy to train. The Cocker Spaniel is the smallest member of the Sporting Group.
| | |
| --- | --- |
| Other Names | American Cocker Spaniel, English Cocker Spaniel |
| Color | Black, Liver, Red, Golden, Roan, White, Black&Tan, Liver&Tan, Roan&Tan |
| Height | Males: 14-16 inches. Females: 13-15 inches. |
| Weight | Males: 15-30 pounds. Females: 15-30 pounds. |
| Life Span | 10-14 years |
| Personality | Gentle, Smart, Happy |
| Exercise | Regular Exercise |
| Origin | |
| | |
| --- | --- |
| Popularity | #28 |
| Groom Needs | Daily Brushing |
| Kids Friendly | Yes |
| Dog Friendly | Yes |
| Watch Dog | |
| Family Dog | Yes |
| Litter Size | 3–12 |
Introduction
Although the name Cocker Spaniel applies to both American and English breeds, it is used exclusively to describe the American Cocker Spaniels in the US. The American Cocker Spaniel is a small hunting dog, swift and sturdy with orb-like eyes that improve the chiseled appearance of their skull. They come in a soft flowing coat that can be trimmed to keep injurious objects from getting entangled in it.
The American Cocker Spaniel comes in a variety of coat colors, including the liver, black, red, and golden. They are merry small-sized dogs, the males of which measure around 14-16 inches standing at the shoulder, and the females run quite smaller at around 13-15 inches. A standard male Cocker Spaniel weighs somewhere between 25 and 30 pounds, where a similar female tags close behind with 21-24 pound-weight.
They have been classed as sporting dogs by the American Kennel Club. A Cocker Spaniel spans through an average of 11-14 years before death follows.
Living with Cocker Spaniel
History
The American Cocker Spaniel is a descendant of the old English spaniels, themselves related to the old Spanish bird dogs, the Epangeuls (dating back to early 17th century). Those days, a spaniel was considered to be any flusher dog, that is, dog breeds that help in catching birds. All spaniels were once spaniels until around the 1890s when they were classified into distinct groups, namely the Cocker Spaniel, Springer Spaniel, and Hawking Spaniels.
Originally, before 1880, the precise basis for placement into the categories was unclear– size was more important than ancestry to determine the category into which a dog would enter. At that time, a Cocker Spaniel was generally designated as a spaniel dog which weighed below 25 pounds.
History has it that, certain English travelers on Pilgrimage to America had taken their dogs aboard the Mayflower with them on their journey. These dogs were believed to be English Cocker Spaniels and earliest ancestors of the American Cocker Spaniel breed. These earlier hybrids were further bred to enhance the desired qualities of American breeders. It was only a matter of time until the American breed showed a wide divergence from their English Cocker Spaniel ancestors.
The American Cocker Spaniel was bred to serve on the fields as work dogs and at home as companion dogs, and it continued that way for some time until it first appeared in the show ring. Breed enthusiasts took to this breed due to its show-worthy characteristics. As time passed, the English Cocker Spaniel dominated fieldwork, while the American Cocker Spaniel attended the shows. This led many breeders, at the time, to breed American Cocker Spaniels for the purpose of dog shows rather than for the original herding and work dog abilities they were popular for. This meant, dome-skulled and flowing coated varieties became popular among American Cocker Spaniels.
Recently, a few concerned breeders had set out to groom American Cocker Spaniels with the original characteristics that were peculiar to the breed as hunting dogs.