Cane Corso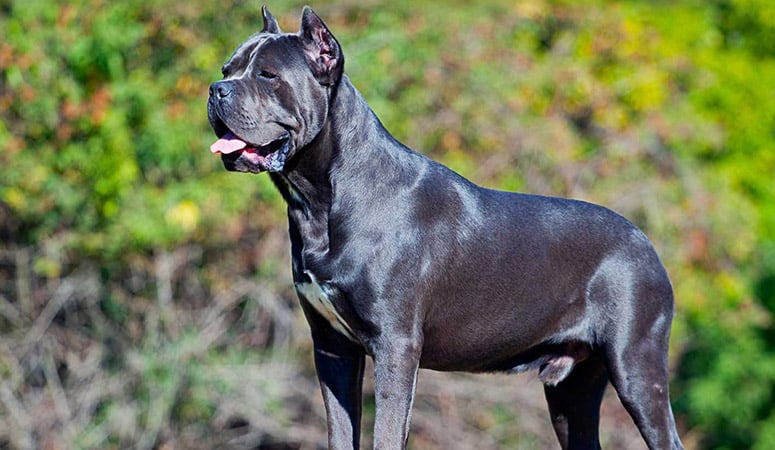 Smart, trainable, the Cane Corso is an Italian breed with a lengthy history. Medium to large size, sturdy, muscular, and athletic, this dog breed was developed to guard property and hunt big game such as wild boar. They never take time off from what they see as their most important duty which is to protect the home and their people.
| | |
| --- | --- |
| Other Names | Cane Corso Italiano, Cane Corso Mastiff, Italian Corso, Italian Corso Dog, Italian Mastiff, Italian Molosso |
| Color | Black, Black Brindle, Chestnut Brindle, Fawn, Gray, Gray Brindle, Red |
| Height | Males: 24-28 inches. Females: 23-26 inches. |
| Weight | Males: 92-110 pounds. Females: 80-100 pounds. |
| Life Span | 9-12 years |
| Personality | Affectionate, Intelligent, Majestic |
| Exercise | Energetic |
| Origin | |
| | |
| --- | --- |
| Popularity | #30 |
| Groom Needs | Occasional |
| Kids Friendly | Yes with supervision |
| Dog Friendly | Yes with supervision |
| Watch Dog | Yes |
| Family Dog | |
| Litter Size | 4-6 |
Introduction
Basically, they appear in a stiff coat of black and fawn. The coat tends to get thicker in cold weather. In stature, the Cane Corso is magnificent, with strong and powerful limbs that bulge with muscles. The Cane Corso is, hence, well-adapted for its role as a fearless guard dog.
Sturdy and brawny, they move with grace and ease. They have a weight that is proportionate to the stature of the specific dog, although average figures exist. A standard male Cane Corso weighs around 100-105 pounds, standing at a shoulder height of 25-26 inches. A similar female may weigh 85-95 pounds, and measure 23-25 inches in height.
These dogs became popular not long ago, and have risen quickly to the 32nd spot by the American Kennel Club. They are loyal and live true to an average life expectancy of 10-12 years.
History
The Cane Corso has a long and interesting history. They are believed to have originated from the Molossus breed, a mastiff-type breed, in ancient Rome. The ancestry of the Cane Corso (also called the Italian Mastiffs) can be traced back to the Roman empire, around the 12th century. It is rumored that, in ancient times, the Greek tribe of Molossi were breeders of giant Mastiff-type, which served for guarding property and people. When the Romans invaded the islands, they took away some of these Molossian dogs to Rome, where they were bred with native Italian dogs. The Cane Corso resulted from this series of crosses, alongside the larger Neapolitan dog breed.
The name Corso was adopted from the Italian word 'Cohor' which meant guardian. Originally, the Cane Corso was the Roman war dogs in the old times. These earlier breeds were intrepid, much larger and more intimidating than the modern-day Cane Corso. Part of their job during wartime was to carry pails of flaming oil across enemy lines.
Times changed and the classic war period began to fade out. The Cane Corsi had to adapt to a life of calm. They soon appeared on the farms, driving or herding livestock, guarding farmers against notorious hogs, and even protecting farmholds. Cane Corso began their journey to popularity on these plains, before a terrible blow happened to their survival. The World Wars I and II nearly saw this breed of dogs to extinction. By the end of both wars, the population of Cane Corso had drastically reduced, almost non-existent even.
Throughout the 20th century, they weren't popular in homes as they used to be. It wasn't until the 1970s brought breed enthusiasts who set out to resuscitate the dying Cane Corso breed that the breed sprung back into activity. The attempt was successful, and by the 1980s, this breed had found its way to countries in Europe and even America. About a decade later, they debuted in the show ring.
The Italian Kennel Club recognized this breed in 1994, while the American Kennel Club did the same in 2010.