Bernese Mountain Dog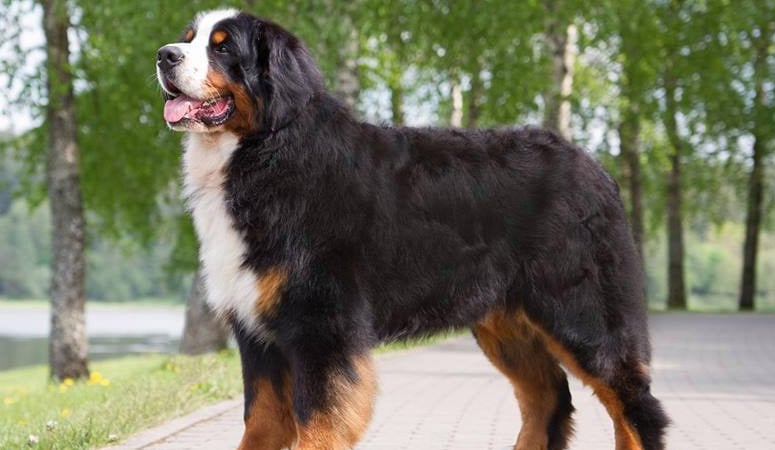 The Bernese Mountain Dog is big, powerful, sturdy with a combination of a sweet and friendly nature. This breed is an extremely adaptable working dog from the farmlands of Switzerland, with eagerness to please, social by nature, doesn't like being left alone. Their coat is thick, long, and slightly wavy, to withstand the cold.
| | |
| --- | --- |
| Other Names | Berner Sennenhund |
| Color | Black Rust & White, Black Tan & White, Black & Rust, Black & White, Rust & White |
| Height | Males: 25-28 inches. Females: 23-26 inches. |
| Weight | Males: 85-110 pounds. Females: 80-105 pounds. |
| Life Span | 7-10 years |
| Personality | Good-Natured, Calm, Strong |
| Exercise | Energetic |
| Origin | |
| | |
| --- | --- |
| Popularity | #23 |
| Groom Needs | 2-3 Times a Week |
| Kids Friendly | Yes with supervision |
| Dog Friendly | Yes |
| Watch Dog | |
| Family Dog | Yes |
| Litter Size | 5-7 |
Bernese Mountain Dog Video
Introduction
Originally bred as farm dogs, the tri-colored Bernese Mountain Dog is a large and sturdy breed that is adapted for heavy work such as pulling large cheese wagons. They appear beautiful and amicable in their thick, silky double-coat of black, white, and rust colors.
Owing to their large size, it is normal for a standard male to weigh within pounds range of 85-110, or 70-95 for a female. The female Bernese dog runs smaller than the male — where a male dog stands at around 26 or 28 inches, the female manages to reach a shoulder height of 22-26 inches. They have slowly climbed up the rungs of the popularity ladder and today, Bernese Mountain Dogs are rated 22nd most popular dog breed by the American Kennel Club. This dog breed is hardy to harsh conditions and would possibly live up to around 8 or 10 years on average.
Living with Bernese Mountain Dog
History
The Bernese Mountain Dog has quite an interesting history, in that they almost ran into extinction at a time before the breed was rejuvenated. There are reasons to believe the theories linking it to a Swiss origin, and they were initially called the Durbacher, named for the place where their ancestors were bred in large numbers.
It is widely believed that the Bernese Mountain Dog originated, in the main, from the district of Berne in Switzerland, hence the name. A member of a family of four Swiss mountain dogs (the Sennenhund-type dogs), which include the Appenzeller Sennenhund, the Greater Swiss Mountain Dog, and the Entlebucher Mountain Dog, the Bernese Mountain Dog has also been connected to the ancient Roman Molosser breed.
The breed directly resulted from a cross between some native Swiss mountain dogs and Roman military dogs brought during the era of the invasion of old Switzerland. Large dogs of remarkable power which were well-suited as multipurpose farm dogs were created. The Bernese dog assisted with pulling milk and cheese carts, guarding farmholds, and even driving livestock across far distances.
Towards the latter part of the 19th century, the Bernese dogs began to thin out in the population, perhaps due to poor breeding technology in their home. It was Herr Franz Schertenleib, a Swiss cynologist, who came to the rescue, and soon after, the Bernese Mountain Dogs were back in the yards again. Gradually, the Bernese Mountain Dog began to grow in prominence and favor, and in the early 1900s, the Bernese Mountain Dog saw its way into dog show for the first time. The first breed club, the Schweizerische Dürrbach-Klub, was founded in Burgdorf in 1907. Ever since the Bernese Mountain Dog slowly began to gain recognition in other countries.