Spanish Water Dog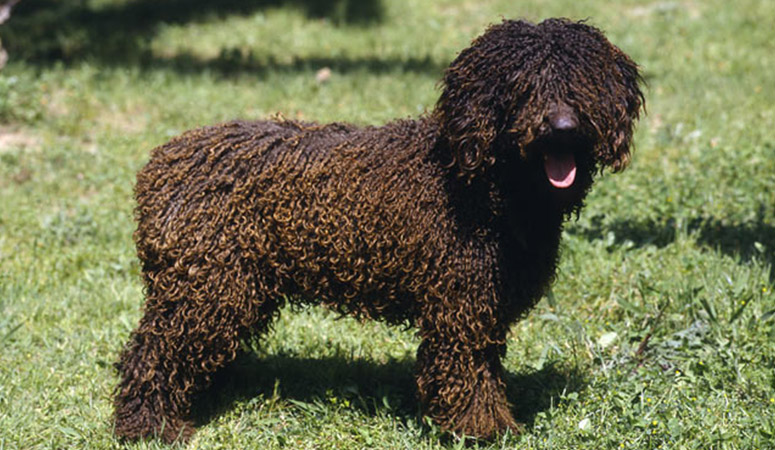 The Spanish Water Dog has naturally curly and wooly head to toe. They are bred as a general purpose sheepdog and guard, but sometimes also as a gundog with a medium size and they are skilled at retrieval from water. Their movement is effortless and ground covering, with good reach and drive. The charming, lovely character and solidly built make them good family companions and vigilant watchdogs.
| | |
| --- | --- |
| Other Names | Perro de Agua Espanol, Turco Andaluz |
| Color | Black, Black & White, Brown, Brown & White, White & Brown |
| Height | Male: 17.5-19.75 inches, Female: 15.75-18 inches. |
| Weight | Male: 40-49 pounds, Female: 31-40 pounds. |
| Life Span | 12-14 years |
| Personality | Playful but also Work-Oriented. Very Active and Upbeat. |
| Exercise | Needs Lots of Activity |
| Origin | |
| | |
| --- | --- |
| Popularity | #144 |
| Groom Needs | Specialty/Professional |
| Kids Friendly | Yes with supervision |
| Dog Friendly | Yes with supervision |
| Watch Dog | Yes |
| Family Dog | |
| Litter Size | 4-6 puppies |
Introduction
Even though he is big, he is so cute, the Spanish Water Dog. He is strong and looks just like a sheep with his curly, woolly hair. The colours of his woolly coat can come in white, chestnut, and black, but they can also be bicolored like white and brown, or white and black. You get even tricolored ones like black and tan. With their woolly coat, they are capable of enduring cold and hot weather, and they love swimming, as their name suggests! Their coats should never be brushed or combed. If you can't manage the grooming, take them to professionals to shear the dog. In any case, he should be sheared once a year. You can bathe this dog, but not often. He is highly intelligent, versatile and well-balanced, making a highly devoted family dog and easy to train too. He makes a good watchdog too, with good vocal cords, using them to protect his property and territory. He will need socialization training from a young age because although he makes a wonderful companion, he shouldn't be left unsupervised with small children. He certainly needs plenty of physical and mental stimulation because he is used to being used as a rescue dog or a bomb detection dog, therapy work, and so on. However, he shouldn't be over-exercised to avoid joint and bone problems. He is around 20 inches at the shoulders and weighs around 40 pounds.
Living with Spanish Water Dog
History
The Spanish Water Dog originates from Andalusia. Some say Turkish merchants brought the dog to the southern Iberian Peninsula along with their livestock, moving around the Mediterranean area. Others claim they come from North Africa. There is documentation of a woolly coated Water Dog on the Iberian Peninsula in 1110 AD. It is generally accepted that these woolly coated dogs were the ancestors of water dogs.
In Spain, the Water Dog was primarily used for herding sheep and goats and for hunting game and waterfowl.
The French aristocracy admired the Water Dog, bringing them to Paris. There are many paintings depicting French and Spanish Royalty with Water Dogs which can be seen in "La Palacio de Granja" in Segovia.
The Spanish Water Dog can still be found working in the mountains of southern Andalucia herding goat and sheep as they have been doing for the last 1000 years. They are also used for modern tasks such as Search and Rescue and bomb-sniffing by the Spanish government.
The dog was officially recognized in America by the United Kennel Club in 2001.
The American Kennel Club approved this breed in 2009 and they were officially recognized in 2015.