Shetland Sheepdog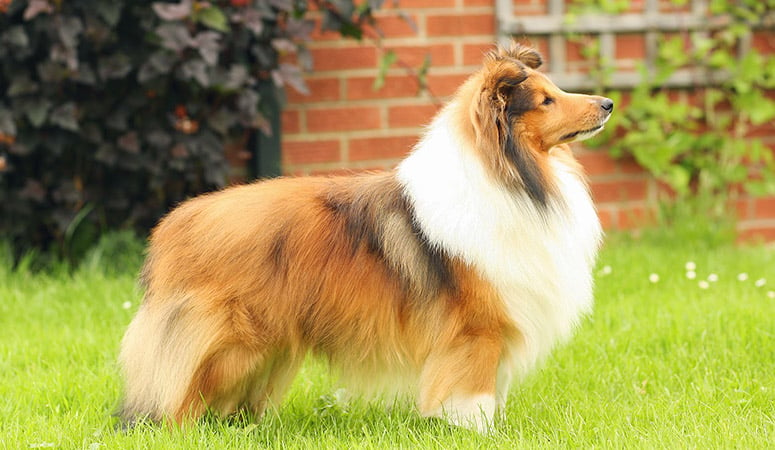 The Shetland Sheepdog, also called Sheltie, is an intelligent, obedient, eager to please, and hard-working small dog, from the Shetland Islands off the coast of Scotland. Although they can resemble a Rough Collie in miniature, they are still two breeds. The Shetland Sheepdogs are diminutive but hardy, although they are still outstanding in herding, it is usually bred as a farm dog or family pet today.
| | |
| --- | --- |
| Other Names | Sheltie |
| Color | Black & White, Black White & Tan, Blue Merle & White, Blue Merle White & Tan, Sable & White, Sable Merle & White |
| Height | Males: 14-16 inches. Females: 13-15 inches. |
| Weight | Males: 14-27 pounds. Females: 14-27 pounds. |
| Life Span | 12-14 years |
| Personality | Playful, Energetic, Bright |
| Exercise | Regular Exercise |
| Origin | |
| | |
| --- | --- |
| Popularity | #25 |
| Groom Needs | 2-3 Times a Week |
| Kids Friendly | Yes |
| Dog Friendly | Yes |
| Watch Dog | |
| Family Dog | |
| Litter Size | 4-6 |
Introduction
As remarkable watchdogs, Shetland Sheepdogs are fond of barking and keeping a noticeable aloofness to strangers. But with family, they are extremely active, playful, and intelligent companions. They are small dogs, popularly called Shelties, that come in a long double coat, the color of which could be black, blue, sable, or Merle, with white markings.
Owing to their diminutive size, a standard Sheltie would weigh around 16-24 pounds and stand to a shoulder height of 14 or 15 inches. Ranked 25th most popular dog by the American Kennel Club, they have an average lifespan of 11-14 years.
Living with Shetland Sheepdog
History
Originally called Shetland Collies, since the breed was created by crossing the Spitz-type Shetland dogs to the Rough Collies, the name Shetland Sheepdog was later adopted due after some Rough Collie fanciers opposed the former name. The ancestors of the Shetland Sheepdogs are believed to be the original dogs of Shetland origin which resembled the Spitz dogs.
The Shetland Isles belong to old Scotland, now a member of the United Kingdom. The region was popular for its harsh landscape — rugged, cold and parched. Thus, it had a natural way of dictating what sort of animals thrived on its soil, of which it favored tougher and hardier breeds of animal-kind. Most of which were small-sized, perhaps owing to the climatic conditions. The original Shetland dogs were of this caliber; small in appearance but tough and compact dogs that could brave the weather all year round.
These Shetland dogs had possibly inhabited this island since the 15th century and are rumored to have looked much like the Spitz. Some experts claim that this is true because the original Shetland dogs were brought to Shetland some centuries past, by settlers from Norse who used them to herd stock on the farm. Many years down the line, larger sizes of livestock were introduced into the Island and soon larger-sized herd dogs were in high demand. It was at that time that the Rough Collies almost took over the job of herding dogs from the Shetland dogs, which prompted breeders to seek to develop larger sizes of the Shetland dogs. So, the Shetland dogs were crossed with the Rough Collies, which resulted in a hybrid that took much after the Rough Collies.
This hybrid was bred out to other countries and, when it got to England, the "Shetland Collies" was crossed several times with other breeds including Pomeranians, Border Collies, and King Charles Spaniels to give what we know today as "Shetland Sheepdogs". The Shetland Sheepdogs are smaller than the original Shetland dogs and barely resemble them.