Pyrenean Shepherd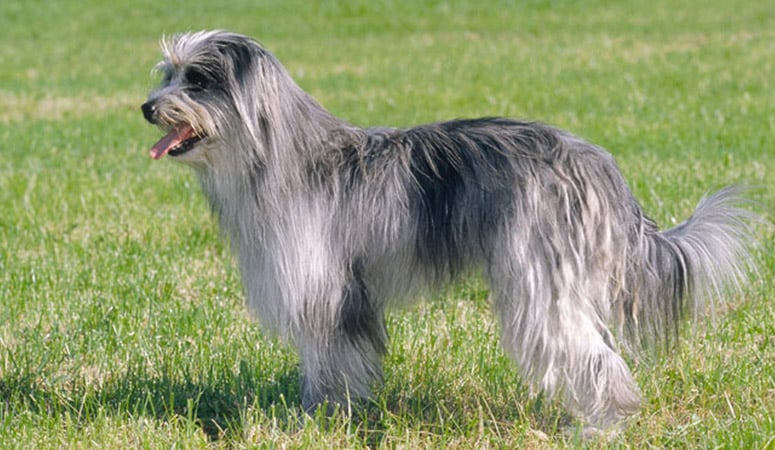 The Pyrenean Shepherd is lean but muscular, originated from Pyrenees mountains in southern France and northern Spain. Bred to herd livestock, such as sheep, they have breathtaking speed, grace, and intelligence. This breed come in two coat varieties: rough-faced and smooth-faced. Both of them are happy when given jobs to do and always want to please their family.
| | |
| --- | --- |
| Other Names | Berger des Pyrénées, Pastor de los Pirineos, Petit Berger, Pyrenees Sheepdog |
| Color | Black, Black & White, Blue Merle, Brindle, Brindle Merle, Fawn, Fawn Merle, Gray, Slate Gray |
| Height | Males: 15 to 20.5 inches, Females: 15 to 20.5 inches. |
| Weight | Males: 15-30 pounds, Females: 15-30 pounds. |
| Life Span | Late teens |
| Personality | Affectionate, Active, Enthusiastic |
| Exercise | Needs Lots of Activity |
| Origin | |
| | |
| --- | --- |
| Popularity | #182 |
| Groom Needs | Weekly Brushing |
| Kids Friendly | Yes with supervision |
| Dog Friendly | Yes with supervision |
| Watch Dog | |
| Family Dog | Yes |
| Litter Size | 4 puppies |
Introduction
The smallest of all herding dogs of French and Spanish origins, the Pyrenean Shepherd is a lean and attractive hard-working dog in a small package. Their eyes shine with so much intelligence, and like most other sheepdogs they pack the required amount of agility, athleticism, and fervor for work. They are naturally protective of children they grew up with and require early socialization to avoid the tendency of being shy. They are fond of keeping close to their owners making them a one-man dog. Pyrenean Shepherds have a long body, are slightly angulated and the tail may be docked. Based on texture and appearance, the coat comes mainly in two varieties– a smooth-faced and a rough-faced variety. They can exhibit a variety of colors, examples of such are fawn, brindle, copper, tan, gray, merle, black and, black and white.
The rough-faced variety of Pyrenean Shepherds appear smaller than the smooth-faced. Generally, a full-grown rough-faced stands 15-19 inches at the shoulder and weighs approximately 15-30 pounds, while a smooth-faced stands 15-21 inches and weighs around 18-30 pounds. Pyrenean Shepherds have an average life expectancy of 14-17 years.
Living with Pyrenean Shepherd
History
A large portion of their history has yet to find documentation. Pyrenean Shepherds (Pyr Sheep) are descendants of an ancient breed of herding dogs of the Pyrenees Mountains in regions encompassing both Southern France and Northern Spain. The Pyrenean Shepherd is usually compared with the Great Pyrenees when discussing herd dogs of the Pyrenees. Although much is unknown about their history, Pyrenean Shepherds have been linked with an origin in the Pyrenees Mountains as far back as 6,000 years ago. We have some archaeological findings and mythologies to guide us that way. Whatever their origin was, these dogs are till date intelligent herders, able to herd a large flock of sheep to graze!
Though the Pyrenean Shepherd still remains an unpopular breed (if not unknown) to most parts of the world, it was first imported into America in the 1800s to herd livestock due to its reputation which had preceded it. The Pyrenean Shepherd is believed to have been involved in the development of the Australian Shepherd. During the First World War, the Pyrenean Shepherd rendered a huge service to the French military, serving as rescue dogs, guard dogs, search dogs, and even couriers. However, after the war, the number of Pyrenean Shepherds had declined so much that it required an elaborate breeding plan to salvage their bloodline. By 1923, the first breeding standard was written in France. The 1970s and 1980s saw greater importations of the breed dogs into the United States, however, it wasn't until 2009 that it gained an AKC (American Kennel Club) recognition.