Puli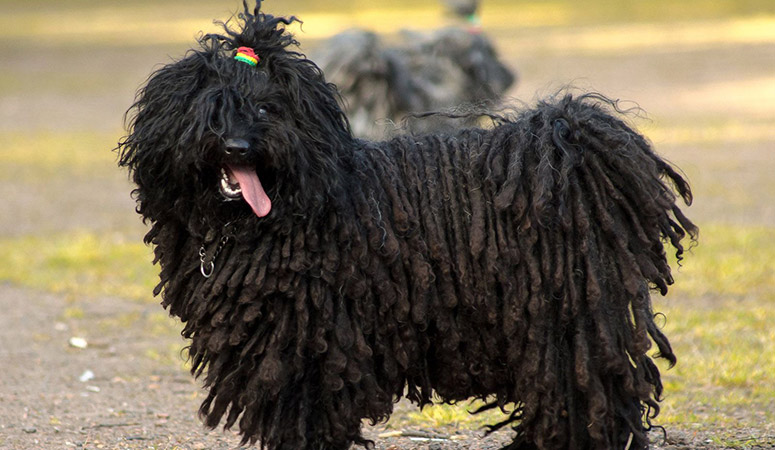 The Puli is a small-medium breed of Hungarian herding and livestock guarding dog, they are best known for their long, corded coat resembling dreadlocks. The dog is often quick, agile and can change directions instantly, these active and faithful little dynamos are quick learners.
| | |
| --- | --- |
| Other Names | Hungarian Puli |
| Color | Black, Silver, White, Brown, Cream, Rust |
| Height | Males: 15-18 inches. Females: 14-17 inches. |
| Weight | Males: 28-33 pounds. Females: 22-29 pounds. |
| Life Span | 10-15 years |
| Personality | Loyal, Smart, Home-Loving |
| Exercise | Regular Exercise |
| Origin | |
| | |
| --- | --- |
| Popularity | #160 |
| Groom Needs | Specialty/Professional |
| Kids Friendly | Yes with supervision |
| Dog Friendly | Yes with supervision |
| Watch Dog | Yes |
| Family Dog | |
| Litter Size | 4-6 |
Introduction
Pulik is a term for a group of Puli dogs. Pulik are intelligent and energetic dogs that detest being kept in a small space due to their exuberance. They can easily get resentful if they don't get enough room for expending their energy. Obedience training is required for puppies as early as possible. Pulik come in a thin, corded double coat (weatherproof), the corded nature of which is believed to be the result of a controlled matting process. They are usually black in color, although other less common varieties exist in white, cream, or gray color.
Male Pulik stand around 16-17 inches tall, measured from shoulder to paw, while a full-grown female is likely to measure around 15-16 inches at the shoulder, appearing only slightly smaller than the male. A standard Pulik should weigh around 23-35 pounds, regardless of gender. Pulik are friendly and loyal to their family. They have an average lifespan of 10-14 years.
History
The Puli is a breed from Hungary, which is believed to have originated in the period of the Magyars migration from Central Asia. They were one of the herdings and guarding breeds of early Hungarian dogdom, often working in alliance with the much larger Komondor (plural, Komondorok). Peasants usually employed the services of both dog breeds in the herding and guarding of their cattle, sheep, and other livestock. The Puli was mainly engaged with the herding and guarding job in the day, while the Komondorok took a nap. At night, the Komondorok assumed territorial dominion, gallantly patrolling the farmstead to ensure maximum security of stock. What's more, the Puli has a similar corded coat with the Komondor.
The ancestors of the modern Puli are believed to have been Hungarian shepherd dogs, probably brought into the Carpathian basin about a thousand years ago. The Puli was a popular herding dog until the era of intensive farming in Hungary, when they lost their role on the flock, and were more or less forgotten for a long time. Later, in the 20th century, they resurfaced but this time, not on the farms, rather at home as the good-natured house dog. Pulik became even less favored as housepets after the Second World War.
The first set of Pulik entered America in the mid-1930s, a period when farmers in the U.S were faced with the problem of herd dogs killing the livestock they were meant to herd or protect. The Pulik was bred with a few other breeds including the German Shepherd and when tested, were found to do better than other herding breeds.