German Shepherd Dog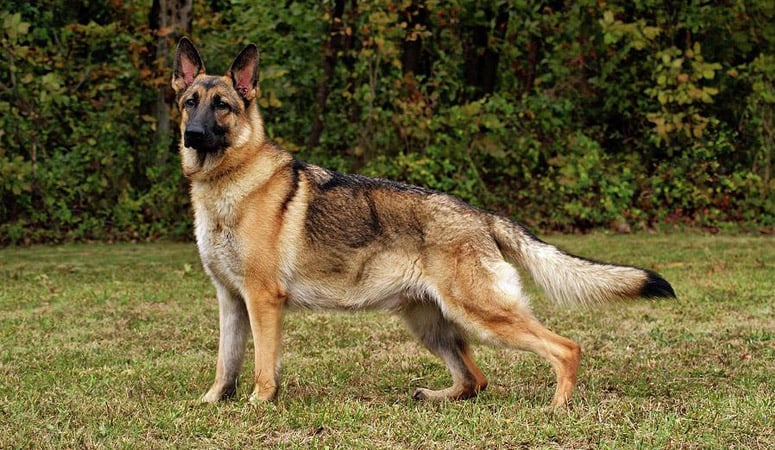 As the second most popular breed in the United States in 2016, the German shepherd dogs are loyal, strong-nerved, muscular, confident, courageous, fearless, and highly intelligent. Since they have strong obedience, the German shepherd dogs could always follow the training instructions and perform well in searching drugs, tracking criminals, mountain rescuing, explosives detection, and disability assistance.
| | |
| --- | --- |
| Other Names | Alsatian, BerGer Allemand, Deutscher Schaferhund, German Shepherd Dog, Pastor Aleman |
| Color | Tan/Black or Red/Black |
| Height | Males: 23-26 inches. Females: 21-24 inches. |
| Weight | Males: 66-88 pounds. Females: 48-71 pounds. |
| Life Span | 7-10 years |
| Personality | Strong-nerved, Fearless, Self-assured |
| Exercise | Regular Exercise |
| Origin | |
| | |
| --- | --- |
| Popularity | #2 |
| Groom Needs | Weekly Brushing, Regularly Shedding |
| Kids Friendly | Yes |
| Dog Friendly | Yes with supervision |
| Watch Dog | Yes |
| Family Dog | Yes |
| Litter Size | 4–9 |
German Shepherd Dog Video
Introduction
The magnificent German Shepherd dog is a large dog, weighing about 30-40 kilograms for the male, a bit smaller for the female. Its height is around 63 centimeters with many standard colors; in fact, 11 colors are recognized by the American Kennel Club. He has a noble character, super intelligence, is confident, courageous, and loyal. Although the dog was bred originally from Germany, it was bred outside of Germany too. But after WW2, there was quite a bit of anti-German sentiment going around and it was thought the word 'German' in the name of the dog would dampen its popularity – so it was renamed 'Alsatian' which comes from the French-German border city of Alsace. Eventually, around 1977, the name was reversed again and the breed became known as German Shepherd. In 2010 the name 'Alsatian' was done away with. Over the years, the German Shepherd has been bred for its amazing intelligence, ranking just behind the Border collie and poodle breeds. They have other names too: GSD, Berger Allemand, Deutscher Schäferhund, and Schäferhund. The German Shepherd Club was formed in 1913, under the parent club, the AKC, with our beautiful German Shepherd dog coming in second in the popularity stakes.
Living with German Shepherd Dog
History
During the 1850s, in Europe, there were attempts to standardize this breed in Germany. To do this, the Phylax Society was formed, but because of conflicts, it was disbanded 3 years later. Nevertheless, the Phylax Society did inspire people to pursue standardizing dog breeds independently. One man, Max van Stgephanitz, a member of Phylax, believed that dogs should be bred for working purposes.
In 1899 while attending a dog show, he met a dog, Hektor Linksrhein. Von Stephanitz believed this dog to be the ultimate in looks for a working dog – also he adored the dog's loyalty, beauty, and intelligence. He bought the dog on the spot, changing his name to Horand von Grafrath.
He then founded the Society for the German Shepherd Dog, and Horand was the first German Shepherd Dog to be added to the society's breed register. He fathered many pups, and from all the ensuing pups, a genetic link was drawn.
Von Stephanitz has always been credited with being the creator of the German Shepherd dog. Adolf Hitler had a German Shepherd called "Prinz" whom he became separated from at one stage, but the dog escaped and returned to him. Hitler adored the dog's amazing loyalty and obedience and grew to love the breed. Makes sense, doesn't it?