Bergamasco Sheepdog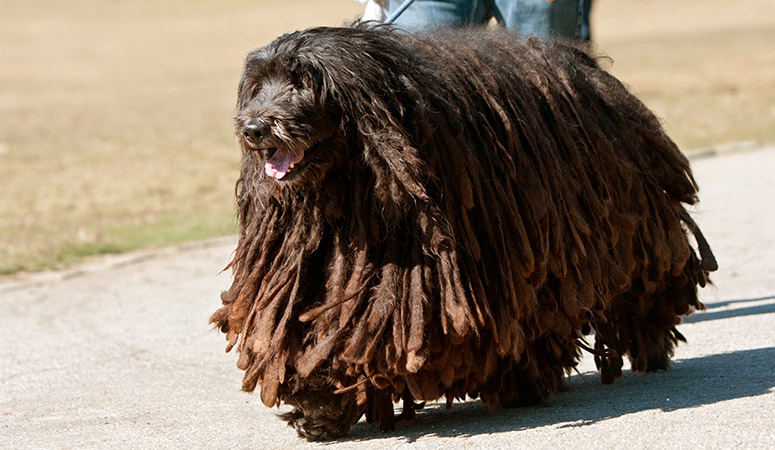 Independent as Bergamasco Shepherds are, they can be perfect at herding. As one of herding breeds, Bergamascos are often trained well to take part in some athletic competitions. It takes some efforts to bath and groom the Bergamascos if the amount of exercise is large.
| | |
| --- | --- |
| Other Names | Affen, Diablotin Moustachu, Monkey-faced dog |
| Color | merle or black |
| Height | Males: 22-23.5 inches. Females: 21.5-22 inches. |
| Weight | Males: 70-48 pounds. Females: 57-71 pounds. |
| Life Span | 13-15 years |
| Personality | Independent, Sociable, Intelligent |
| Exercise | Calm |
| Origin | |
| | |
| --- | --- |
| Popularity | #180 |
| Groom Needs | Occasional Bath/Brush and Infrequent Shedding |
| Kids Friendly | Yes with supervision |
| Dog Friendly | Yes with supervision |
| Watch Dog | Yes |
| Family Dog | Yes |
| Litter Size | 2-8 puppies |
Bergamasco Sheepdog Video
Introduction
The Bergamasco Sheepdog is known for its high level of intelligence and independent behavior. However, the outstanding hallmark of the breed is its unique felted coat that appears matted. The Bergamasco Sheepdog was bred as an intelligent herding dog and lives up to that reputation to date. Although they appear shaggy, these dogs don't shed easily, which makes them an apt choice for dog lovers with allergies for fur. Bergamasco Sheepdogs are much welcoming and good companions as well. The felted coat is composed of three different types of hair referred to as goat hair, dog hair, and wool. They are well-suited to work under harsh climatic conditions. The usual colors are black or merle, or a silvery combination of black and gray.
A standard male stands roughly 24 inches at the shoulder and weighs 70-85 pounds at maturity. A similar female should pack weight of about 55-70 pounds on her 22-inch tall frame (measured from shoulder to paw). They are remarkably intelligent and devoted to work. Bergamasco Sheepdogs have a life expectancy of 12-15 years, on the average.
Living with Bergamasco Sheepdog
History
Many years ago, shepherds and herdsmen from Persia (now known as Iran) traveled through Europe with their flock for pasture. These nomads are said to have moved with their herd dogs which assisted them when instructed to. Some of these nomads settled in Italy, near Bergamo, they and their animals. There, they pitched a tent and began breeding their dogs to herd the flock. These ancient Persian dogs are believed to have given origin to some breeds associated with the Italian Alps. Such was the case of the Bergamasco Sheepdog, named for the place where it was developed, Bergamo. They were used as herding dogs and, on instructive training, these dogs evolved the instinctive ability to perform the job with so much flair. They were soon the preferred choice for herding amongst farmers and breeders of the region.
However, with the Great Depression of the 20th century and the decline in demand for wool, Bergamasco Sheepdogs became less and less fancied by most breeders. The downturn continued unabated until the period of the Second World War. After the war, the number of Bergamasco Sheepdogs had depleted so much that there were hardly enough members of the breed to revive the bloodline. Italian breeder, Dr. Maria Andreoli, is credited with the revival of the Bergamasco Sheepdog after the war, for her intensive breeding program which involved breeding for hardiness and higher intelligence. Subsequently, the breed was exported across countries. When it arrived in America, breeders engaged it with fervor and developed on the work of their Italian predecessors. In 2015, the Bergamasco Sheepdog was admitted into the AKC (American Kennel Club) Studbook.