Beauceron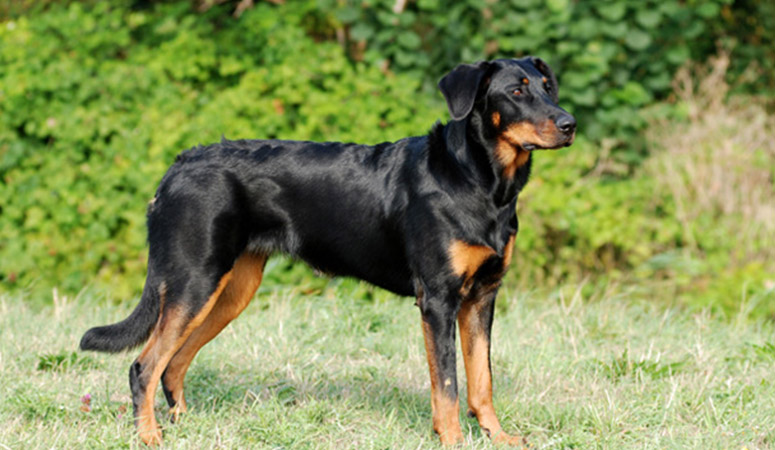 Energetic and intelligent as they are, Beaucerons can be both sport companion and working dog. Grooming the Beaucerons is of no big issue, as their coat are dense and short. It's not a sign of suitability for novice or busy owner, they need time and space to run off energy.
| | |
| --- | --- |
| Other Names | Berger de Beauce, Bas Rouge, Beauce Dog, Beauce Sheep Dog, Beauce Shepherd |
| Color | Black with tan markings, or black and mottled grey with tan markings |
| Height | Males: 25.5-27.5 inches. Females: 24-26.5 inches. |
| Weight | Males: 100-130 pounds. Females: 70-100 pounds. |
| Life Span | 10-12 years |
| Personality | Gentle, Faithful, Obedient |
| Exercise | Needs Lots of Activity |
| Origin | |
| | |
| --- | --- |
| Popularity | #121 |
| Groom Needs | 2-3 Times a Week Brushing/Frequent Shedding |
| Kids Friendly | Yes with supervision |
| Dog Friendly | Yes with supervision |
| Watch Dog | Yes |
| Family Dog | |
| Litter Size | 6–7 puppies |
Introduction
A marked feature of the Beauceron is the double dewclaws, although some breeders remove the dewclaws from their dogs. They are agile and yet docile; fearless and gentle; courageous and calm. These contrasting features make for a dog that can adapt easily to Its several roles as a guard dog, farm dog, and companion.
Beaucerons come in a double coat, with a hard topcoat covering a wooly undercoat. In the cold weather, the undercoat tends to thicken to provide maximum protection from the elements. The common color varieties of the Beauceron are black and tan or black and mottled grey with markings of tan.
Female varieties run slightly smaller than the males, measuring up to 24-26 inches, standing at the shoulder. A similar male would stand 26-28 inches at the shoulder, appearing huger. A full-grown member of this breed should weigh in the range of 75-110 pounds. Beaucerons have an average life expectancy of 11-14 years.
History
Also known as the Berger de Beauce, meaning sheepdogs of Beauce, the Beauceron is a Shepherd dog with origins in Central France. They are so named for the expansive vegetation of the region of their descent. Their duties as shepherd dogs became well known in 19th century England, although they played several other roles such as companion dogs, guard dogs, rescue dogs, and watchdogs. One of the earliest documentation of this breed was that of a dog exhibited at the Universal Exposition in Paris held in 1863. The dog in question was said to exact the features of the modern Beauceron, save for the rough coat and narrower muzzle it possessed.
The Beauceron was distinguished from a similar shepherd dog breed, the Briard, in the late 1890s, the latter having a longer coat than the shorter-coated Beauceron. They are believed to have originated from the same stock, and share the characteristics of double dewclaws on their hind legs. The Club des Amis Du Beauceron was established in 1922 in France, under the auspices of Dr. Megnin. They became quite useful in the so-called trench fight of World War I, photographs of Beaucerons which excelled at the time were exhibited in the British War Museum.
From a humble French beginning, the Beauceron has developed into a well-recognized dog breed in many parts of the world, including the United States where it was recognized by the American Kennel Club (AKC) in 2007. It is ranked 124th most popular dog breed in the U.S by the AKC, at this writing.