Wirehaired Pointing Griffon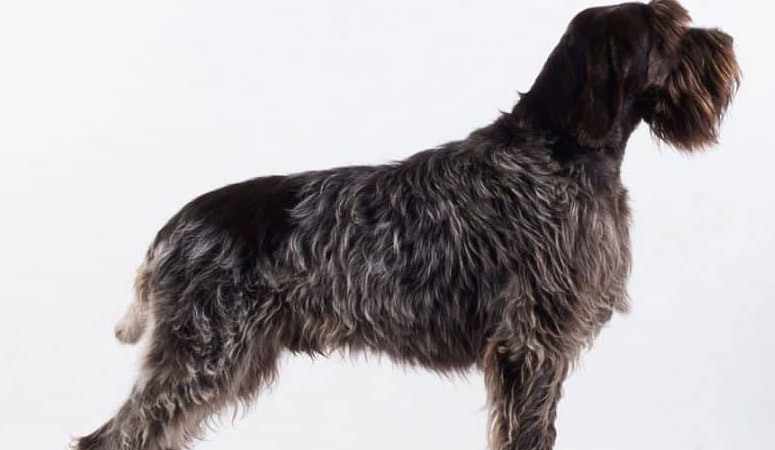 The Wirehaired Pointing Griffon excels in the field of hunting, and earns the name of "supreme gundog". They are outdoing, eager, and quick-witted, and known for their harsh, low-shedding coat. As their sense of humor and lively nature, this breed is an ideal choice for an energetic family who wants a dog to be live with them.
| | |
| --- | --- |
| Other Names | Korhals Griffon, Pointing, Wirehaired Griffon, Griffon D'Arrêt a Poil Dur |
| Color | Brown & Gray, Chestnut & Gray, Brown, Chestnut, White, White & Brown, White & Orange |
| Height | Male: 22-24 inches. Female: 20-22 inches. |
| Weight | Male: 50-70 pounds. Female: 35-50 pounds. |
| Life Span | 12-15 years |
| Personality | Friendly, Devoted, Trainable |
| Exercise | Needs Lots of Activity |
| Origin | |
| | |
| --- | --- |
| Popularity | #62 |
| Groom Needs | Weekly |
| Kids Friendly | Yes |
| Dog Friendly | Yes with supervision |
| Watch Dog | |
| Family Dog | Yes |
| Litter Size | 6-9 |
Wirehaired Pointing Griffon Video
Introduction
The Griffs, as they are popularly called are a breed of medium-sized dogs with a low-shedding, often bristle double coat that gives them a naturally haggard appearance. The undercoat is usually dense and thick to provide for insulation. They are remarkable gun-dogs, although they can easily double as watchdogs due to their strength, vigor, and resilience. The mustache, as well as the eyebrows, is considerably lavish. Wirehaired Pointing Griffons usually come in steel gray color with markings of brown.
A standard male stands at a shoulder height of between 22 and 24 and weighs around 55-70 pounds. The females run smaller, often 20-22 inches height from paw to shoulder, and 40-50 pound-weight. They are jovial, devoted, and docile dogs of the sporting type. Wirehaired Pointing Griffons have an average lifespan of 11-15 years.
Living with Wirehaired Pointing Griffon
History
A Dutchman of the name Eduard Korthals is credited with developing the Wirehaired Pointing Griffon breed. It is quite difficult to decide with certainty what the nationality of origin of the Wirehaired Pointing Griffon is, since Korthals had worked on this breed in Germany before moving to France to complete it. Korthals' father was a wealthy banker, so he could afford to keep a large population of dog breeds from an early age. It is rumored that he had decided on his own to create a breed that could be so versatile that it could serve as both a gun dog on land and a retriever in water; a dog with unrelenting vigor, resilience, strength, and trainability.
Hence, Korthal set out, interbreeding several dogs in 1873. The ancestors of what later became the Korthals' Patriarchs were a group of about six dogs, which Korthals interbred one group after the other until he had achieved his original desire. Mouche, a female dog, was bred with Banco, Satan, Hector, Juno, and Janus, which were all Griffons. In 1888, the first Griffon club was instituted as a conglomerate of several other clubs in different countries, such as Germany, 1895 ( where it was called the Southern German Griffon Club); France, 1901 (Wirehaired Griffon Club) and Belgium, 1895 (Royal Belgium Griffon Club).
The American Kennel Club registered its first Korthals Griffon in 1887 when it was identified as a Russian Setter, as it was believed to have a Russian origin. However, later in 1916, the dog breed was fully recognized as the Wirehaired Pointing Griffon. Ever since Its popularity grew amongst the American people. The Wirehaired Pointing Griffon is ranked 65th most popular dog breed by the American Kennel Club.